Netflix Geeked Week Previews 'The Witcher', 'Ultraman', 'Umbrella Academy', 'Terminator', and More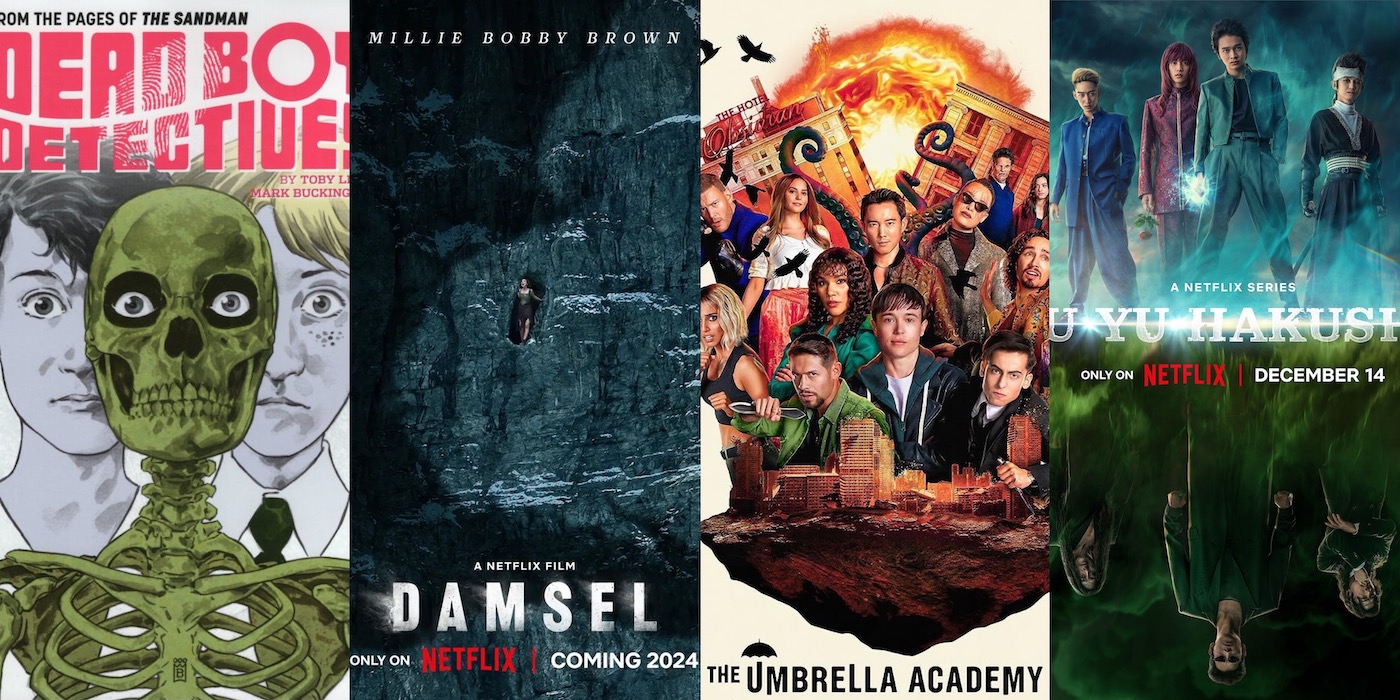 New movies and series in live-action and animation are on the way. Watch all of the new trailers from Netflix's Geeked Week in one place.
Scott Pilgrim Takes Off – November 17th
"Scott Pilgrim meets the girl of his dreams, Ramona Flowers, but learns he must defeat her seven evil exes in order to date her. Then things get even more complicated. Based on the graphic novels by Bryan Lee O'Malley."
My Daemon – November 23rd
"An all-new anime born from a collaboration between writer Hirotaka Adachi and a spirited animation studio in Thailand. In Earth's near future, a kindhearted boy named Kento and a Daemon child called Anna set out on a grand adventure together in hopes of saving Kento's mother."
Obliterated: Party Bus – November 30th
"A high-octane action-comedy that tells the story of an elite special forces team that thwarts a deadly threat to Las Vegas. After their celebratory party, the team discovers that the bomb they deactivated was a fake. The now intoxicated team has to fight through their impairments, overcome their personal issues, find the real bomb, and save the world."
Sweet Home S2 – December 1st
"Season 1 centered around a reclusive high school student who moved into a new apartment building. In the face of a crisis where individuals turned into monsters reflecting their innermost desires, Hyun-su broke out of his shell to save others. In Season 2, Green Home survivors and Hyun-su are each fighting to survive in new places, while other beings and mysterious phenomena emerge."
Yu Yu Hakusho – December 14th
"The legendary smash-hit manga from Weekly Shonen Jump, is finally getting a live-action adaptation! This series of unprecedented scale is brought to life by an all-star cast that includes Takumi Kitamura, Jun Shison, Kanata Hongo, Shuhei Uesugi, Kenichi Takito, Goro Inagaki and Go Ayano."
Gyeongseong Creature – December 22nd
"In the spring of 1945, all suspicions led to a hospital in Gyeongseong where there were humans and creatures."
Out Next Year
Masters of the Universe: Revolution – January 2024
"It's technology versus magic when He-Man and the heroic warriors face the forces of Skeletor and something more in Masters Of The Universe: Revolution – the new epic chapter in the battle for Castle Grayskull!"
3 Body Problem– March 21st
"A young woman's fateful decision in 1960s China reverberates across space and time to a group of brilliant scientists in the present day. As the laws of nature unravel before their eyes, five former colleagues reunite to confront the greatest threat in humanity's history."
Out Next Year – No Specific Dates Just Yet
Blood of Zeus S2 – 2024
"A commoner living in ancient Greece, Heron discovers his true heritage as a son of Zeus, and his purpose: to save the world from a demonic army."
Damsel – 2024
"A dutiful damsel agrees to marry a handsome prince, only to find the royal family has recruited her as a sacrifice to repay an ancient debt. Thrown into a cave with a fire-breathing dragon, she must rely on her wits and will to survive."
The Witcher: Sirens of the Deep – 2024
"A tale that takes you deeper into The Continent."
Ultraman: Rising – 2024
"When baseball superstar Ken Sato returns home to Japan to pick up the mantle of Earth-defending superhero Ultraman, he quickly finds more than he bargained for as he's forced to raise the offspring of his greatest foe."
Subscribe to our newsletter!
Get Tabletop, RPG & Pop Culture news delivered directly to your inbox.
The Umbrella Academy Final Season – 2024
Code 8 Part II – 2024
"The reunion we've all been waiting for is here. In a world where 4% of the population are born with abnormal powers and heavily policed by high-tech robotics, an ex-con teams up with the drug lord he despises to protect a young girl from a corrupt police sergeant."
We'll Be Waiting A While
Deadboy Detectives – TBA
"In this new supernatural series set in The Sandman universe, two teenagers find each other in death… and they will do anything to stick together – including escaping evil witches, Hell, and Death herself. With the help of a clairvoyant named Crystal, they must work together to crack some of the mortal realm's most mystifying paranormal cases."
Terminator: The Animated Series – TBA
---