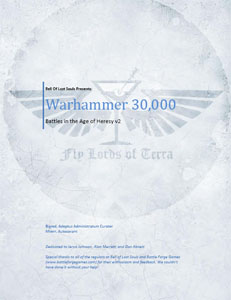 Hi everybody,
Warhammer 30,000 Age of Heresy v2.5 is up and has a large set of tweaks and alterations.
-Fellblade Superheavy tank
-Fancy looking "Missions of Note"
-Dozens of rules, units & character tweaks (from our more extensive playtesting)
-Expanded color plates section (go White Scars and Emperor's Children)!
In short, if you love the setting, are thinking of playing the campaign, or just like the models and want to collect a Heresy-Era army yourself, re-download the document. You won't be dissapointed!
-bigred