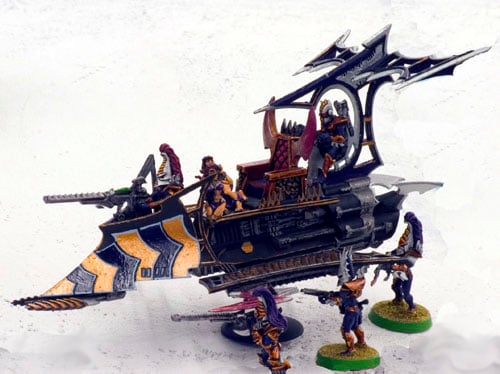 Following up on last week's article, my descent into the black pits of Kabalite Eldar depravity continue. I didn't get in a game against Orks this week, as Goatboy and I got our schedules crossed. I did get in two more games against Marines, and two games against Imperial Guard. Here is what I learned this week:
1) Mechanized Imperial Guard don't do any better than Space Marines when they get jumped by Dark Eldar.
2) The Nightmare Doll is worth it. Making the enemy reroll their die for choosing sides (and therefore going first) is well worth a 50/50 chance to take a wound on the Archon.
EDIT – I did this wrong. This is the rule I've struggled with more than any other in 5e. I've had it right and wrong in my head multiple times, and clearly I had it wrong in my head last Thursday when I was making changes before the game.
3) Leman Russ Squadrons are still a pain to kill when you shoot them with one lance at a time.
4) Dark Eldar are good, but not good enough to win with a 500 point deficit against a good opponent. Even if the opponent is Chaos Space Marines. I did almost get a draw against Darkwynn's Ard Boyz list, but this isn't horseshoes.
5) The Talos Claw rule makes it easy for one to struggle killing any vehicle.
I tabled the Imperial Guard in 4 turns for the non-fully mechanized and 5 for the fully mechanized 9-Russ list (he kept reserves that didn't come in until his turn 4).
So I'm going to take Dark Eldar for Ard Boyz, at least for practice. My list is something like:
Super Archon Squad with Drazhar (2 Blasters), in a Raider
Super Dracon Squad (2 Blasters), in a Raider
6 Wyches (2 Blasters), with Sybarite, in a Raider
6 Wyches (2 Blasters), with Sybarite, in a Raider
4 Warp Beast Pack
3x 10 Warriors (2 Dark Lances)
3x 6 Warrior Raider Squads(Blaster), with Sybarites
3x Ravagers (2x Disentegrators, Night Shields)
Every Raider has a Dark Lance and Horrorfex
~I'll let you all know how testing goes this week. And the Mon-keigh say the forces of Commorragh are weak… What say you?