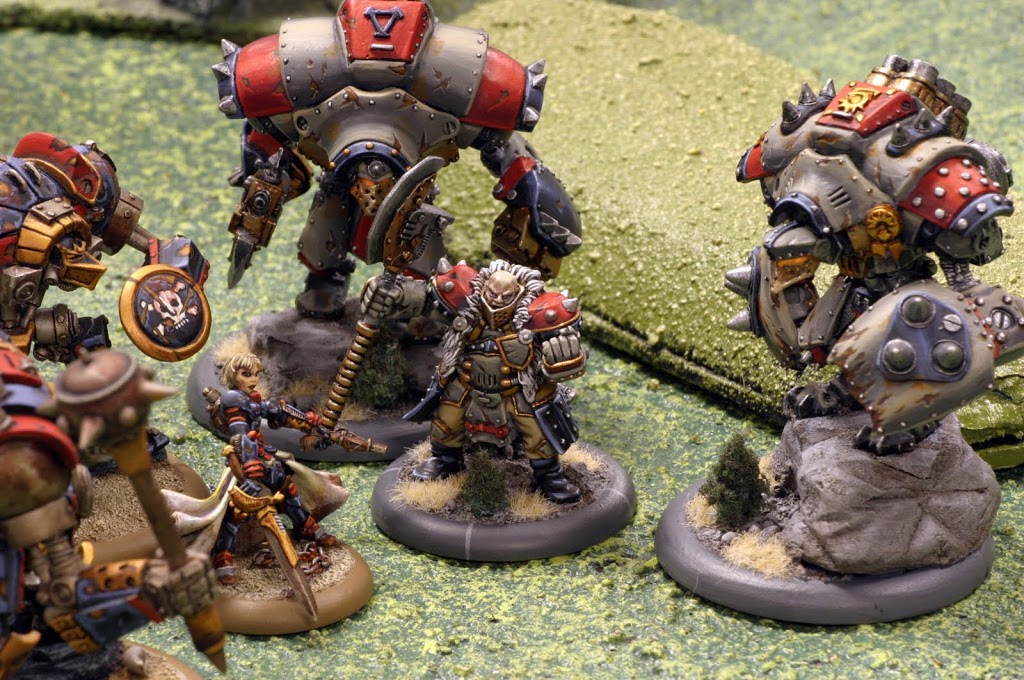 The northernmost of the Iron Kingdoms is the Khadoran Empire. It is a nation founded in a wild, harsh, and unforgiving land. It is a region of tough winters, grim people, and untapped natural resources. The strong survive and the weak perish. Most southerners view these people as being just one step above the ancient barbarians who once lived in this region. Love of the Motherland comes before religion or even family. Most of the country's mineral resources are undeveloped due to the cost and difficulty of exploiting them. Khadoran sciences have never been as advanced as those in Cygnar, but despite this, the nation is still powerful due to its size, resources, and population.
Centuries ago, the Khardic Empire was the most powerful empire in the region. Because of this, the Orgoth directed many of their worst atrocities towards these people in an effort to break their collective will. It didn't work. The Khardic people were the first to liberate their cities from Orgoth enslavement, and led the fight to independence and victory over the Orgoth oppressors. Despite their heroism, the southerners never trusted Khards. The Khards themselves feel that they were simply used by the other people of the Iron Kingdoms as fodder to bleed the Orgoth white while others took all the spoils. The Corvis Treaties signed at the end of the Orgoth occupation reduced the newly renamed Khadoran Kingdom from its former size and this "sleight" has since provided a call to arms for numerous wars against Cygnar. The mistrust between those two nations dominates the politics of the Iron Kingdoms.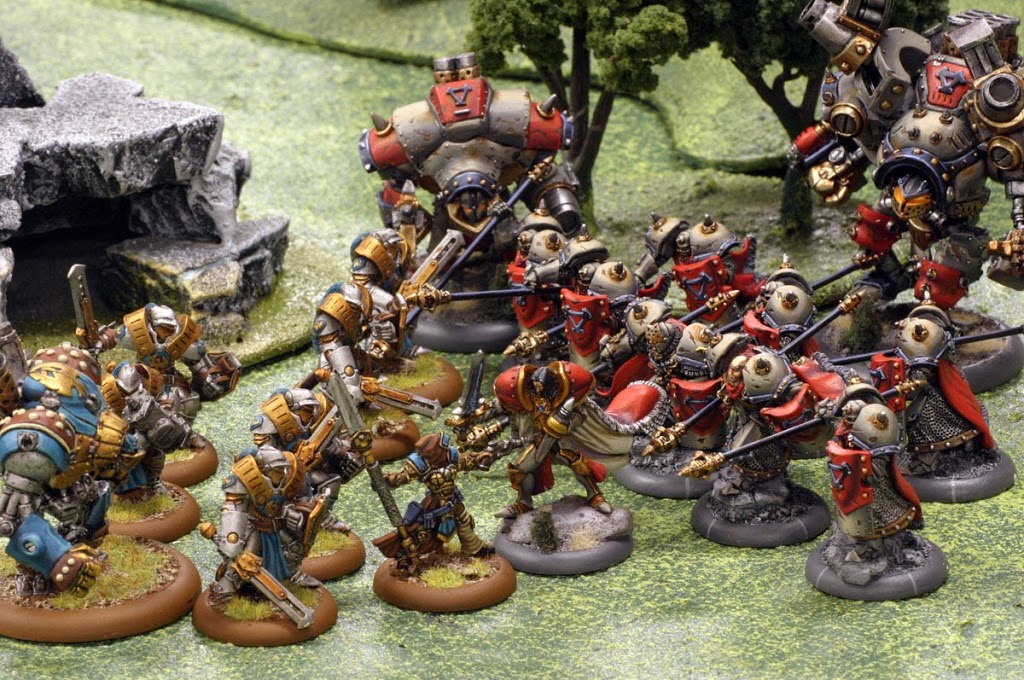 Khador is mistrusted by the other peoples of the Iron Kingdoms who fear its expansionistic outlook. Large-scale industrialization efforts over the past century and concentrated efforts towards improved weapons of war have made Khador a power to be feared, indeed. This strength was demonstrated just a few years ago when Khador initiated a surprise war that completely defeated and occupied the small nation of Lael in just a few short months. Khador has since taken large swaths of Cygnaran territory in and around the Thornwood Forest. More recent defeats at the hands of Cryxian raiders and Menite fanatics have slowed Khadoran expansion, but not stopped it. The coming years will be difficult ones, but the strength of her land and people ensure that Khador will prevail.
The Khadoran kingdom has been renamed the Khadoran Empire. Its war with Cygnar has gone well and Khadoran boarders reach further than they have in over one thousand years. New railways are being built to exploit the resources of the undeveloped hinterland and endless weapons of war are being produced in her factories. But old enemies remain, and new threats have appeared from the wilds. Cygnar is far from beaten, Menoth has captured part of Lael, and Cryxian fleets raid the coasts. The Retribution of Scyrah makes lightning attacks against Greylord facilities and dragonspawn attack from the icy North. The Motherland calls her people to battle!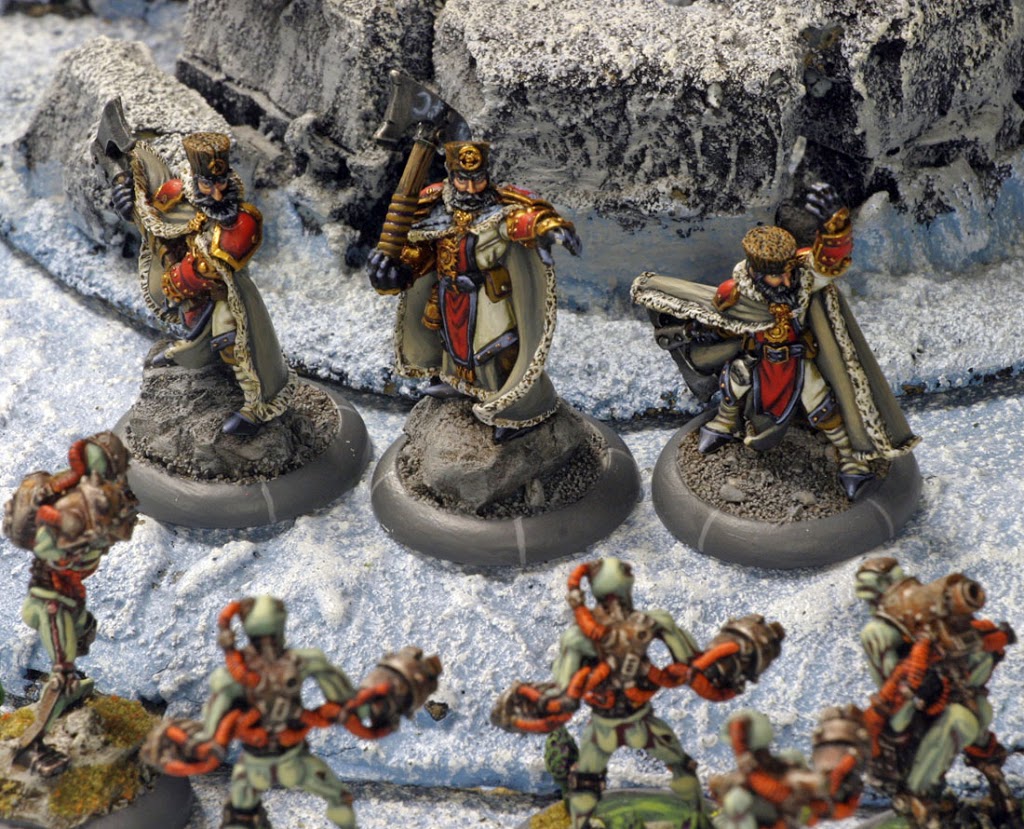 The Khadoran faction plays a lot like its background. If you like fluffy bunnies, sunsets on the beach, and snuggling with your sweetheart, then Khador may not be the faction for you. This faction is all about brutal melee power, very high armor, self-reliant units, and uncompromising toughness. Tactics tend to revolve around closing with your enemy and smashing them into an ugly pulp. This strength and durability comes at the cost of defense, speed, and skill. The warjacks are slower than those of the other factions. Khadoran units will be easy to hit, but hard to take down. Many of the units have lower melee or ranged attack values than their Cygnaran counterparts. Khador has access to more multi-wound infantry than any other faction, and fielding an entire army of high armor, multi-wound models is a distinct possibility and not something most opponents will look forward to facing. Shooting tends to be long ranged, high powered AOE's. However, a lower ranged attack value on those AOE's means they will often miss and be more suited to taking on large numbers of lower armored infantry than single, high armored models.
Khadoran warcasters are some of the most powerful in the game. The average stat lines of Khadors warcasters are better than those of every other faction. One reason for this is that Khador has no light warjacks and no arc nodes (with one exception). This means that unlike warcasters in other factions, Khadoran casters cannot sit back arcing spells from afar; they are forced to be in the middle of the action. But that doesn't make them any less feared. Every warmachine player knows that to let a Khadoran warcaster reach you in melee is to invite almost certain death. Spells and feats are a fairly even mix of support, direct damage, and de-buffs. Most Khadoran casters have some means of increasing the speed of one or more of their warjacks. Spells that improve either the defense or damage output of their units are also common. De-buff spells slow the enemy or even freeze them in place entirely, allowing Khadoran players to dictate the timing and location of the battle.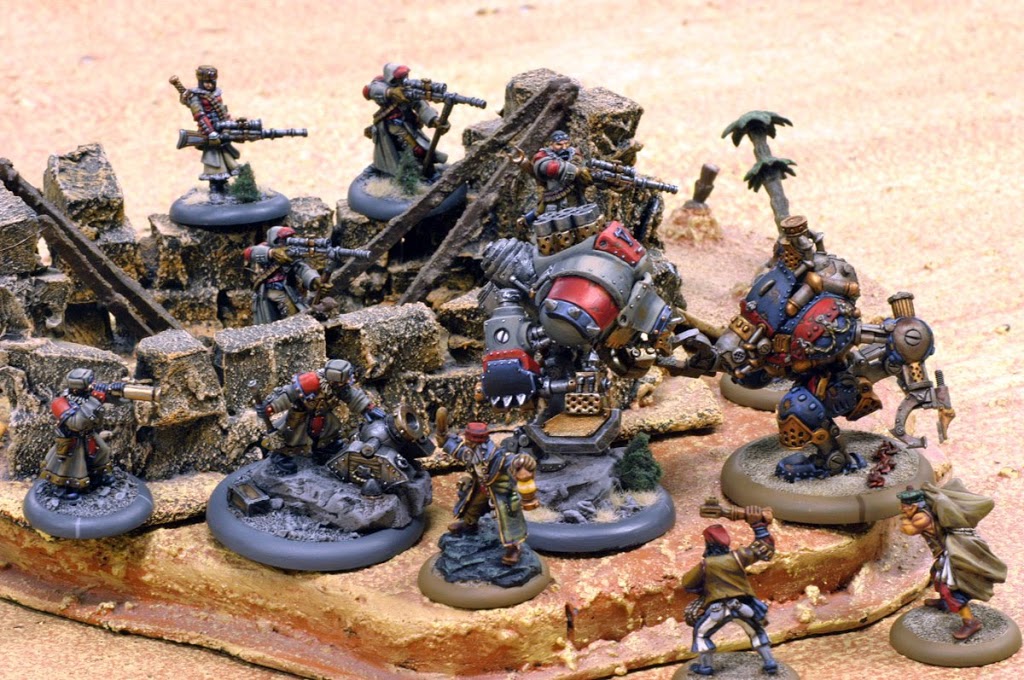 Khador has zero light warjacks, with the exception of one unique that comes with one specific warcaster. However, the faction has more varieties of heavy warjacks than any other faction, meaning players can choose just the right one for the job. Their warjacks have some of the largest damage grids in the game, meaning that on top of great armor values, they can also take more damage before being destroyed. Even ranged warjacks like the destroyer have some of the most powerful melee attacks in the game. It is rare to see an opposing warjack still standing after a Khadoran jack has finished all of its attacks. Unfortunately, Khadoran warjacks tend to have low melee attack values, meaning they will often need to spend focus boosting attacks rather than boosting damage. A large number of awesome critical hit effects make this less of a liability than it might appear. Alternatively, a Khador player can utilize spells and support from units to improve both attack and damage values.
Units and solos are mix of melee monsters and specialized support units. Basic infantry range from the numerous but mediocre Winterguard, to insane Doomreavers, to the elite Man-o-war, men who wear steam-powered armor into battle. Most units are very self-sufficient and need very little support to do their job. Any support they are given makes them that much better. Widowmaker snipers, Greylord battle mages, Manhunter solos, Mortar teams, and Kossite ambushers support its powerful infantry. They provide highly accurate sniper fire, supporting spells, or timely ambushes to help pave the way for your melee units to reach enemy lines intact. Once your units do reach the enemy it's a good bet they will come out on top due to their powerful weapons.
The mix of warjacks, units and casters means Khadoran player has a great deal of flexibility when designing his force. He can run a horde of Winterguard infantry backed up by multiple heavy warjacks, an army of elite specialists, a fast moving cavalry force, or a mix of them all. The direct nature of most of their spells and effects combined with the self-reliant nature of their units mean this is a great faction for new players. Menoth or Skorne players can spend years learning the nuances of all the possible synergies. Khador will be right there with them, smashing its way to victory.
~And thats Khador at a glance. There's way too much stuff to cover it all here. In fact this just barely scratches the surface. But if your interested in picking up Warmachine or starting a new faction, and Khador sounds right for you theres plenty more to learn at www.privateerpress.com. Have at it guys.