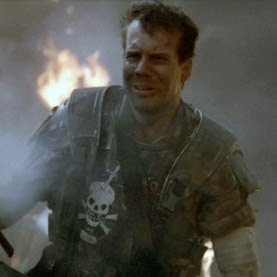 Jwolf here. You can't throw a stick without an intense discussion on the merits of various units in the new Tyranid book (which I haven't held in my hands yet, curse the luck). My basic thought is that Tyranids are going to move from a shooting army that assaults well to an assault army that has some good shooting mixed in – changes for the better, for certain.
Here are my rambling thoughts; I'll give my testing build out at the end.
#1 Hive Tyrants will kill things by ripping them to shreds, not blasting them with Devourerers. I approve of this change.
#2 Zoanthropes are a lot scarier with a 3+ Invulnerable and S 10 Lance weapons. And they are in the Elite slot, so they aren't interfering with other killy things as much.
#3 Hive Guard have a bio-minigun. I don't even care what they do, I love the model. I immediately thought of Blaine from Predator, only as an Alien. So expect Old Painless in my Tyranid forces.
#4 Tyranid Warriors as Troops? 3 wound Troops will be great, if there are no Battlecannons to disintegrate them en masse.
#5 A pair of Scything Talons effectively grants Preferred Enemy. And most big bugs get these, standard. Seems like someone wants more reliable CC output in the Codex.
#6 I'm not clear how Tyranids are supposed to deal with Mechanized forces that kill Zoanthropes and work to dodge the rest. Heavy Venom Cannons are not the answer. If Scything Talons let all attacks reroll, even against vehicles with no WS, then flying 2x Scything Talons monsters are going to have a lot of work to do. Hive Guard should help with Rhinos, but offer very little help against heavy tanks.
#7 Trygons. Giant. Plastic. Coming from the ground to eat your Land Raider since early 2010.
So here, with absolutely no concern with points cost, is my first new Nids buildout:
HQ:
Tyrant with 3 Guards, on the hoof.
Elite:
1 unit Hive Guard, 2 units of Zoanthropes
Troops:
3x Warriors in a Spore Pod x2
20x Hormagaunts x2
Fast:
20x Gargoyles
3x Raveners x2
Heavy:
Trygon Prime
Mawloc
Carnifex (or 2, or 3)
The idea is to run straight over and kill stuff. The Trygon and Mawloc should be intensely disruptive appearing in the enemy backfield, and the Warriors coming from Reserve should give me late game capturing, when most S8+ enemy weapons (especially the Ordnance ones) are out of commission.
Note: I don't think this is some sort of optimized list; it may suck and god knows what the exact point value is. But it does give me the ability to try most of the units I have an interest in and optimize from there. I'll have an actually solid Nid list sometime in January/February, and I'll post some early results after the Black Box arrives in my FLGS. For even more Nid unit thoughts check out this great breakdown in the Lounge here. Your turn!