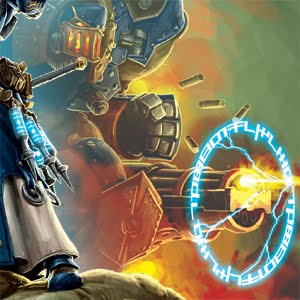 So next month Cygnar is getting its own fancy Faction book, and look what Privateer wants you loyal BoLS readers to take a look at first!

First up we get that great little pic from the book seen above. You guys tell me what it is. Secondly, check out the stats of one of the new weapons from the book:
Cygnaran warcaster Kara Sloan's custom magelock rifle, "Spitfire," is so cool we couldn't keep it to ourselves any longer!

Spitfire

RNG: 14 ROF: 1 AOE: – POW: 12
Magical Weapon
Weapon Master
~In other news, the Warmachine MK II Prime rulebook is smashing all kinds of sales records over at Privateer in its first week on the shelves, so by all means check it out. Its hard to beat that pricepoint even if you just want to experiment with the game.