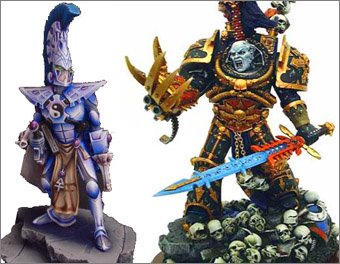 So lets get down with it. Since the advent of Codex Space Marines we have seen the "new style" of army twisting Special Characters that let you build variant armies. This new philosophy has not only created a lot of variant lists but a lot of somewhat cookie cutter IC-based lists. So why so much hate in the community?

Back in the old days, (think of Codex Eldar) most of our Special Characters were of the "better stats – kills stuff" variety. Models like the Phoenix Lords and most of the Chaos characters provide local power on the tabletop, but don't really allow fundamentally new army builds.
The issue I'm seeing with the new style characters is that because they allow specific army builds, they also lead to a certain similarity from every list you see them in. If someone says they are playing a "Vulkan List" you know exactly what your going to face, without even having to look at the enemy list. So in effect, while a handy replacement for things like doctrines from the older codices, the inclusion of many of the newstyle characters seems to actually limit the variety of lists they appear in.
So todays question is what is your take on the new-style named characters. Do you like the older style powerful but localized characters, or do you like the new army variant characters. Aside from that, did you prefer the older doctrine style concepts which allowed variant armies outside of mandatory ICs to lead them?
The floor is yours generals.