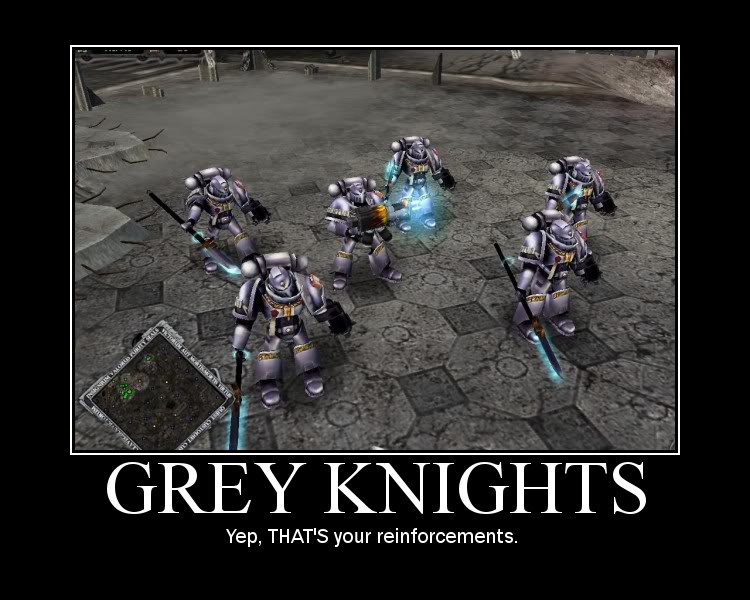 Despite all the cool new tricks that Grey Knights can put out, they're still marines. I've played quite a few games with them now and I'm pretty confident in saying they're not unbeatable.

Underneath that silver armor lies a marine, whose strengths and weaknesses have been analyzed, capitalized upon and taken advantage of for as long as we can remember. What's the key difference between Grey Knights and normal marines? They're the elite of the elite and they pay for every cent of it.
Before we really get down to the nitty gritty, lets look at some of the strengths of the GK Codex:
Force Weapons all over the place. Brotherhood of Psykers activates all the Force Weapons for Instant Death everywhere. Halberds deliver this at I6 and Daemonhammers puts down S10 with Hammerhand.
Psychic powers that compliment the army very well; Summoning on vehicles, assault prevention via Sanctuary, outspeeding Eldar via Quicksilver. You get the point.
Powerful mid-field shooting via S5 Stormbolters and S7 Rending Psycannons. Long-range support is applicable with Rifledreads shooting S8 Autocannons w/ Psybolt Ammo.
2W Paladin in Terminator armor with FNP demand serious respect. Most army lists will have to change to deal with such a threat as they're impossibly difficult to remove by "normal" means.
Grand Masters provide tactical flexibility that can give walkers and elites the chance to score, and troops the chance to outflank with the Scout USR.
Inquisitors w/ Henchmen can put down all kinds of flexible shenanigans; crazy laser monkeys, a ton of cheap HBs. Chimera spam is in da house and ninja assassins in Stormravens.
Interceptors and Dreadknights can shunt 30″ across the board, Purgation units can shoot through walls and Purifiers can burn down hordes. The codex has many options to choose from and that's most satisfying.
Now that some of the strengths have been laid down, let's talk about some weaknesses:
Elite armies suffer from bad rolling. No matter how amazing that Grey Knight Terminator is in combat, a roll of a 1 leads to a dead Terminator. This gets exponentially bad when you factor in that extra Psycannon. It doesn't matter if you're rolling to aim, wound, penetration, psychic test or DS, if you roll subpar, you will suffer greatly next round because there's just not enough targets/bodies.
This brings us to our next point: Grey Knights do all kinds of amazing stuff, but they're still Marines at the end of the day. What this means is that everything that kills normal marines kill GK. Plasma, Melta, large template AP2/3 stuff, high strength to force ID wounds. With most of GK's firepower hovering at 24″, kitting them out with longer range weaponry IS an option.
Terminators are powerful and Paladins are even more scary, but they suffer from a 5+ invul weakness. If they want their 4+ cover or 3+ shrouding, they will be in cover most of the time. This severely limits their mobility and thus they sacrifice mobility for survivability. Use this to your advantage.
DS is good, but it should not be relied on. Sure, you can argue that the GM should of been on board to call down his Paladins, but how do you determine which squad he's attached to comes down in time? DS is always a risk because you need to roll for them to come in (you can roll 3 1s in a roll), roll for the scatter (skulls help, but you might mishap otherwise), and then cluster your dudes together for easy pie plates. The more expensive DS units also cut down on how much impact you have on the game because they're not on the board.
Psychic defense can shut you down in times of need. A lot of the armies in the game have pretty respectable anti-psyker stuff, some within 24″ (the GK sweet spot) or some board-wide. The fact remains that in your moments of direst need or if you're trying to put together a specific tactical maneuver, it just won't happen.
I've had many games already where my opponent looked across the table and said, "Where's the rest of your army?" I reply with: "This is it." That means you have the numerical advantage and you should take that into account. Remember the Battle of Thermopylae and brush up on your military tactics. As with every new army, you need to relearn the game ever so slightly.
So what does this article suggest besides from the strengths and weaknesses of the GK Codex? Don't cry cheese, overpoweredness, or the end of the world when the book first hits the shelves. Analyze the codex, understand their strengths and deny them of it. Read the book, understand their weaknesses and exploit it to your advantage. There's absolutely no point in crying cheese just yet; especially when this new army is just another flavor of marines. You know, those same guys you've been killing for years and take up 40% of all armies out there, yeah those guys.
Comments, questions, concerns, or possible death threats, feel free to let me know on my personal blog here.