This Week in 40K Podcasting – 11/25/2011 – 12/01/2011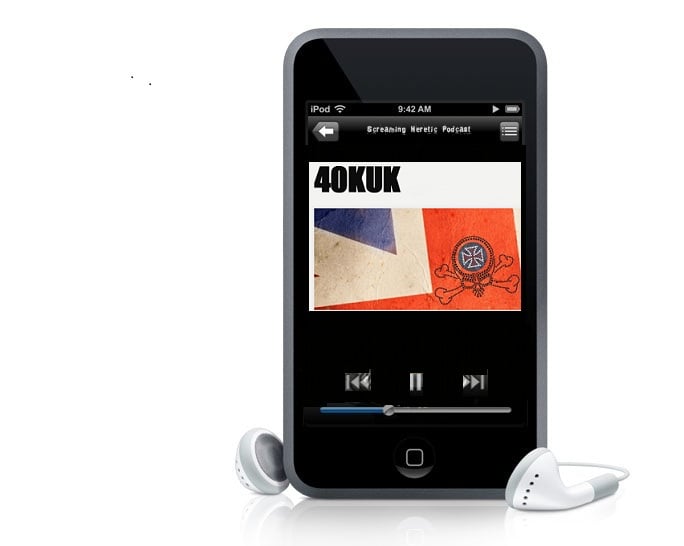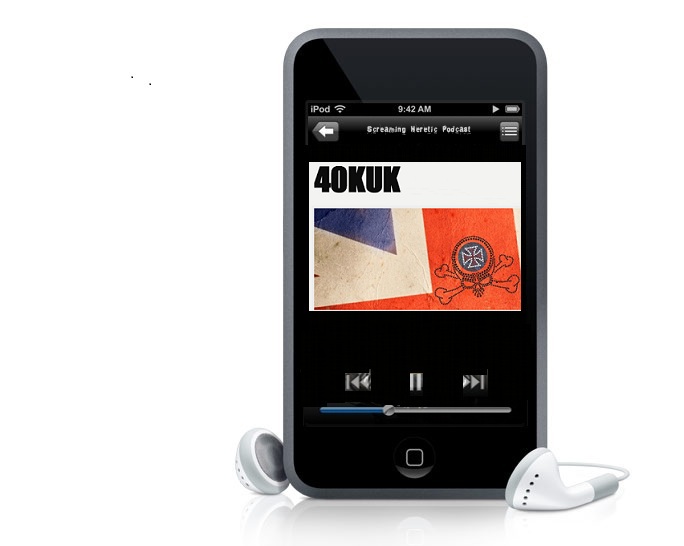 Welcome to another "This Week in 40K Podcasting,"

Here is this week's top 5!
Highlights: After some opening announcements, the guys open up the show with 'Operation Codex' where Dave and Gary review a few of the Necron Elite choices. They open up with the C'Tan shard and go quite in-depths in discussing all of the interesting options that come with them. They also cover the Flayed Ones, and talk some about how these guys might be used, and the Triarch Praetorians. Next up in 'Evolution', James Taylor is back again to discuss his tournament winning Necron list and some changes he is going to make to improve it. Then, Dave has an interview with Nick Rose and they discuss some of the stock standard Imperial Guard builds and tactics. They also discuss how the Leafblower list started and how is has evolved over the three years since its inception. To close out the show was 'Meta-List' where Nathan and Dave takes the reins to discuss the current Leafblower Guard lists on the UK trounament scene and what you will likely see on the top table. They also discuss some tactics on how to counter most Leafblower Guard list.
Opinion: This was a great show overall, the guys have really proven themselves to be one of the better tactical podcasts out there today. I love all of the Necron coverage, I cannot get enough of it, and hearing from James Taylor again was really awesome. And let's not forget the great IG coverage in this week's show, furthering my education on one of the best armies in the game today. Overall, really my favorite of the week, outstanding work guys!
Highlights: This week the guys open up the show with 'This Week in Gaming' in which they discuss their latest games played. In here was a really great conversation about spawning Necron Scarabs with Spyders and the Scarab conga line. Next, in Pat's Corner, Pat had an interview with the TO of the recent Feast of Blades tournament. They discussed the event, his overall review of how the event went including the video coverage and more. Next, Pat interviewed the guys from the podcast (new to me) Frontline Gaming and they discussed their Imotehk/Spyder/Scarab spam list and how well it has been performing in the competitive circuit. Pat then had a conversation with Goatboy about his recent experiences at Feat of Blades. They discussed his Grey Knight list and how well he did. Next, the guys get back to "The List" where they build list for the listeners and this week they built a Paladin 2+ Grey Knight list. Next, they built an unconventional beat-face Mech Space Marine list using a lot of Forgeworld models. They then finish the segment off with a massively expensive Grey Knight list. Next up in Tactical Terrain, the guys review the 11th Company's recent tournament. They talk to some of their opponents at the event and discussed how terrain affected some of their games and how they used it to their advantage. They close out the show with another installment of Ralph, and this week they talk about effective list building approaches on how to battle Grey Knights in general. They talk about things like AV 12+ and its effectiveness against Grey Knight shooting, ways to kill hammer units, etc. They then talk about a Dark Angels list that will do well against Grey Knights.
Opinion: Outstanding show guys, really! I am really curious to hear what the guys are thinking about the Necron Codex, and there was some good stuff in here this week. The interviews were great as usual, and we all love Goatboy! It was interesting to see the guys build a Forgeworld friendly list, as it is clear that none of them play much Apocalypse. And of course the Ralph segments have become my weekly newsletter on how to not get my face kicked in by Grey Knight! Outstanding show guys!
Highlights: This week the boys are joined by some very special guests, Dave and Matt from Miniwargaming.com! They open up the show with some gaming news, covering the GW survey, the new mega forces for Christmas, White Dwarf Apoc formations and more. Next up, the boys went into what they have been doing this week, which included hobby completed and games played. Then, the guys interview Dave and Matt from Miniwargaming.com, and started off by talking about their website and online store and moved on to their YouTube videos. They also talked about their gaming club and their involvement in the community. They also talked some from the retailer's prospective of dealing with Games Workshop, and there was some great conversation here. Next up was 'Room 40001' where Dave and Matt toss out the 4 things they would like to see removed from the game of 40K. To close out the show, the boys returned to 'Dagmire's Tavern' where Dagmire and Steve discuss in detail Sarah Cawkwell's latest Black Library book, "The Gildar Rift". They discuss the characters in the story and their interactions between each other, and what they thought overall of the book.
Opinion: This was a good show overall, and a lot of fun to hear from the Miniwargaming.com guys. I have been a huge fan of theirs since I found them a few years ago and it was really awesome to hear what they had to say. 'Room 40001' was fun as always and Dagmire's Tavern was really interesting. I have not read "the Gildar Rift" yet, but this really made me want to add it to my list. Great show!
The Independent Characters – Episode 42
Highlights: This week the guys, once again joined by Zach and dive into the first in a two part series on which they talk about which army is best for you. This first show covers the Imperial armies. They open up the show with a few thanks and announcements. Next, in a new name for an old segment, 'The Workbench' the guys cover what they have been doing lately in the hobby and gaming. Next the guys go into the meat of the show, choosing an Imperial Army. They go into their categories for selection which include army character, the models and customization options for that army, play style, competitiveness and more. They then move on to a brief review of each of the Imperial Armies, starting with the Black Templar and then moving on to Blood Angels, Dark Angels, and the dreaded Grey Knights. Grey Knight is clearly a good place to send people to start an army. After a break, the guys close out the show with segment 2 of 'Choosing an Imperial Army' and started off with the Imperial Guard. They talk about the story of the IG, but mostly discuss the awesome firepower contained within this codex. Next they covered the Sisters of Battle followed by stock Space Marines, and finished off with the feared Space Wolves.
Opinion: This was a good show overall. It was a bit of a review of each of the Imperial Armies and discussed their basic themes and play styles of each of them. There was some good conversation on the ins and outs of each of them and a good place to point a potential new Imperial Army player. Good work boys!
Subscribe to our newsletter!
Get Tabletop, RPG & Pop Culture news delivered directly to your inbox.
Deepstrike Radio – Episode 26 ***Explicit***
Highlights: The guys are back and open up their show this week with what they have been doing lately in the hobby. They also talked about some interesting rumors floating around the internets and some of the new releases in 40K. Then, in the Librarius, the boys are talking all about the Elysian Drop Troops, and they discuss their full back story and origins, some of their vehicles and weapons, and how different they are from the stock Imperial Guard. Then, in the 'Armoury' the guys each take turns creating lists for this elite Imperial Guard army. They open up talking about some of the special rules that apply to this army before Jim talked about his 1500 point list, mostly from Imperial Armor 8. Chase build a 1750 point lists using just the Codex Imperial Guard. Chase did an 1850 ground pounder list with some interesting vehicle choices. Next up in 'the Hobby Trenches' the boys discuss the joys of painting camouflage, especially on all of those lovely IG tanks you'll be painting. The guys close out the show with 'the Briefing Room' and this week's topic was 'Bringing new people into the game of 40K'. They give out ideas for how to bring in fresh new players to the hobby, including some gift ideas for those just getting into the game.
Opinion: Good overall podcast all around. The Elysians were an army I knew very little about, mostly due to the all Forgeworld models. So it was really fascinating to hear the story and background of a new army to me. Also, some of the painting and modeling tips here were awesome and something I am going to have to hold on to. Good work guys!
Honorable Mentions – All great podcasts that just missed this cut this week, but you should still check them out, in no particular order:
Jaded Gamercast – Episode 57 ***Explicit*** – Blood in the Badlands
40K Warcasting – Episode 42 The 11th Company's Tournament and USRs (welcome back guys!)
Signals from the Frontline – Episode 9 Black Templar rumors and the articles they are working on (Great Necron stuff so far guys!)
Seanhammer – Episode 60 Necrons and Malifaux
Noobhammer – Episode 11 The Fluff behind your army
So, that is it for This Week in 40K podcasting, thanks for reading. Got a podcast all about 40K, or mostly 40K that I am not listening to? Let me know about it, [email protected] and let me know about it. Also you can find me on My YouTube Channel for Battle Reports, Tactics, Reviews and more! Disagree with my review? Post comments for that too!