Hordes – Way of the Wilds: Kaya Play Experience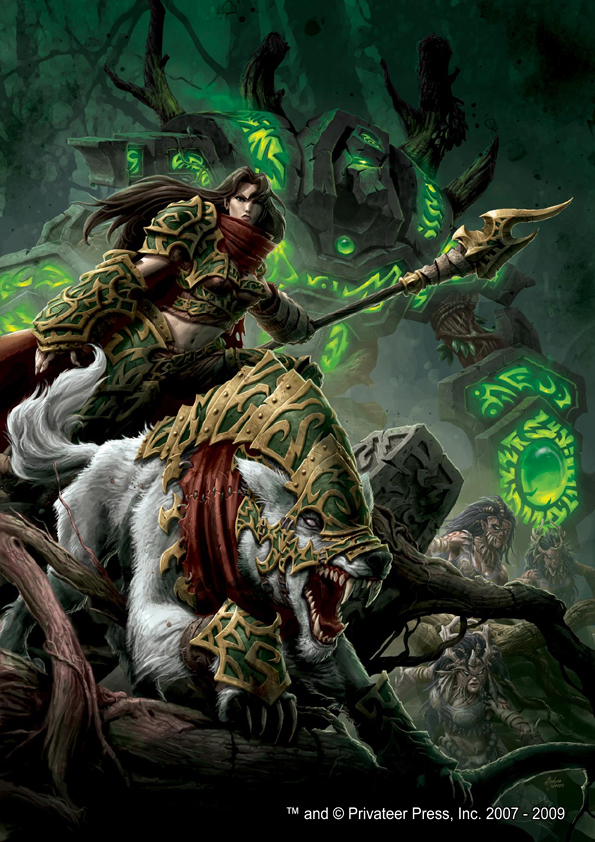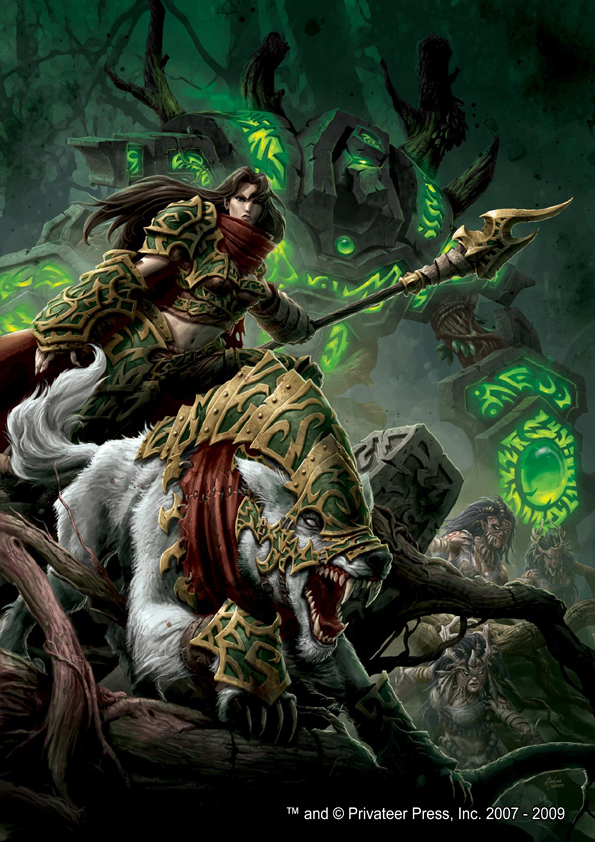 I've gotten in several games with my initial Kaya list that I discussed some weeks ago, and have made several adjustments to it. I've also started toying around with other builds and warlocks a bit as well.

My initial 35-point build consisted of the following:
Kaya the Wildborne (+6)
> Feral Warpwolf (9)
> Warpwolf Stalker (10)
> Gorax (4)
Wolves of Orboros – Full (6)
> Wolves of Orboros Chieftain and Standard (2)
Shifting Stones (2)
> Stone Keeper (1)
Wolflord Morraig (5)
Blackclad Wayfarer (2)
In my first game, I immediately ran into a few problems. Kaya is noticeably fragile, so playing her forward can be pretty risky, but doing so is often desirable in order to keep her beasts within her 12″ control area. This was further complicated by the fact that Circle warbeasts can really move. While I could activate her first to move her up so that I can keep her beasts inside 12″, doing so would stop me from being able to use Spirit Door after the warbeast has activated. This created a strong desire for me to want to take the Druid Wilder, which effectively allows me to force my beasts while they are outside Kaya's control, but still within the Wilder's CMD area.
My immediate thought was to drop the Wayfarer, since their identical costs would make the two a straight trade. However, I found the Wayfarer to be great to have around not only for Hunter's Mark, but for its spray attack as well.
I also found myself wanting more warbeasts so that I could better synergize my list with Kaya. This means that the list would largely need to be reorganized.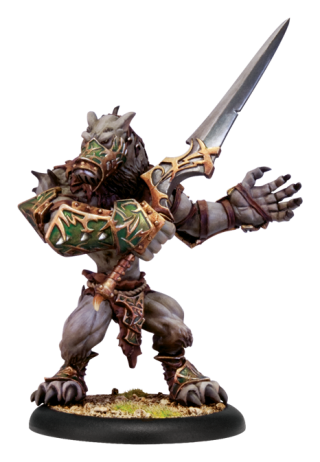 The only better than one Warpwolf Stalker? Two Warpwolf Stalkers.
After a lot of deliberation, I decided to drop Morraig and the Wolves of Orboros. They proved pretty effective, but if I wanted more warbeasts, I'd have to cut out infantry. Doing so freed up 13 points, which I used to invest in the Wilder, a second unit of Shifting Stones (which were proving more and more useful every game), upgrading the Feral Warpwolf to a second Stalker, and adding in a Gnarlhorn for utility and defense. This brought my list to:
Kaya the Wildborne (+6)
> Warpwolf Stalker (10)
> Warpwolf Stalker (10)
> Gnarlhorn Satyr (8)
> Gorax (4)
Shifting Stones (2)
Shifting Stones (2)
> Stone Keeper (1)
Druid Wilder (2)
Blackclad Wayfarer (2)
I found this list to be markedly more effective. The pair of Warpwolf Stalkers with their big swords, high damage potential, ability to take on high-ARM or swarms of infantry, and great synergy with Pack Hunters and Spirit Door made them fantastic in the list and terrifying to my opponents. The Gnarlhorn provided protection against enemy heavies moving in to challenge my Stalkers thanks to its ability to Counter Slam. Its animus also provided some nice movement and accuracy buffs to my heavy warbeasts.
Druid Wilder: goes in Kaya lists.
The Wilder was a godsend. It gave me the flexibility to activate my models in such a way that worked, sending my Stalkers at high-ARM targets outside of Kaya's control area, then moving up and using Spirit Door to pull them out. She also provided free use of an animus every turn and brought additional Fury management. She's a fantastic investment.
When I cranked the list up to 50 points, I added back in the Wolves, Morraig, and a Reeve Hunter solo, and the list performed fairly well. Overall, it feels pretty one-note, by which I mean I send my warbeasts out to sow their destruction, then Spirit Door them back, but it works relatively well. The Wolves and Morraig held down entire flanks while still having the mobility to get where I need them. Morraig proved instrumental in finishing off damaged enemy heavies and warcasters, and the Wolves were a super-cheap distraction that my opponents couldn't ignore. The pair of Shifting Stones units had my opponents in fits, as I used them to double-teleport my heavy warbeasts huge distances across the field to reinforce collapsing flanks or to put the hit on high-priority targets lurking in my opponent's backfield. They're also great during the game for clogging up charge lanes and denying my opponents the opportunity to charge my Stalkers.
I already have a significant chunk of my Circle army painted with more on the way. I can't wait to get some more games in. Morvahna has me particularly interested for ability to play the attrition game provided I'm not playing against a warcaster/warlock with Purification or Carnivore. I've played a game with Kromac, and he is seriously legit. He's a scary assassin that can also support his army in huge ways via Warpath and Unnatural Aggression. Stalkers love him. Grayle looks like a great way to play a "Solomachine"-style army with Morraig, the Lord of the Feast, and a few White Manes. Epic Krueger and Baldur seem like great places to play the control game. But where to go next?
I'm loving Circle so far. They can play the game a dozen different ways, making them feel like a great alternative to Cygnar, which feels a bit more limited in terms of application despite being very good at those specific play styles.
Subscribe to our newsletter!
Get Tabletop, RPG & Pop Culture news delivered directly to your inbox.