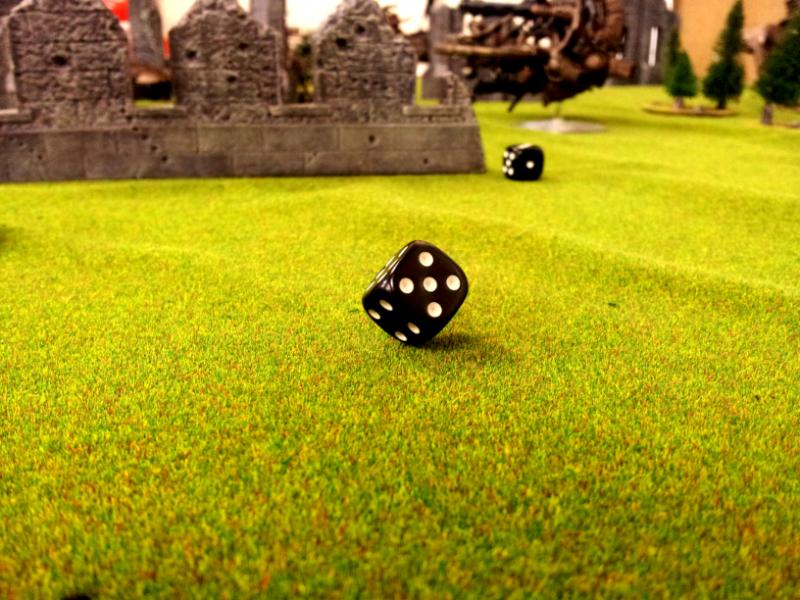 The whole Internet seems to be filled with some sort of 40k depression of late – 5th edition is winding down and whether you loved it, hated it or just were neither here nor there about it, everyone appears to be waiting for 6th edition. We are now poised on the edge of our seats as we await the fall of the die… (I'm hilarious I know).

This article turned into a really, really long post, sorry so it's been split over two parts. The first part contains the little introduction + the Good whilst the second part contains the Bad + the Future/conclusion.
Sometime last year there were a bunch of 6th edition rumors flying around. This was later released earlier this year in what looked like an 'official' document which set the Internet alight debating it's validity. We heard it was a very, very, very early playtest packet from a source of a source of a source… Regardless, the Internet was divided as only 40k gamers can be. So whilst there are still a good solid 4-6 months before that happens and whether or not it's good for the game, we have lots of 5th edition still going on! The American tournament season seems to have kicked off with a bang with the Indy and BayOpenArea GTs kicking off and Australia (remember us?) has had two NOVA tournaments already with Centurion and 3++con. There's a lot of other big tournaments which still have one more hurrah under the 5th edition ruleset as well.
So this begs the question – how successful was 5th edition and where does this leave us?
Personally, 5th edition was and still is, great. Whilst not everything is perfect, it was a huge step up from what we've previously seen from Games Workshop across all of their products. Let's take a quick look at some of the major points both for and against 5th edition and what this means for the game moving forward.
The Good
Game Balance – This was a combination of the rules implemented within 5th edition and followed on with their army releases (with a few hiccups) being generally balanced against one another within the 5th edition ruleset. A lot of people will argue over the power of certain books (i.e. Imperial Guard, Grey Knights and Space Wolves) but no statistics we've gathered so far from tournaments have indicated this is the case (though this is a currently smallish sample pool which we are looking to expand – we still have the BayOpen and Indy GTs to add into there as well). There is certainly a difference between most of the 5th edition books (excluding Sisters of Battle and Tyranids) in relation to older 4th edition books though players of extreme skill can still do well with such armies. Personally, this is huge. Having an army book which lasts a full edition (and potentially beyond) is a huge incentive to invest in new toys when a new book/edition comes around rather than being good for several months/year and then falling off to the wayside.
Vehicles & Movement – This is going to be an interesting one as it will show up in the Bad as well. Vehicles and transports in particular, were largely shunned in 4th edition due to a less forgiving vehicle damage chart and punative effects against transport occupants (including being able to take out both the tank and occupants). With changes to how transports interact with their occupants and a more forgiving vehicle damage chart along with cheaper prices, vehicles became relevant in a big way (perhaps too big). This not only drove Games Workshop sales up but it also made the game far more interesting (yes, interesting).
If we add in the Run! mechanic, every single army has the option to move up to 12″ each turn. Vehicles can obviously do this far more reliably and there are units and vehicles alike which can exceed this (fast vehicles, jetbikes, bikes, etc.) but gone were the days of static gunlines from 4th edition – these no longer fair well, particularly when assault armies can throw their entire army into vehicles and be in your face Turn 1/2. Movement is one of the major tactical components of 40k and improving the options here not only by making vehicles more relevant but giving infantry more movement options opened up the game a lot.
Game Updates – One of the big criticisms of Games Workshop in the past has been their complete disregard for keeping their rules in check with erratas and FAQs. Whilst this problem certainly hasn't been solved, there has clearly been some sort of change (such as not letting Jervis or specific gamers write them to their own advantage). Hell, there's even a specific Games Workshop e-mail address ([email protected]) for FAQs now, something I don't think we've seen before. We've seen, for the most part, much more prompt and sensible FAQs and even actual rule changes to help older factions (Orks, DA/BT, etc.).
I'd still love to see a lot more effort go into these and for Games Workshop to acknowledge they make a game, not just a hobby. If you want to be a model company, make models not rules. You make rules, you need to make sure those rules are actually decent and kept current. They've done a pretty good job compared to their past with 5th edition but this is only the first step. Game balance and timely FAQs/rule changes/erratas benefit all of your customers – having a balanced rule set which can be used for competitive play isn't going to stop the hobbyists or fluff-bunnies from having fun just like having those type of players or events wouldn't stop competitive players from having fun with a tight ruleset.
Rules Streamlining – We've really seen two, maybe three phases of this. The first was the neutering of the Chaos codex. We went from Chaos Legions, Imperial Guard doctrines, Tyranid biomoprhs, Space Marine Chapter Traits, etc. to …the Chaos codex. The rules were then streamlined a bunch within the 5th edition paradigm – you're in range or you're out of range, you can see or you can't see, you're in cover or you're not in cover, you're in combat and can die or you're not in combat, etc. There are still a bunch of *facepalm* moments and unclear wording which can lead to hour-less and frivolous debates but the rules themselves are pretty straight forward and work pretty smoothly.
Furthermore, whilst options such as traits/doctrines/biomorphs/etc were taken out of army books, flavor was still being injected into them with new units, special characters and force organisation swaps. This kept the information most people needed to know down to a minimum – you didn't have to know every trait and potential combinations for each army and memorise a mass of information, everything was done in a nice little neat package for you.
Whilst we're still seeing this for the most part, we've also seen a bit more complexity and note-taking creep back into things. Dark Eldar pain tokens and the whole of the Necron codex are good examples of this. Although the complexity of the game hasn't magnified itself severely, there does seem to be a move away from super streamlined armies for the foreseeable future. Luckily this is mostly related to note-keeping rather than overly complex and wordy rules and with the help of some friendly entrepreneurs, note-keeping can be easy and cool looking.
Again, not everything is perfect but the concept of the rules was a lot better compared to 4th edition. Whilst there are still some kinks to be worked out for the future (how to balance TLoS, cover, etc.), the system gallops along a lot quicker than previous incarnations of the game. Which brings us to…
PART:2 The BAD of 5th edition (coming soon)
~So what do you think as we reach the twilight of 5th Edition was its single best change over 4th?