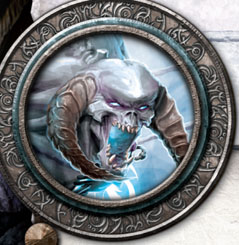 Let's talk a little about how Legion of Everblight fares in the new tournament format! In this article, we'll discuss jamming and control points.
The 2012 Steamroller tournament rules/scenarios are proving to be a game changer (terrible pun, I know) for how players approach tournament play. Data is still coming in, as people are able to play games in tournament conditions. In my LGS, a group of us are playing through one new scenario each week to get used to the system and help out guys who are attending Adepticon, WargamesCon, Lock & Load, and other big events. I'd love to tell you in detail exactly how Legion players should react to the new format, except that I'm still not certain myself. But here's what I'm seeing.
It's no longer enough to win your games, you have got to score control points.
Most of the advice I've seen focuses on the importance of scoring Control Points, or CP's- that is, you've got to actually control objectives. Why? Their importance has gone way up as a tiebreaker to rank players. Tournaments at my LGS are only 3-rounds, no matter the number of players, due to time constraints on store hours. In a recent tournament, there were 3 of us going undefeated going into the final round. Because I had fewer CP's than the other players, I was ranked 3rd of the undefeated players. They had both managed to win games via scenario, whilst I had won my games by assassination. In fact, there was enough of a difference in CP's between myself and the top two guys that it was effectively impossible for me to take 1st place.
Even if you plan to win by assassination, you've still got to have some means of taking and holding ground.
To jam, or not to jam, that is the question!
A lot of the "forum wisdom" focuses on jamming as a scenario tactic. That is, you field several units/models designed to get into your opponents' face quickly and prevent him from being able to contest objective zones. Optimally, the units you're relying on will have abilities that make it difficult for your opponent to kill them (tough, incorporeal, etc), and be further backed up by spells and/or Feat's that up their survival even further.
There are two issues for Legion with this tactic. The first point, is that even if you don't plan on using this tactic yourself, you need to have some way to deal with it. The Angelius' Repulsion Animus can help clear paths. Purification, or a Thrullg can clear out spells your opponent may be relying on. Effects that boost your MAT or RAT can help hit models that may be relying on exceptionally high DEF. ARM debuff's can help make the kill. A Scythean can bypass Tough with its animus. We have access to plenty of fast, pathfinding flanking units, making our forces potentially impossibly to truely pin down. The tools are there, but you've got to ensure you've got them in your lists.
The second point is whether Legion players should attempt to use this tactic themselves. My gut feeling right now is no. Here's why. Jamming often relies on forcing your opponent to go 2nd, giving you two turns to run the "jams" into his face. However, going first means you only have a 7″ deployment zone in most scenarios, meaning that your unit either needs to be very fast or have Advance Deploy. The Legion units that seem best at jamming (Legionnaires and Ogryn) tend to be SPD 5 and can't AD. That means it's next to impossible to really get them into position to fully block your opponent out of a zone. You might think of Hex Hunters or Striders as an option, but they're only in the DEF 14-15 range. As a faction, we don't really have the DEF or ARM buffs to push our infantry up to ridiculous levels, Ashen Veiled Hex Hunters or Striders being the one exception. Just as damning, almost nothing has Tough, and we have essentially no way to give it to any units.
The one option Legion does have is our warbeasts. Cheap, fast lessers can flood a zone for a very affordable points investment. Saeryn's Feat gives a solid means of tying up significant enemy forces while minimizing the risk to your own army. You might say pThagrosh or Kallus make great jamming Warlocks, but I don't see it. pThag's can make his warbeasts incredibly difficult to kill, but it means he needs to be up near the front lines to get maximum potential from Death Shroud. At SPD 5, that's difficult for a model who will need to cast spells on the way in. Kallus has some of the same characteristics. In his case, the feat allows you to continue clogging up lanes, but the models he'll likely be relying on to jam the opponent aren't overly quick, and the Incubi that replace don't have the stats to withstand any real attention from the enemy.
The question I keep coming back to is: Should Legion be jamming at all?
The more I play the new scenarios, the more convinced I am that trying to play a jam-heavy list is simply playing towards the strengths of other factions and not taking advantage of our own in-built advantages. If you want to play an army with lots of tough (small t), hard-to-kill troops you need to play a different faction than Legion. We have our own strengths- speed, mobility, good shooting, and devastating alpha strikes. Play to those advantages and you'll have a better chance of victory.
All you Everblight players out there- what are your experiences with the SR 2012? Do you agree or disagree with my findings?