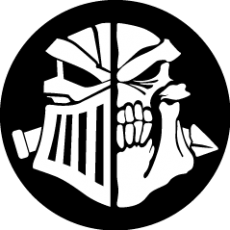 Our last article looked at the general changes to the Steamroller tournament format for Warmachine and Hordes. Today we'll be examining two of the scenario categories, Center and Dual.

When talking about the Center Scenarios (Close Quarters, Gauntlet, and Overrun), the first thing to note is that they all use the Killbox Artifice. This rule requires that starting on the first player's second turn, if a player ends his turn with a friendly warcaster/warlock within 10″ of any board edge, that warcaster/warlock is destroyed. This artifice pushes players to move their warcaster/warlock outside of their deployment zone while reducing the possibility of a warcaster/warlock running to the far corners of the board to avoid assassination.
This does what any good scenario should, which is to force engagement and a sense of danger. Since all warcasters/warlocks have control areas of at least 10″, staying within the Killbox shouldn't be difficult provided you remember that it's in-play. I have won more than a few tournament games due to opponents forgetting about Killbox and consequently leaving their warcaster or warlock too close to the board edge. Back-line warcaster/warlocks like Severius or eHaley should remain particularly aware of the Killbox Artifice, as they are going to be the most vulnerable to it.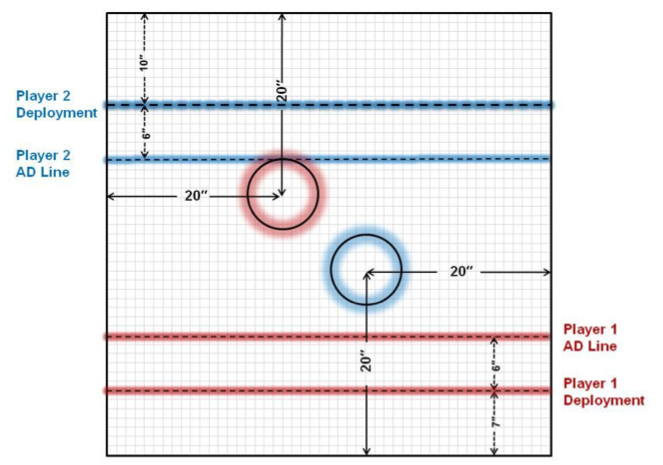 Close Quarters
The first of the Center Scenarios is Close Quarters. There are two 8″ scoring zones, one 20″ up and in from the lower-right corner of each player's board edge. Players can score points by, starting on the second player's second turn, controlling the zone on their opponent's side of the board while their warcaster/warlock is within either zone. Three points are required to win.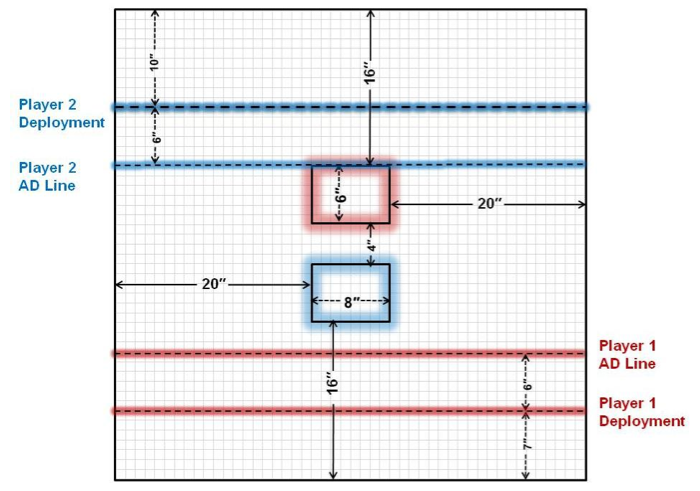 Gauntlet
Gauntlet uses a pair of 8″ x 6″ rectangles that are 16″ up from the table edge along the vertical axis of the board. You score points in Gauntlet simply by controlling the zone on your opponent's side of the board. Two points are required to win.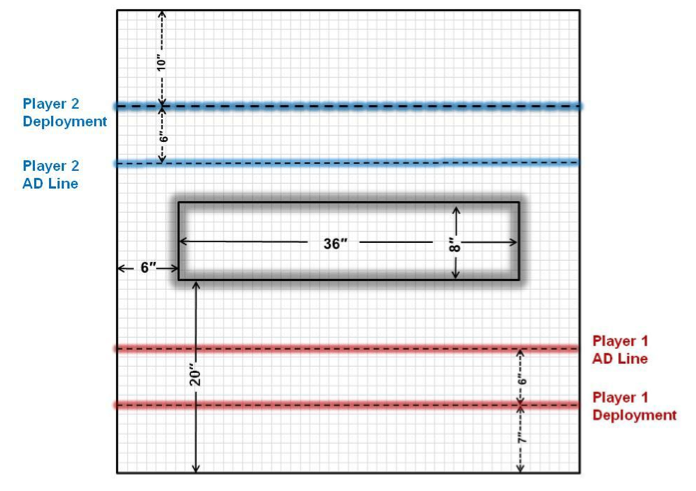 Overrun
Overrun uses a single, large, 36″ x 8″ scoring zone in the center of the board, where you score by controlling that single zone. Two points are required to win.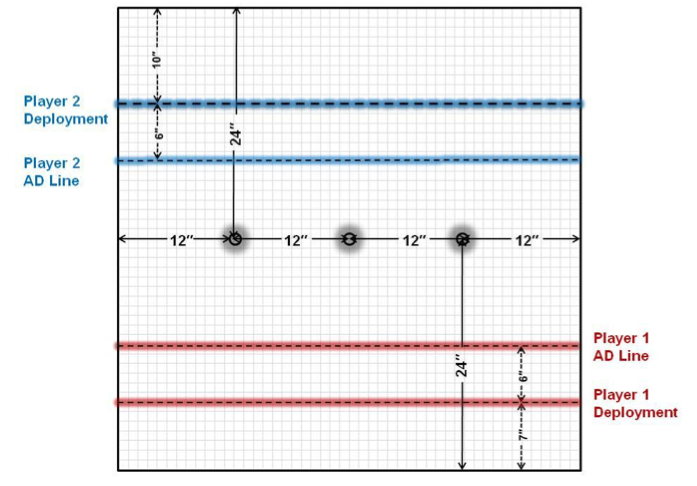 Incursion
The first of the Dual Scenarios is Incursion. Three flags are placed along the center line of the board going from east to west, spaced 12″ apart. At the end of the second player's first turn, one of the flags is randomly removed from the table (determined via rolling a d3). Controlling a flag earns you one point, and the first to three points wins.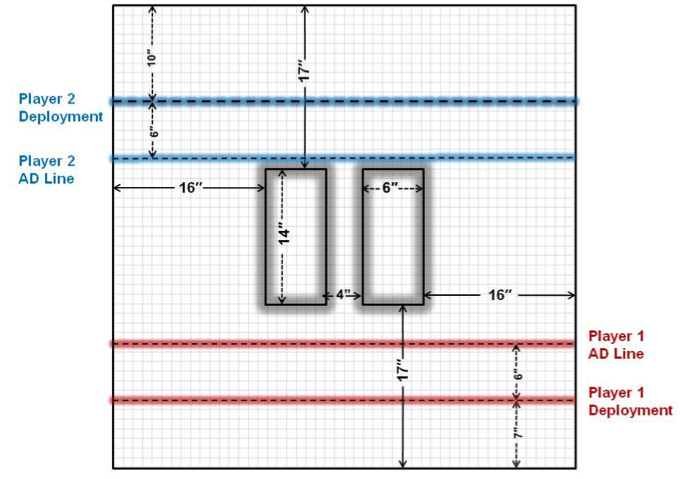 Process of Elimination
The second Dual Scenario, Process of Elimination uses two 14″ x 6″ scoring zones running north-to-south, spaced 4″ apart. Points are scored here by controlling one of the zones. Each zone may only be scored in once, and you can only score one point per-turn. The first player to earn two points wins.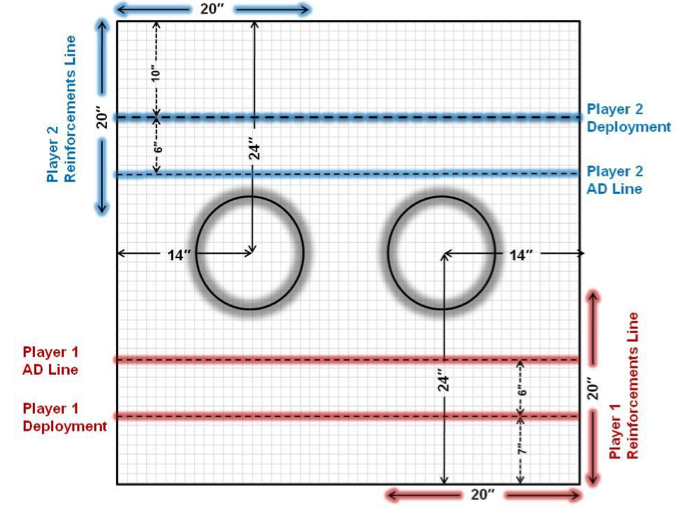 Outflank, Outfight, Outlast
The third scenario, Outflank, Outfight, Outlast uses a pair of 12″-diameter circles along the horizontal axis of the board, their centers 14″ from either the eastern or western the board edge. Players score points here by controlling one of the zones. The first player to three points wins. This scenario also uses the Reinforcement Artifice.
Contesting in these scenarios, by which I mean stopping one's opponent from scoring, shouldn't be terribly difficult under most circumstances. The scoring zones are rather large and it only takes one non-fleeing model to keep them contested, but beware such practices. The fewer models you have in a zone, the easier it will be for your opponent to wipe them out. If you just throw a few single-wound infantry in there, you risk them getting popped off, the zone occupied by enemy models, and a point scored for the opposition.
Alternatively, putting the toe of big, tough warjack or warbeast can go against you if your opponent has access to spells that slam, throw, or place your models, like via Force Hammer, Tornado, or Telekinsis. Units like Druids of Orboros, Battle Mages, or Arcane Tempest Gun Mages can spell real trouble if you're only using a single warjack to hold a zone, as they are all fairly common and have attacks that will push your models d3″ per hit.
It's also important to be mindful of abilities that can push or freeze your models outside of the scoring areas. Warcasters/warlocks like Gorten or eKreuger can simply push your models out of zones while eDeneghra or Sorscha can stop them from moving in. In such cases, you'll often need to play more aggressively than normal, else rely on your own abilities that will protect you from your opponent's. Beware of jamming tactics revolving around hard-to-kill units or warbeasts that can tie up your army outside of the scoring zones. Things like Iron-Fleshed Kayazi, a sling-shotted Titan Sentry, or Daughters of the Flame with Defender's Ward can hold critical parts of your opponent's army in place while your opponent sets up camp in your scoring area. Just this last weekend I witnessed a player get held up just 8″ outside his deployment zone when Macbain used his feat on a bunch of Seadogs and Grogspar. Without the means to cut through or past them, he was down a point at the end of his second turn.
The most common thing to watch out for is that combination of speed and resilience. If your opponent is running a good deal of models with Advance Deploy, be prepared to run your army towards the scoring zones at full tilt from the get-go.
The only scenario here that really requires specific discussion is Outflank, Outfight, Outlast due to the Reinforcement Artifice. Because your Reinforcements can enter from the eastern board edge, you can afford to initially commit less of your force to that side since your Reinforcements will make up for this, particularly if they are fast-moving skirmishers like light cavalry or other quick models.


Next time we'll look at the Distant and Objective Scenario Categories. Stay tuned!