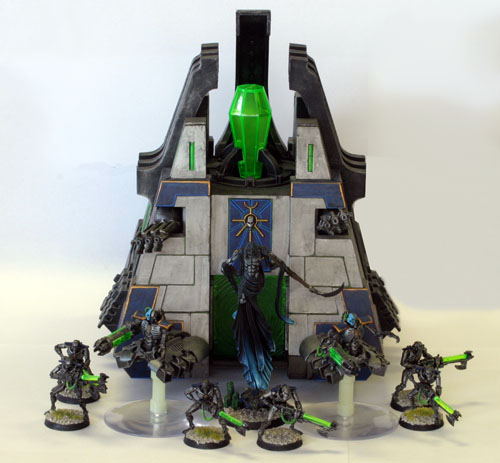 Mercer from ImperiusDominatus here. I thought I'd share this Necron review review (can you review a review?) and see how things have changed 5 months since the codex was released, in comparsion of my initial review.
Btw you can find all the previous review (broken down into FoC btw) on my site, sorry about the double pimp by the way!
The Necron codex has been out over 5 months now, the 40k community should have gotten some experience with this by now and come up with various unit combinations and power builds. I'm going to look back at the Necron Codex review and see how units have possibly changed after 4 months of play testing.
HQ
Necron Overlord
This guy is probably the best HQ in the book, IMO. The Overlord is a cheap HQ with some nice wargear upgrades and of course can have the Catacomb Command Barge. If you take either a Barge or a Lord on foot (upgrade to Phaeron) this guy is going to be a big bonus in your army.
I've been using the Overlord to sweep attack enemy units while in the Catacomb Command Barge. I always move flat out so at least the Barge gets a 4+ cover next turn. I did take the weave and mindshackle scarabs on the Overlord. Though I didn't find much use for these (and mindshackles are too random), he was good for tying up enemy units, but I would rather have a cheap distraction from the Overlord who can cause enough damage that he has to be killed.
Previously I gave the Overlord and 4/5. I will stick with that rating score.
Destroyer Lord
I've only had limited experience with the D-Lord so I cannot say a huge amount. The only thing which a D-Lord offers is a little bit of close combat bonus. Sure it is quicker movement wise than the standard Overlord and got preferred enemy, but it's not like Necrons are beasts in combat.
When I used the D-Lord I used him for tank hunting and attacking small, weak enemy units. Add a weave onto the D-Lord and he is pretty tough to take down. I have heard that other people run the D-Lord with a unit of Wraiths, the usual setup is a the D-Lord with a weave which allows the D-Lord to absorb missile launcher shots. The only thing the D-Lord fears is force weapons and other instant death nastiness – he's a pretty tough cookie to take down.
Previously I gave the Destroyer Lord 3/5 rating. I would love to increase that rating as I have a lot of love for the D-Lord, though the D-Lord isn't as good as a Overlord and I think a 3/5 rating is fair enough.
Royal Court
There's two models which make up the Royal Court; Necron Lords and Crypteks. Anyone who views my blog often or reads my feedback on Necron lists knows I don't have a fondness of Necron Lords. I think for the resurrection orb buff and with mindshackle scarabs (the common config) the Lord is costing way too much points for too little return.
The Crypteks on the other hand are great. Crypteks have some great wargear such as veil of darkness, solar pulse and tremor stave.
I've only had experience with the lance-teks (Crypteks with harbinger of destruction), the solar pulse is just so cool and can really annoy the opponent when they sort of lose a turn of shooting. It's not so much of a problem for armies who have acute sense i.e Dark Eldar and Space Wolves, though it can still hurt their long range guns if they don't get the right dice rolls.
This unit got a 5/5 rating previously, this is purely because of the Crypteks. I think a 5/5 rating is still spot on as the Crypteks give so much back for their points.
Elites
Deathmarks
I still think the Deathmarks are pretty cool, though I don't see them in armies as much as I thought. They make a excellent 'hunter' unit and can cause some major damage. The best thing is they are guaranteed to come on via deep strike as you don't have to roll for it (they deep strike the same turn as a enemy unit), just don't deep strike them close to the enemy!
I've heard some nice combos like adding a veil-tek (Cryptek with veil of darkness) to the unit so they can jump about the board easily. If you've used Deathmarks before, be sure to let me know how you find them! 🙂
I gave this unit a 4/5 previously. I'll stick with the 4/5 rating.
Lychguard
Don't seem to see much of these guys about and I can see why and it also makes sense. Necrons are a shooting force and don't do combat that good. The only units which are decent at combat are found in the HQ slot or Fast Attack. If I remember right these guys are Terminator costs, sure they do get better weapons (warscythe) and the cool shield (the shield is more like luck with the bounce back gimmick). The problem with them is transport. This isn't the units fault, but how the Nightscythe works. I think the best thing to do with a Nightscythe is move it up 12″ and bail out the unit and run them. I don't like the risk of getting a cover save on the Nightscythe and half the damage result table means your vehicle is wrecked and the squad ends back in reserve.
I gave this unit a 3/5 rating previously. Based upon transport problems and slow methods of reaching combat I think a 2/5 is more suited.
Triarch Praetorians
The Praetorians are the Lychguard in jump infantry form. They don't have a warscythe and only have a single less attack, though I think the rod they have makes up for that (S6 AP2 shot), or they can swap for voidblade and particle caster. This unit would be handy for darting down a flank and harassing camping units like Long Fangs or Lootas for example.
Previously I gave this unit a 4/5, I am going to stick with that rating.
C'Tan Shard
The C'Tan Shard is the most customisable Necron unit in the codex. It can cause massive damage to the enemy armour with the writhing worldscape power. Add in a tremorstave from a Cryptek and you've got a nasty combo here. Unfortunately I can that's the only use it has and the C'Tan Shard costs some serious points.
I still don't think they are worth the points and suffer the same problems they did in the previous codex (4+ invulnerable, expensive easy to kill with saturated fire power).
Previously I gave this unit a 2/5, I am going to stick to this rating.
Flayed One Pack
These guys are perhaps the poorest unit in the codex, which is a shame as they could have made them pretty cool. I really haven't got much else to say.
In the original review I gave this unit a 2/5 rating. I think this needs to be adjusted to 1/5 of this unit is just the pits.
Triarch Stalker
The Triarch Stalker is a cool bit of kit and can increase the shooting output of your army, it allows any Necron unit to be twin-linked when firing at the same enemy unit which the Stalker previously fired (and hit) at. That's very handy if the heat ray on the Stalker fails to get the job done and you want those elditch lances to hit or more gauss to hopefully glance a vehicle.
I've been using Triarch Stalkers for sometime now and I really like them. They add some nice armour saturation in a Necron mech list and boosts units damage output, particularly when you're using Ghost Arks which could knock out 20 S4 gauss flayer shots.
I gave this unit a 3/5 rating previously. As much as I would like to change it, I can't. The Triarch Stalker is cool, though it suffers from one weapon syndrome and can be easily tarpitted in assault.
Troops
Necron Warriors
Not a lot to say about the Necron Warriors, they are just Warriors, lol. Overall I think they are a cool unit, particuarly when supported by a Ghost Ark – it seems those Warriors just don't want to stay down!
Previously I gave this unit a 4/5 rating, which I am going to stay with, though this is purely when supported with a Ghost Ark.
Necron Immortals
Like the Warriors, I haven't got a huge amount to say about Immortals. The only thing I will touch on is that I think the gauss blasters are better than the tesla carbines. With gauss blasters you're going to get more shots (in rapid fire range) and of course can damage tanks. With the tesla, even with a unit of 10 Immortals, you don't stand huge chances of getting bonus shots, I think it might be 2 extra shots if you're lucky?
Last time I gave this unit a 3/5 rating, which still stands.
Transports
Catacomb Command Barge
If you're doing a mech Necron army then this vehicle is a must for a Overlord. The ability to sweep attack a enemy unit and then disembark (providing you didn't go flat out) and assault another unit is just priceless. This vehicle with a Overlord is probably the best unit in the codex.
I've been using this unit since the Necron codex came out, and it's fantastic. The CCB can give a real distraction to enemy commanders and must be dealt with or the Overlord will go sweeping more enemy units.
I gave this unit a 5/5 rating and I have no chance of changing it, it's just so awesome!
Ghost Ark
Not a huge amount to mention of the Ghost Ark. It can regen Warriors and knock out 20 gauss flayer shots when in rapid fire range, it can fire these two banks of gauss flayers at other two seperate targets if wished.
The Ghost Ark I've been using since I got the Necron codex. It's a very cool transport vehicle, very tough to put down and adds a decent amount of fire power. It's excellent for regenerating those fallen Warrior squads and because it is so big ass it can easily give cover to units behind it.
I gave this unit a 4/5 rating. I think it's worth 5/5 and it gives several benefits to the army in the form of mobile cover, troop regeneration and decent amount of fire power.
Night Scythe
Not a lot to say about this unit either. Only thing I can mention is it adds a decent amount of fire power thanks to the tesla destructor, though unfortunately that's not enough to out weigh the unit's bad points.
I gave this unit previously a 3/5 rating. I think it's fair to decrease that rating to 2/5. The Nightscythe isn't that durable, and if destroyed your Necron unit is placed in reserve, that's not cool.
Fast Attack
Canoptek Wraiths
I've been using the Wraiths almost since the Necron codex came out. I wanted to add some c.c element into my army. Scarabs are c.c (already had them in my list) though they rot armour and don't deal with infantry too well in combat.
The Wraiths have been a outstanding unit for me so far. They can move rapidly across the board thanks to being jump infantry and ignoring terrain. They aren't mega awesome super duper in combat, but they can hold Assault Terminators up in combat for several turns or rip non-dedicated close combat units to pieces. In my units I use four whip coils plus a particle caster, the caster has never done anything, though it's there as I have spare points plus it helps with wound allocation.
Previously I gave this unit 4/5 rating, that rating should be 5/5 as the Wraiths are golden.
Canoptek Scarab
Scarabs are in almost every Necron list, and it's easy to understand why. They just munch through armour without any issues at all and act as a excellent tarpit unit against none dedicated c.c units.
I've had Scarabs in my list since getting back into 'Crons. They haven't let me down so far. Originally I did have two units with supporting Canoptek Spyders. I am now down to a single Scarab unit and lost the Spyders. The Scarabs themselves are awesome and a full unit of them should absorb fire power with still enough bases to take out several vehicles. While I've found they are not awesome against infantry, they are ok for tying small units up. Scarabs I've found will always be on your opponent's target priority list, in a way it's good as other units aren't been blasted to bits, though on the other hand it can be disappointing as those Scarabs are very funky.


Scarabs got a 5/5 rating last time. I see no reason why that should change, they are pure win 🙂
Tomb Blades
Can't say much about Tomb Blades. I can only see them filling a anti infantry role, which to be fair every other Necron unit does well. Through no fault of their own, I can see them not been the first choice for fast attack thanks to Canoptek Wraiths and Scarabs.
Tomb Blades got a 4/5 rating previously, I will hold judgement and stick with that. Would love to hear from anyone who uses Tomb Blades.
Destroyers
Ah, Destroyers, something you don't see that much now and I can see why. The old Destroyer wing armies are just no more. I really cannot see a lot for the Destroyer, it can perhaps be useful if you're in a infantry meta environment, though it is a expensive unit for what you get. I can't say much more as I haven't used this unit.
Previously gave Destroyers 2/5, which I am going to stick to.
Heavy Support
Doomsday Ark
The Doomsday Ark is like marmite; you love it or hate it. Personally I am not a fan. At first glance the doomsday cannon sounds beefy, closer inspection says it's not that awesome. The problem with the main weapon (which makes the vehicle) is two fold; you cannot move and shoot and also it's not ordnance, which I guess is the balance for AP1, though it's rubbish when you roll a 1 and do nothing against that Razorback.
I've played against them several times and seen them in action. If you can work around the non-movement i.e place on each flank or in the centre then it may work for you. I think with the much cheaper and affective Annihilation Barge on offer, the Doomsday Ark is always going to be second best.
Previous rating was 2/5, which I am going to stick to.
Annihilation Barge
Along with the CCB, Wraiths and Scarabs, the Annihilation Barge is one of the cooler units in the codex.
I've been using a pair of these since the Necron 'dex landed and they have never let me down. They are excellent for dealing with light armour and transports, mostly they are suppression units thanks to the AP-, but that's the balance. For 90 points a pop you cannot go wrong. The Annihilation Barge just offers so much good shooting, the main weapon is twin-linked and if you roll on 6+ when shooting you get two more auto hits.
Previously this unit got 4/5. I am inclined to increase this to 5/5 as it is a very cool unit and cheap as chips.
Necron Monolith
Not used a Monolith in this codex so I cannot say a huge amount. Looking on paper it's very short ranged, which puts it into melta range. While it's cheaper than the previous codex, it has lost a fair few cool rules i.e immune to melta etc.


Last time the Monolith got a 2/5, which I am going to stick to. Would like to hear from people who have used a Monolith in the new codex.
Doom Scythe
Looking on paper this thing will screw over parking lots and units gathered in a bunch. It's got nasty fire power thanks to the deathray and tesla destructor. On the other side it is only av11 and I think something causing that much destruction isn't going to live for very long.
In the last review this unit got 3/5, which I am staying with. If you've used a Doom Scythe be sure to let me know how you get on.
Canoptek Spyder
I like Spyders, they are cool. I've been using them since the Necron codex landed, though I have discovered some problems with them. The good stuff is they spawn Scarabs for free, nice. The bad thing I see (which isn't the Spyders fault) is the Scarabs are often out the Spyder's range thanks to them being beasts and having that possible 24″ charge range. I've then found the Spyders are playing catch up and don't spawn as often as they should, and you definitely don't want to hold the Scarabs back. The Spyders do offer other bonuses such as anti psychic defense thanks to the gloom prism and they do come in a unit, while a unit is cheap, the wargear for wound allocation isn't and I would only take a full unit if running a Scarab Farm.
In the last review this unit got a 3/5, which I think I am going to stick to, though I have considered dropping it. Spyders are awesome for free Scarabs and that's about it, once those Scarabs have run off then the Spyders usefulness drops.
So that's the review of a review. How are you finding Necrons more than 5 months after release? Has the coolness of Warhammer 40,000's newest army worn off, or do you think they will hold their own for the long haul?