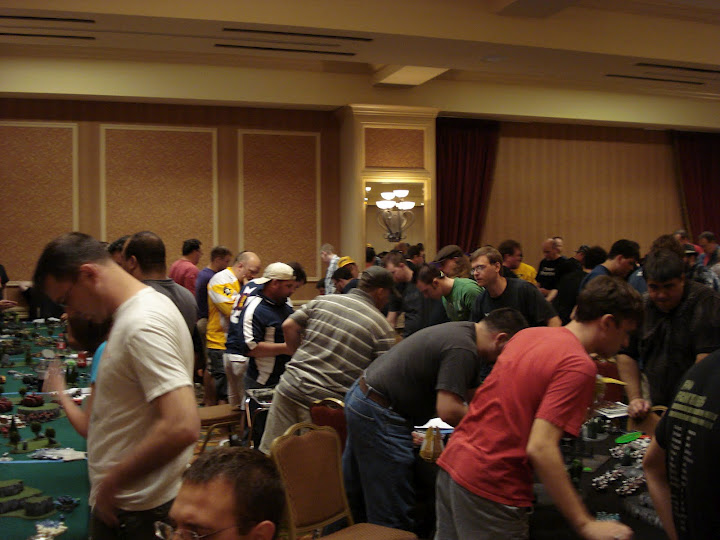 Someone overslept Saturday, missing the local 2K tournament. After blaming, in order, my wife, my cat, then finally myself, I carried a certain sorry carcass to the store to watch a few rounds. There, I noticed something you may already know…

…the games weren't getting finished. Not even close.
Hold that thought.
This month's White Dwarf – which for once felt worth the price – featured some rather large armies. The one that stuck out was the Empire versus Ork two-pager, with Griffons and Steam Tanks on one side and a number of giants and spiders on the other.
Glorious! It's the type of army snapshot I want to see, two totally unrealistically large and well-painted armies having a go at one another! It's cool, and epic, and it makes you want to field something equally worthy. So it made me want to buy and paint new models – turns out, that works out pretty well for Games Workshop, which wants to sell me new stuff fairly frequently.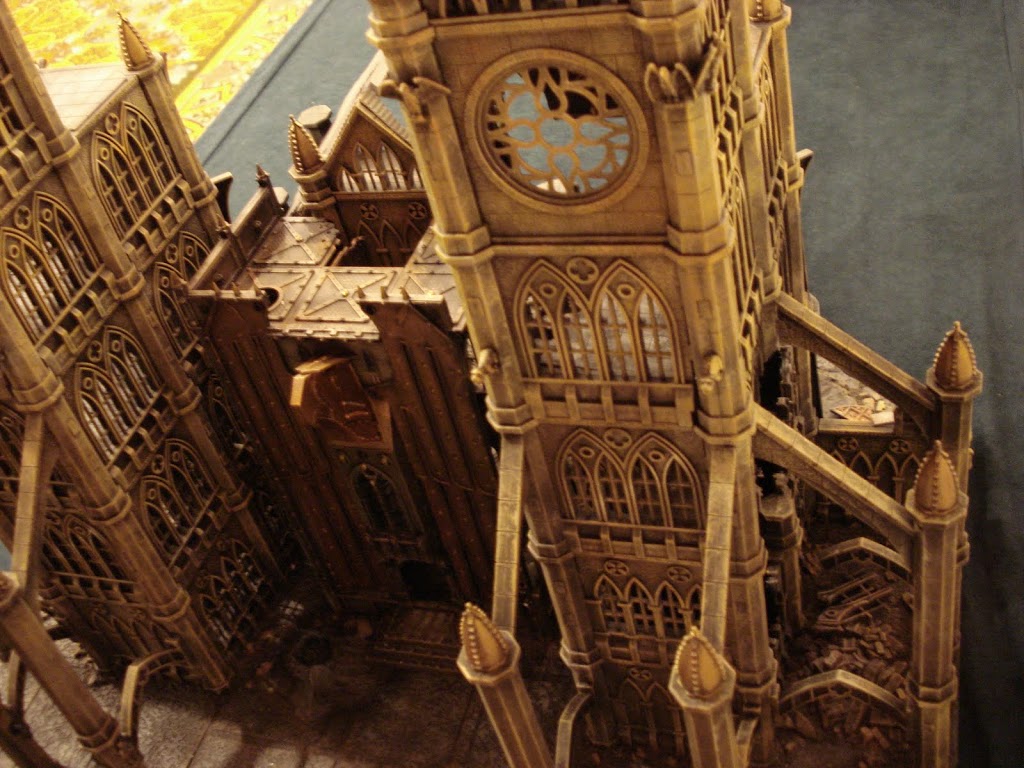 Huh. GW's need to sell and my need to buy seem pretty suited, right? It's a good working relationship – and I obviously didn't need all that extra cash littering my wallet. Thing is, GW's desire to max out its model sales has directly led to the overstuffed tables we're all seeing. It's nothing new, and we've touched on this topic from time to time, to be sure. They'll keep selling and we'll keep buying. Fine, fine!
But.
GW's need to feed the machine has all these secondary consequences, such as slowly but surely ramping up the number of models each army needs for a 2000 point game. The bar is forever pushed back. Face it: can you imagine an army book or Codex requiring less models for a standard army?
* * *
You in the back – put your hand down! Grey Knights don't count, because you didn't even have them before! That was a whole new fix.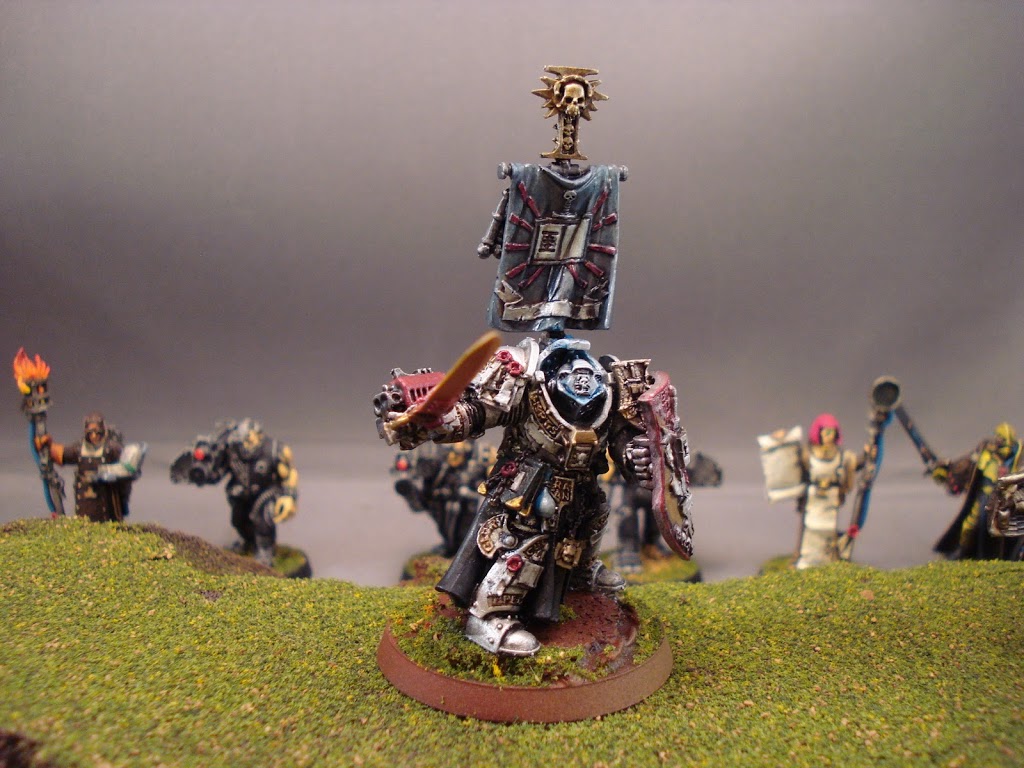 * * *
So here we are. The armies are getting larger and – remember that thought I asked you to hold on to, all the way from the beginning? – the games aren't getting finished. Since Games Workshop isn't going to quit ramping up model counts, we'll have to adjust. It means one of two obvious solutions:
The games get smaller…
The time gets longer…
Interestingly, I've only ever read about the former. There's a whole contingent of people out there who swear by 1500 point games, and have for a long time.
I'm not sure I'm there though. It only took one tournament I didn't event attend to buy into the idea 2K is too large… and who isn't thanking the Emperor that Hard Boyz finally kicked off? What a bad joke that turned out to be. Still, 1850 has always seemed like a pretty sweet spot; large enough to include some extra toys but small enough to finish a game in a reasonable amount of time.
But what is that, exactly?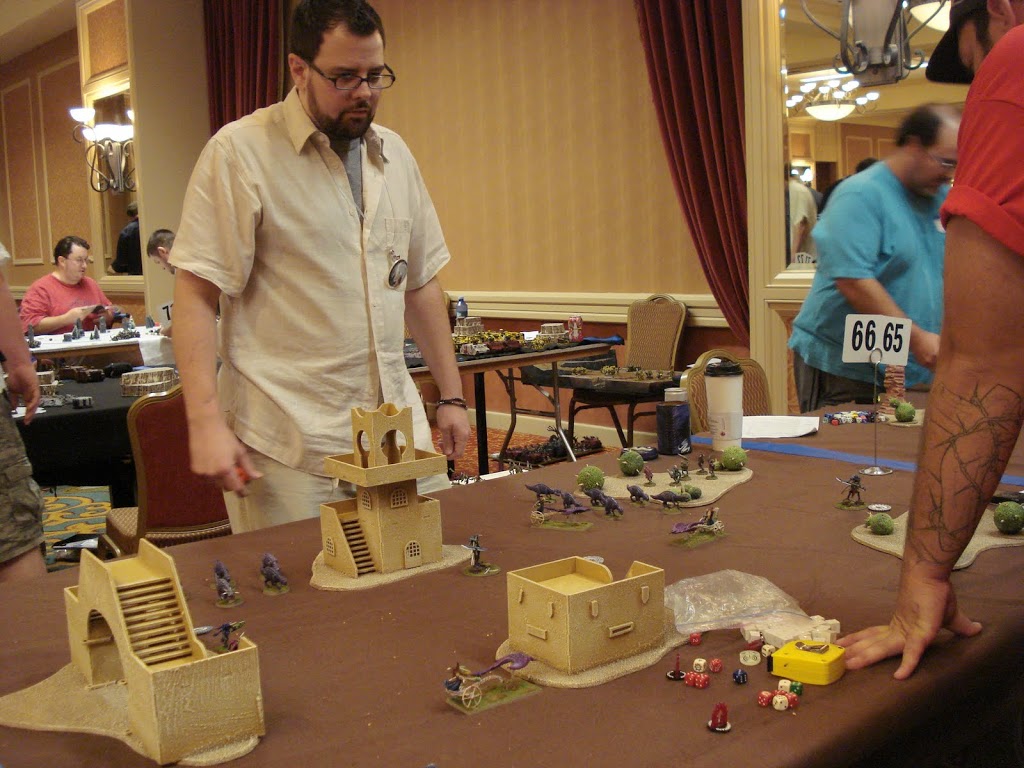 It's probably different for different people. I remember the first year of Wargames Con – back when it was still lovingly referred to as BoLSCon and Big Red was still doing his best to ignore me – everyone seemed shocked by the expectation that an 2000 game should be finished, dice down, in 2 hours.
* * *
Is that unrealistic? Should they consider a change? If so, what?
Keep in mind, part of the reason it was 2 hours is to keep the days from dragging on even longer than they already do. I love tournaments, but the day can be a grind sometimes. Extending the time of the match doesn't seem plausible, meaning we're back at the original question again.
Here's one thing I noticed and am going to point out before I throw this chum to you fine folk to chew over, and perhaps reach a consensus. It's something me and a buddy noticed during the first two years of Wargames Con, probably because the tables are so neatly divided into two halves.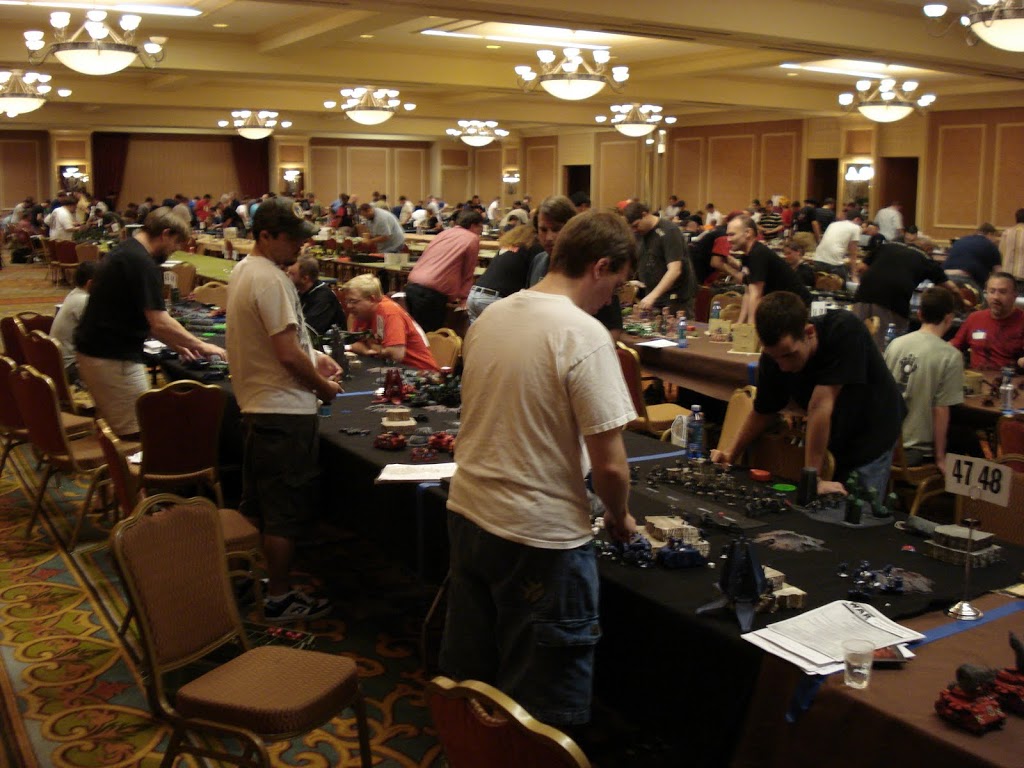 After the first two games, the top half games almost universally finished on time and there didn't seem to be many people referring to the rulebook.
The conclusion there is almost inescapable. I don't believe – and I'm not saying! – that the bottom half weren't fine players, but it does seem likely they were perhaps not as experienced. Part of finishing a game is having two people who know what they're doing with their army and thus don't have to spend valuable time flipping through a rulebook.
* * *
The astute may have noticed I used the word was, as in was 2 hours. The tournament organizers have extended the time limit to 2.25 hours this year.
Was it enough?
Are we going to have to prune down the size of our games every few years?
* * *
Here's a few tips to keeping your game hopping:
Know your army. Your goal is not to need to refer to your book.
Know your opponent's army. Not always as easy, but even a general idea of what your opponent's army is capable of can help avoid unnecessary conversations.
Have your army prepared to field. When time is counting down, the last thing you should be doing is separating troops.
Be consistent with how you move units. Carefully measure the models that matter, those in front, but there is not need to be as careful for those coming up behind. Within reason, you should eyeball these based on the models in front.
Don't go back and adjust models you've moved. Not only does this waste time, it's actually called cheating! It is amazing how many people do it inadvertently though, especially with tanks.
Keep track of time. You don't want to be surprised when the announcement says only 15 minutes is left and you're on Turn 3.
Decided most of your moves in your opponent's turn. There's no real good reason to spend 10 minutes in the movement phase. The most time should be allocated for shooting and close combat, since dice can only be rolled so fast. That said…
Roll dice in batches. Know how many dice to a brick and how many bricks – minus the odd die here or there – you need. Have a system and don't deviate; this allows your opponent to follow your rolls.
Here we need to interrupt. Dice rolling is arguably the most important skill for finishing games, so a list isn't going to cut it.
Moving on, most tournament players are unapologetic dice watchers. Yes, you have an audience and yes he wants to keep you honest. No, he doesn't think you're a liar, but yes he's wanting to assure you don't make mistakes.
It's okay, really!
Personally, I pull misses and roll hits for damage. Pulling misses allows your opponent to keep track of what's important… that is, what hit… and not worry that you're snatching up dice you shouldn't be.
There's no need to explain everything in detail, nor should you slow to a crawl, but call out what you're doing. It's up to your opponent to ask for clarification, otherwise he can no doubt follow the dice just as well as you!
Anyway, there is really only one more point to touch on…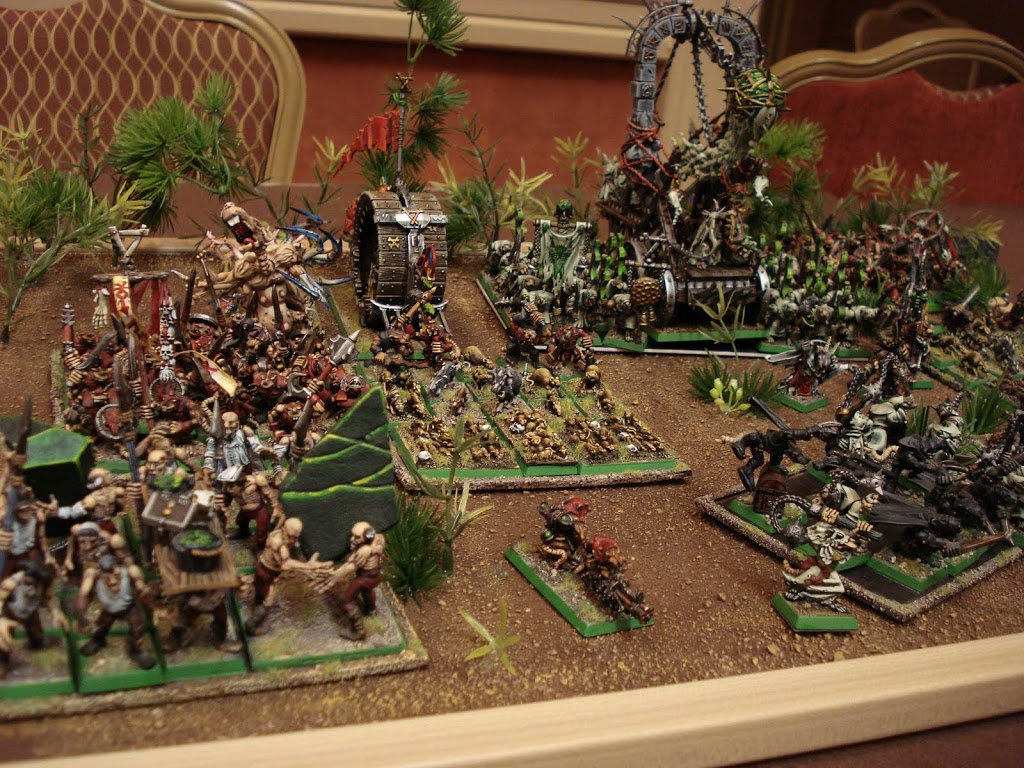 …should you start another turn?
This is tough to answer, because usually the answer is, "It depends." Is it a dice-down event? Are you reasonably certain you can finish both turns, much less get to yours if you're moving second? Has your opponent been playing fairly slowly but only now to expect he can finish his turn, "pretty quick?"
Don't feel obligated. Your opponent may feel he would have won, "if only I could have moved this, this, this and this, and you would have had to have done that and that…"
Anyway, my rule of thumb is to get in another turn if at all possible, but I'm quick to say no if time is short and the previous turns weren't. Notice though, neither of these is predicated on how I'm doing, because giving up an extra turn wasn't an extra turn if time remained to play it out!
* * *
We haven't even touched on deliberate slow-playing! That's a whole other article though…
Another Terrible Tuesday post in the can, or down the toilet, or however that saying goes. As always, check out Strictly Average – and maybe hit that pesky follow button!
For the comments, where for you and yours is the sweet spot between two many toys and not enough time? What's the 'best' of both?
Thoughts? Comments? Hugs and gropings?