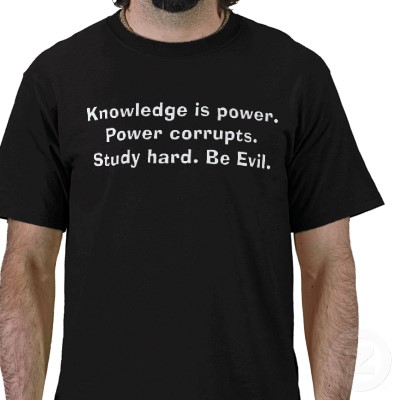 Mercer from Imperius Dominatus here. In 40k knowing your enemy is half the battle. I'm here to help!


There's a lot of people who don't know the most basics of other codexs (heck some people don't even know their own). Now I don't know every tiny teeny little rule in every codex, though knowing most the stuff, or even the main stuff in other codexs is helpful. Here's a guide for 10 things you should know in other codexs.
Remember, knowledge is power ;).


Note: I've missed off CSM, D.A and B.T as they are rumoured to be getting new books soon, especially with 6th ed looming around the corner, which is rumoured to be a D.A vs CSM boxset.
Blood Angels


1. Sanguinary Priests give any unit within 6″ radius feel no pain AND furious charge.
2. Death Company do not claim objectives, even though troops choice. Some people "forget" this.
3. Death Company Dreadnought has fleet.
4. Death Company units have rage. Some people also "forget" this too.
5. Shield of sanguinus power can be cast in the OPPONENT'S shooting phase. This will allow you to cast a psychic power in your own turn.
6. Blood Angels vehicles are fast, so a Razorback with las/plas turret can move 6″ and fire power guns, huzzah!
7. Baal Predators can scout, pop smoke, shoot in their turn and then get a cover save when shot at in the opponent's turn. Yes, it's terrible and I am Blood Angel player…
8. Descent of Angels special rule allows to re-roll reserves and only scatter 1D6″ when deep striking.
9. Mephiston has no invulnerable save…
10. Commander Dante allows a single unit to deep strike without scatter.


Chaos Daemons


1. All Daemons have a invulnerable save, some also have a armour save too.
2. Daemon army is split into two halves, these halves must be rolled for when the first half is deployed. Always surprises me that some Daemon players always get the right half…
3. Fateweaver allows all units within 6″ to re-roll failed saves including his own.
4. Fateweaver must take a morale test if fails to save a wound, if the morale tests fails then Fatey runs off the board. Good bye double chicken head!
5. Bloodletters have furious charge and a power weapon. They will own you in combat. Do not let them get close.
6. All Nurgle units have feel no pain and slow & purposeful.
7. Some Slaanesh units may have frag grenades, oh they are pretty snappy initiative wise too 😉 .
8. Some Tzeentch units can use two shooting attacks thanks to 'We Are Legion' special rule.
9. Breath of chaos power wounds on a 4+ with no armour saves and glances vehicles on a 4+, also remember it's a flame template so no cover saves either!
10. They all deep strike!


Dark Eldar


1. Majority of their weapons are poison and wound on a 4+ and have no strength value.
2. Venoms can move 12″ and fire 12 shots, yes believe it 🙂 .
3. Razorwing Flocks are not swarms, so don't presume they are 😉 .
4. Flickerfield on vehicles is a 5+ invulnerable save, it can be taken any time.
5. Baron Sathonyx gives +1 to deployment rolls (and is also awesome).
6. Shadow fields are 2+ invulnerable until the save is failed.
7. Liquifier guns are D6 AP, they are like a box of chocolates because you don't know what you're going to get.
8. Ravagers can move 12″ and fire all guns.
9. Pain tokens can be switched and swapped from unit to unit like herpes.
10. Units can assault from a webway portal, it's like a whole mini circle of board edge!


Eldar


1. Runes of warding make enemy psykers take psychic tests on 3D6, get a 12 or more and it's perils time.
2. Melta and flamer weaponry cannot cause any damage to Avatar of Khaine.
3. Fire Dragons are totally evil! 🙁 .
4. Howling Banshees are I10 thanks to their funky masks. Shriiiieeeeeeekkkkk.
5. Dire Avengers can fire a extra shot in a shooting phase in lieu of next turns shooting.
6. When Swooping Hawks deep strike, they may drop a large blast any where on the table.
7. When Rangers roll to hit, any 6+ counts as AP1.
8. Wave Serpents have a energy field, melta and ordnance do not get the 2D6 dice bonus and any weapon with strength above 8 counts as S8 when firing at a Wave Serpent.
9. Wraithguard and Wraithlords must roll a D6 if a Spiritseer is not close by, if the result is a 1 they stand around and do nothing.
10. If a Harlequin unit has a Shadowseer, then you roll to 'spot' the unit just like night fighting.


Grey Knights


1. All units have the Aegis rule, which is -1 to psychic tests if a psychic power effects the Grey Knight unit. Note that Dreadnoughts have reinforced aegis which is -4, and if a G.K unit is within 12″ of a Dreadnought then it's also -4, yes I do hear you say brokenz.
2. Nemesis halberds are initiative 6, Grey Knights love to strike first!
3. Warp Quake forces deep strike mishaps on any enemy unit which deep strikes within 12″.
4. Purifiers have cleansing flame, which on a 4+ causes a wound on enemy models in close combat, this is a close combat attack and counts towards combat resolution.
5. Grand Masters can allow a Dreadnought to become scoring.
6. Psycannons are assault 2 or heavy 4 – dakka dakka!
7. Psychtroke grenades are the most annoying things ever!
8. Psk-out grenades only work when Grey Knights charge.
9. Rad grenades issue a -1 toughness penalty to enemy units when Grey Knights assault or are assaulted.
10. A Vindicare can allocate wounds on enemy units; good bye Sanguinary Priest.
Imperial Guard


1. Castellan Creed can issue four orders per turn, compared to the normal two of a CCS – excellent for foot armies! Creeeeeeeeeed!
2. Officer of the Fleet causes -1 on opponent's reserve rolls and may chose to make the opponent re-roll outflank rolls.
3. Lord Commissar has a LD10 bubble, which can be used for morale, pinning, leadership or order tests.
4. Chimeras treat all water terrain features as clear, not that you see much water…
5. Psyker Battle Squad has the weaken resolve rule, this is cast in the shooting phase, any enemy hit is reduced by the number of Sanctioned Psykers in the unit.
6. Leman Russ tanks when moving at cruising speed can only move 6″ + D6″. Can also fire the turret weapon (even if it's ordnance) and any other weapons if remained stationary or moved at combat speed.
7. When firing the Hellhound, the flamer template can be placed up to 12″ away from the barrel of the inferno cannon.
8. Skimmers and bikes cannot claim the cover save for going flat out/turbo boost when fired at by a Hydra.
9. Colossus fires a S6 AP3 large blast with no cover saves – power armour beware!
10. Manticore Rocket Launcher carries four rockets which fire D3 shots a turn, though once the Manticore has fired four times it has run out of ammo and cannot fire any further times.

Necrons

1. Imotek the Stormlord can keep the game in night fighting when rolling a D6 and the result is higher than the game turn. While night fighting is in affect, Imotek can fire a D6 lightning bolt at each unengaged enemy unit on a 6+.
2. A model on a Catacomb Command Barge can do a sweep attack in the movement phase, the model will hit on a 3+ when moving at combat speed or 4+ when moving any other speed. In addition the model uses whatever close combat weapon it is equipped with and if a roll of a 6+ is scored, then the Necron player can allocate the resulting wounds. Cover saves are also disallow. Damn this thing is pure evil!
3. A Ghost Ark can 'repair' Necron Warriors, on a 2+ it adds D3 Necron Warriors to a unit within 6″. If the Ghost Ark rolls a 1, then it takes a glancing hit with no saves allowed. A Ghost Ark can also split fire with the gauss arrays it has on each flank.
4. All Necron vehicles have the living metal rule, which is 2+ save against crew shaken and 4+ against crew stunned.
5. Tesla weapons get two additional auto hits on a 6+ when rolling to hit, in addition a tesla destructor can hit ANY unit within 6″ of the original target on a 6+, any unit hit suffers D6 S5 hits, providing that the original target remains.
6. Nemesor Zahndrekh can give certain universal special rules to a friendly unit each turn, in addition a enemy unit may have a universal special rule taken away.
7. Destroyer Lords have the preferred enemy special rule.
8. When a Cryptek fires a tremorstave, any enemy unit hit treats open ground as difficult terrain.
9. A C'Tan with the writhing worldscape power can make all difficult terrain dangerous, if the terrain is already dangerous then a dangerous terrain test is failed on a 1 or 2.
10. Scarabs have the entropic strike rule, for every hit they score an additional D6 is rolled, on a 4+ vehicle armour is depleted by -1. If a enemy model suffers a unsaved wound, then is reduced to sv-.

Orks

1. A Weirdboy must roll a D6 for psychic powers, a Weirdboy upgraded to a Warphead may re-roll when using a power.
2. Meganobz have the slow and purposeful rule, this will slow their pace, so use this advantage to gun them down with the likes of lascannons etc.
3. Tankbustas must always shoot at and/or assault a enemy vehicle if within line of sight, regardless of range. Squig bombs are pretty awesome though.
4. When moving, Stormboyz roll a D6, on the result of a 1 a Stormboy is removed as a casualty, though the number rolled can be added to the amount the unit moves.
5. Dethkoptas have the hit and run special rule and scout special rule – ALPHA STRIKE!!!11!11ONE!
6. Deff rolla causes D6 S10 hits on a unit when performing a tank shock, if the unit elects to do death or glory then it's 2D6 S10 hits. Excellent for mashing vehicles and infantry.
7. When Ghazghkull Thraka calls a waaagh! all infantry units count as rolling a 6 for waaagh! movement and all none fleeing units become fearless. In addition it makes Ghazghkull's save a 2+ invulnerable during that Ork turn and the following player's turn.
8. A Kommando unit with Boss Snikrot can outflank on ANY board edge, any I.C attached to the unit may also do this too ;).
9. A boarding plank on a vehicle allows a single embarked Ork to make close combat attacks on a enemy vehicle within 2″, Nob power punch special coming up!
10. Red paint job allows a vehicle to move a extra 1″, though doesn't incur any penalties for this.

Sisters of Battle

1. At the start of the movement turn, Battle Sisters get D6 faith points. These can be increased via modifiers i.e squad is lead by Sister Superior.
2. Faith points can only be used on the roll of a 5+ (without modifiers).
3. All models with the shield of faith special rule have a 6+ invulnerable save, I guess it's better than nothing.
4. Sororitas Command Squad have relentless and move through cover for act of faith; relentless multi meltas? Oh yes!
5. Battle Sisters act of faith allows them to re-roll 1's when rolling to hit in the shooting phase, or if used in the movement phase all units falling back auto regroup.
6. Dominion Squads' act of faith allows their weapons to become twin-linked; meltagun nastyness and flamer death.
7. Uriah Jacobus allows faith points re-roll.
8. Saint Celestine's sword will always wound on a 4+ unless it needs lower, it is also a power weapon.
9. The Immolator is a ridiculous over priced unit, though it can have twin-linked multi melta 😉 .
10. Exorcist missile launcher fires D6 S8 AP1 shots, it's not very nice!

Space Marines

1. Space Marines have the combat tactics special rule, they may choose to auto fail a morale test. Handy for falling back, regrouping and then firing/charging into assault.
2. Null zone psychic powers forces all enemy units within 24″ to re-roll successful invulnerable saves for the remainder of the player's turn – evil if you're a Daemons player or using mass Crusaders.
3. Drop Pods when deep striking will reduce the scatter distance if they land on impassable terrain or units; this can act as a buffer to stop the Pod scattering, if placed in the right position.
4. Pedro Kantor allows Sternguard to be scoring units, in addition combat tactics are replaced with the stubborn special rule any any friendly unit within 12″ of Pedro gain +1 attack.
5. Vulkan He'Stan removes combat tactics from a army and allows all meltaguns, multi meltas, flamers and heavy flamers are counted twin-linked. Thunder hammers are counted as master crafted.
6. If a Captain takes a bike, then squads of at least 5 bikes maybe taken as troops.
7. Master of the Forge allows Dreadnoughts to be taken as heavy support as well as elite choices.
8. Lysander allows boltguns, bolt pistols, storm bolters and heavy bolters to be twin-linked if he's in the same unit.
9. Any Land Raider variant may still fire a single weapon even if crew shaken or crew stunned.
10. If Kayvaan Strike is included in a army, then combat tactics are replaced with fleet – go get 'em tiger with the fleeting Hammernators from a Land Raider 😀 .

Space Wolves

1. Blood Claws get +2 attacks when charging, though if within 6″ of a enemy model at the start of the shooting phase then the Blood Claws will forgo shooting altogether.
2. Wolf Scouts can outflank on the opponent's table edge if they wish and with the right dice rolls. Watch your rear!
3. Long Fangs can split fire, yes they can really do that!
4. Wolf Guard can be split and join other units to act as a squad leader.
5. Thunderwolf cavalry are pretty damn evil – gun them down, do not let them make combat if you can help it.
6. Wolf Priest may chose a unit type i.e infantry and the Wolf Priest and any unit attached will count as having preferred enemy against that unit type for the entire game. Nasty when against foot armies.
7. A Rune Priest doesn't need to roll to hit when using jaws of the world wolf, also the line which is traced for the power can only be 24″ long.
8. Space Wolf models using terminator armour cannot deep strike, they just don't like it!
9. Mark of the wulfren gives D6 +1 attacks instead of the normal amount and has the rending special rule.
10. Space Wolves can take up to four HQ choices because they are awesome, though no HQ can have the same combination or psychic powers, wargear or sagas.

Tau

1. Units with advance stabilisation system have the slow and purposeful special rule, a must for Broadsides.
2. Units with a bonding knife may regroup even if under half strength.
3. When firing at Stealth Suits, you must roll like night fighting to see if you can spot the unit.
4. XV8 & XV88 Battlesuits have the relentless rule, though this only applies to rapid fire weaponry.
5. Targeting array increases the models ballistic skill by +1.
6. A model with the target lock upgrade can fire at a different target from the unit the model is with.
7. Markerlights can increase the ballistic skill of Tau units, fire a seeker missile, ignore the effects of nightfighting, impose a -1 for pinning tests or -1 for cover saves. That's all evil!
8. Disruption pod counts the vehicle as a obsecured target if weapons being fired at the vehicle are more than 12″ away. These things are highly annoying.
9. Gun Drones can disembark from a vehicle at any time, though can never re-embark. In addition when firing from a vehicle they use their own ballistic skill and may fire in addition to any other weapons the vehicle is permitted to fire.
10. Sensor spines avoid the effects of dangerous terrain.

Tyranids

1. If no synapse creatures are in synapse range, they must take a leadership test, if failed they are either subject to lurk or feed instinctive behaviour. This is a commonly forgotten rule 😉 .
2. If a Tyranid Prime joins a unit of Tyranid Warriors, then the entire unit benefits from the Prime's weapon skill and ballistic skill.
3. Hormagaunts roll 3D6 and pick the highest when the run.
4. Gargoyles have the blind venom special rule, which when rolling to hit a 6+ auto causes a wound. This works exceptionally well with preferred enemy.
5. Any unit within 6″ of a Venomthrope is counted as armed with defensive grenades, in addition and enemy unit which to assault must take a dangerous terrain test.
6. The Carnifex has +2 initiative when charging, add adrenal glands and you're talking I4, add frag mines and it has assault grenades – that's not very nice at all.
7. Hive Guard do not need line of sight to fire, in addition no natural cover saves cannot be claimed i.e skimmers moving flat out or vehicles using smoke launchers.
8. If a Tervigon has adrenal glands and toxin sacs, then any Termagant unit within 6″ also gains the benefit of having these biomorphs.
9. Mycetic Spores works exactly like a Drop Pod; it reduces scatter distance to avoid impassable terrain or enemy units. Remember, can still scatter into terrain 😉 .
10. The Hive Tyrant's psychic shooting attacks auto hit – paroxysm for the win 🙂
~So what are your "top ten" abilities you note when facing your most feared enemy army? The ones that really worry you gametime?