As of late, I've born witness to an exodus of sorts. Geeks (I use this word with the utmost esteem, as I count myself amongst them) of all walks have been pouring into game stores expressing interest in Warmachine and Hordes. Just this last weekend, Privateer Press ran over 200 demos at WAR Games Con.
Many with experience with other systems who choose to dive in with both feet often ask The Question™, which is simply, "So, what's good in this game?". Such a query can occasionally be difficult to address, particularly in the presence of others, as opinions on the topic range far and wide, often with intensity approaching disturbing levels.

With that in mind, I thought it appropriate to convey my answer by looking at a slightly different question, which is, "What do I hate to see across the table?". I've played my fair share of factions over the years, so I feel at this point that my approach will be a bit more cosmopolitan than one who has spent the tenure of their time with, say, just Khador, so I don't feel like any answer I give will be tainted by hard counters to any one particular faction.
This serves as the introduction of sorts for what will be a series on the subject, addressing the things that a player should expect to see, and often appropriately fear, across the table from them on a consistent basis regardless of local meta preference. There's a lot to talk about here, so I figured a good place would be to start with offensive infantry, which is to say, "Infantry that kills stuff,".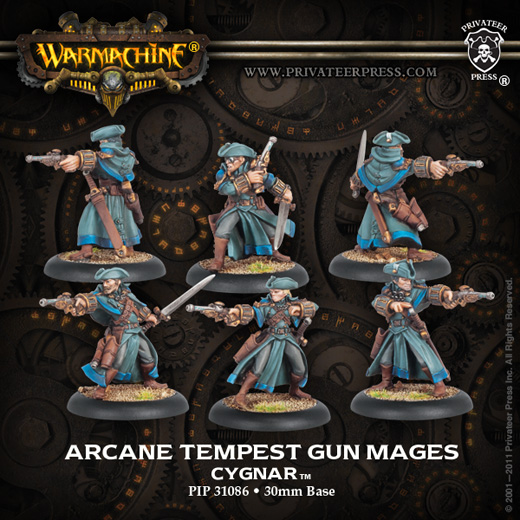 Cygnar – Arcane Tempest Gun Mages with Officer Unit Attachment


The big problem with shooting units is that there are just so many damned things that shut them down or reduce their effectiveness to the point that the premium paid for ranged attacks can feel like a ship anchor strapped around the unit's neck. Well, Gun Mages don't suffer most of these problems thanks to their excellent RAT value, impressive selection of attack effects (Critical Brutal Damage, Thunderbolt, Snipe), Magical Weapon quality, and their ability to ignore Concealment, Camouflage, and Stealth via the much-loved Officer Unit Attachment.
This unit is not to be ignored since they will pretty much have something of value to offer at most times during a game. While their lowly POW 10 isn't exactly inciting fear, it is enough to take on most single-wound infantry. If the target is not of that category, the option to choose Critical Brutal Damage can give them teeth against medium-ARM targets and even heavy warjacks if the user's dice are agreeable. While critical effects aren't ever a guarantee, Cygnar is not without sources for adding additional dice to ranged attacks on infantry (Dead Eye, Beast Lore, Firing Squad) to help increase the odds of triggering a critical, so be particularly wary of their potential damage values when boosts or additional dice for ranged attacks are available to them.
Thunderbolt shots provide yet another tool for Gun Mages, allowing them to push models back d3″ per-shot with Critical Knockdown. Cygnar builds often have trouble with redundancy in the armor-cracking department, so being able to push slower, high-ARM targets like Mulg, the Avatar of Menoth, Bronzeback Titans, Devastators, etc, can provide the means to take such threats that can not otherwise be dealt with out of the game for a turn. It's also a great tool for knocking down large models that screen enemy warcasters or warlocks (provided you can roll a critical, which is yet another reason to be alert for Dead Eye or other like-abilities).
Lastly, Gun Mages can choose Snipe to help augment their relatively short RNG 10. This is the go-to ability during the early game and usually the safe bet for Gun Mages when they're unloading on enemy infantry or other weak models that can be reasonably threatened by a simple POW 10.
If that weren't enough, the Gun Mage Officer can also marshal a warjack which can also benefit from the three listed abilities. Typical castings here are often include Cyclones, Hunters, Defenders, and (as I have become fond of them in this particular pairing) Grenadiers.
Be mindful that Mercenary players under the Highborn Covenant Contract can also run Arcane Tempest Gun Mages as well, save with Mercenary warjacks (often a Mule) instead of Cygnar options.
They sport solid DEF values, but very low ARM, making them well-protected from direct attack methods but vulnerable to things like AOEs or bounced spell effects. If the Officer is marshaling a warjack and sticks his head off too far, kindly let your opponent know his mistake by chopping it off and denying that marshaled warjack access to Snipe, Critical Brutal Damage, and Thunderbolt. Protectorate players should remember that Safe Passage won't matter a lick against Gun Mages since they have Magical Weapon.

Protectorate of Menoth – Exemplar Errants with Officer, Standard Bearer, and Errant Senechal
Errants are another example of some of strongest infantry in the game. Their cost is extremely low for the plethora of abilities in their wheelhouse, they have a ranged attack with a decent RAT value that ignores spell buffs, can provide some melee threat thanks to Weapon Master and a wealth of available damage buffs, and can stop an assault cold with their Self-Sacrifice rule and have excellent early game positioning via Advance Deployment. Their Unit Attachment adds even more things to an already solid unit, namely Pathfinder for terrain mitigation, Quick Work to increase their potential for cleaning out enemy infantry, and Purity to make the unit relatively safe from enemy spellcasters.
Just by those virtues alone, Errants are a fantastic unit, but availability of yet even more buffs to increase their effectiveness pushes them into the stratosphere. The Errant Senechal, for instance, gives nearby Errants the Hunter rule for ignoring forests, concealment, and even cover when determining line of sight or making ranged attacks, which makes a mockery of models that rely on things like Dig In to survive.
Rhupert Carvolo and the Covenant of Menoth are also common sights amongst a unit of Errants, the former providing either a DEF buff or Tough while the latter brings the option for them to ignore both Stationary and Knockdown or allow their weapons to cause the Fire Continuous effect. Anyone who has tangled with Kriel Warriors or Janissa knows just how brutal the combination of Tough and Knockdown Immunity can be.
Finally, there's warcaster synergy to consider. The Protectorate has a wealth of warcasters with access to survival buffs (Defender's Ward, Inviolable Resolve) or damage buffs (Ignite, Eye of Menoth).
Since Errants boast ARM 16 (often 18 with Defender's Ward) and immunity to enemy spells, you'll need to look for direct attack methods to take them on. Where ranged attacks are concerned, you'll want to use Combined Ranged Attacks, Blessed Weapons, or boosted ranged attacks at POW 12 (Hand Cannons, Blunderbusses) or higher to take the unit apart. Charging them isn't always the most efficient option since Self-Sacrifice allows models in the unit to shrug their wounds to other nearby Errants that would otherwise be attacked in short order as well; it's often best to thin out the unit as best as you can with ranged attacks, preferably creating gaps that are larger than 3″ between models so that they can't take advantage of Self-Sacrifice for when you finally send your melee infantry in to clean up. If you can manage to cleanse Defender's Ward, which will be a common sight, that'll serve you nicely for taking the unit apart as well, making things like Epic Eiryss, Purification, and the Withershadow Combine good things to have around.

Khador – Winter Guard Infantry with Rocketeers, Officer, Standard Bearer, and Kovnik Jozef Grigorovich


Khador's conscripted Winter Guard Infantry are a hell-of-a-lot more effective than their humble fluff and base abilities might suggest. The core unit comes armed with paltry P+S 8 Axes, RNG 8, POW 12 Blunderbusses with Combined Ranged Attack, medicore DEF, and not the most impressive ARM value. Thankfully, their cost comes in at the low end of 4/6 for a 6-/10-man unit.
The uninitiated would be likely to wonder where I'm going with this, and would be right in doing so. Above, you should have noticed that it wasn't just the base unit mentioned, but a cavalcade of attached models and the support solo that launched a thousand ships. Rocketeers are 1-point Weapon Attachments that are additionally armed with a RNG 14, POW 12 ranged weapon that can be picked up by nearby models in the unit if the Rocketeer dies. By themselves, they're not really that fantastic, but all will be understood in time.
The Officer and Standard Bearer are where this unit starts to get their teeth. First and foremost, the attachment is on the cheap end for providing an additional two models with full offensive application where many standard bearers aren't armed at all. Secondly, the Officer provides two abilities: Combined Melee Attack, which is largely negligible and the Bob and Weave order, which is the focus of much jealousy. Combined Melee Attack isn't that big of a deal on a non-Reach unit, but it can occasionally come in handy for increasing accuracy or damage output as necessary. Bob and Weave is where the real currency is, providing +2 DEF to the unit when they make a full advance, and increasing their DEF value to 14 in a way that cannot be ignored or stripped by any means once it's in-play.
Lastly, the Standard Bearer provides the Grape Shot ability to the unit, which allows the unit to use their Blunderbusses to make a Spray 8, POW 10 attack, giving them further versatility.
The straw that breaks the camel's back is Kovnik Jozef Grigorovich, who, for a measly 2 points, brings three very potent buffs to choose from for your Winter Guard unit: one which boosts attack rolls, one that grants +3 STR, and one that gives the unit Tough and Fearless.
On the approach, this typically means a horde of cheap, DEF 14 models with Tough and Fearless. To make matters worse, Khador has several warcasters with Iron Flesh, which increases their effective DEF value up to 17 while under Bob and Weave. A unit of 12-15 models for 8-11 points with those stats and abilities is going to demand your attention and often reduce you to a gibbering mess if you didn't bring the tools to deal with it. We, in the industry, call this type of threat a "meta bender", in that one should approach list building under the assumption that they will encounter the "Winter Guard Deathstar" at some point over the course of a multi-round tournament, and plan accordingly.
Offensively, Bear's Strength puts the unit up to P+S 11 in melee with Combined Melee Attack and access to several warcasters with impressive damage buffs in the form of Battle Lust, Signs and Portents, Hand of Fate, or Fury. Do not discount Winter Guard Infantry in melee.
At range, For the Motherland makes their ranged attacks pretty terrifying. Boosted Spray attacks are a serious threat to most single-wound infantry, and a full, 15-man volley of POW 12s with boosted attack rolls can "nickle-and-dime" most warcasters and warlocks into an early grave.
Dealing with Winter Guard Infantry can be a challenge, but there are plenty of tools to kill them with. Since these units often represent the vanguard of an opponent's force, they will often be moving toward you as opposed to keeping their distance or moving in the second wave, so any type of template that remains on the table that causes damage (Caustic Mist, Covering Fire, Suppressing Fire, Scather) will slow them down or even stop them. Bounced effects that get around their high DEF like Chain Lightning, Ashes to Ashes, Lightning Generator, or Eruption of Spines, can be another good tool here. Blast damage at POW 7+ will be another good way to thin out Winter Guard Infantry as well, making options like Redeemers under Hymn of Battle, Vanquishers, Ravagores, Herne and Jonne, Mortar Crews, or Bloat Thralls attractive. Finally, auto-hitting attacks (Purging Bile Thralls, attacks under Kreoss 2's feat) or actions that use skill checks (Stormcallers) can be another good method to circumvent the seizure-inducing DEF 17.
Also be mindful that Winter Guard do not have easy access to Pathfinder (save for a few warcaster-specific abilities), so slowing them down with Swamp Pits, Rifts, or Inhospitable Ground can buy you valuable time.


Stay tuned for part two where we look at Bane Thralls, Mage Hunters, and Cylena Raefyll & Nyss Hunters!