I've managed to get three games in with a Stormwall so far, so I reckon it's time that I start talking about initial in-game impressions.
As soon as I found out that a Stormwall was on its way to my house, I agonized over what to field it with. One of my largest concerns with a point investment that high was that I be able to exceed the normal focus allocation limit. With its paired P+S 20 melee attacks and cavalcade of ranged attack options, I wanted the option to load the thing up to really see what it could do, leaving me with three potential options: Striker 2, Haley 2, and Nemo 1. None of them felt like terrible pairings, but Haley 2 leapt out at me the most for her denial abilities, which would greatly assist in keeping my Stormwall alive and kicking for the duration.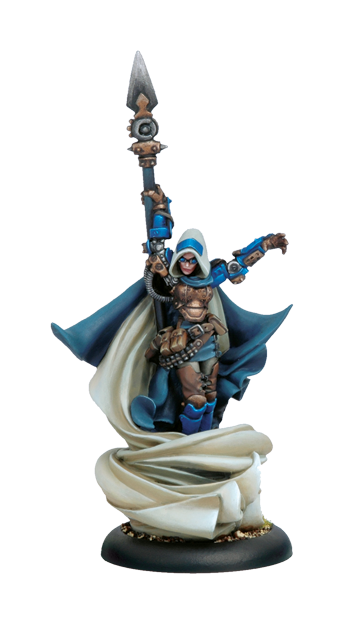 When bonded to Haley, not only could I potentially drop four Focus on a Stormwall, it would also benefit from the +2 movement bonus, greatly increasing its threat range.
Building the List
When building Haley's list, I started with Thorn for its Arc Node and excellent interaction with Haley. Channeling Time Bomb and Telekinesis is an important part of making her work properly, and being able to do so while Thorn is engaged makes scalpeling out a warcaster or warlock that much easier. Next came a Squire for its increase to Haley's already formidable control area in addition to its ability to grant Haley an extra focus three times a game. To increase focus availability even further while providing Repair and the ability to disengage or get rid of Disruption on Thorn, I added Strangeways.
Next came Gun Mages with the Officer Unit Attachment for their excellent interaction with Haley's Dead Eye, which increases both their accuracy as well as the likelihood of triggering Critical Brutal Damage or Critical Knockdown. To add in a forward, jamming element that also synergized well with Dead Eye, I added Boomhowler and Co. with Murdoch to grant them Assault with their Blunderbusses.
This left just five points left over, which were taken up by a Journeyman to provide Arcane Shield where needed (often the Stormwall, Boomhowler, or Haley herself) and a pair of Stormsmiths for their interaction with the Stormwall's Lightning Pods and their Conduction ability. Totaled up, the list looked like:
Major Victoria Haley (+5)
– Stormwall – 19pts
– Thorn – 8pts
– Squire – 2pts
Arcane Tempest Gun Mages – 6pts
– Arcane Tempest Gun Mage Officer – 2pts
Boomhowler and Co. (Full) – 9pts
– Captain Jonas Murdoch – 2pts
Journeyman Warcaster – 3pts
Arlan Strangeways – 2pts
2x Stormsmith Stormcall – 2pts
– 50 pts
Game 1
My first game was against a Hexeris 1 list. I can't remember everything that was in it, since the game wasn't particularly long, but the gist of it went that Hexeris advanced behind a screen of Praetorian Swordsmen. My Gun Mages picked a few of them off, then Haley moved up, popped her feat, and Telekinesis'd him into a position where Stormwall could unload on him with four Focus. Despite a few transfers, he survived with two wounds. With Haley's feat up, my opponent could only advance Hexeris back and advance up his infantry to be slaughtered by Boomhowler and Co. and the Gun Mages with Dead Eye while Stormwall backed up and put some ranged attacks into his heavies while dropping Lightning Pods for the Stormsmiths to exploit. It was a pretty brutal match for my opponent. While I think that Stormwall really put the early pressure on, it was Haley's Telekinesis that set the stage. I stalled his forward advance so much that he couldn't recover, and forfeited at the end of my third turn.
Game 2
My second game was a bit longer, against Rhyas. The list consisted of:
Rhyas, Sigil of Everblight
– Scythean
– Seraph
– Nephilim Bolt Thrower
– Shredder
Blighted Nyss Swordsmen (Full)
– Blighted Nyss Swordsmen Abbot and Champion
Blighted Nyss Striders
– Strider Officer and Musician
Grotesques (Full)
Forsaken
Blighted Nyss Shepherd
I played a little too aggressively with Boomhowler and Co., and ended up losing most of them when I decided to hold off popping Haley's feat until the third turn, but they bought the rest of my army valuable time. The Scythean spent turn two shut down with Time Bomb and the third turn with Haley's feat, meaning that my Stormwall spent the first three turns completely untouched while it concentrated on putting shots into and redirecting the Swordsmen and Grotesques with the Metal Storm Cannons while the Gun Mages concentrated on the Striders and other infantry. On turn four, the Stormwall moved up to crush the Scythean while the rest of my army consolidated to wipe the rest of his army away while I secured the central flag with Thorn to score a scenario point (Incursion). Since he didn't have much left to devote to the left flag, and he was going to lose it next turn anyway, in a fit of defiance, he charged Rhyas at Stormwall to see what she could do to it, which wasn't much with its ARM 22.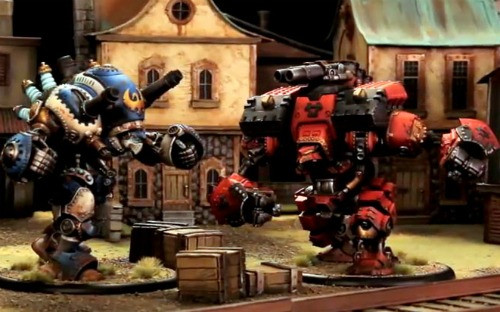 Game 3
My third game was against Zaal, the list consisting of:
Supreme Aptimus Zaal
– Bronzeback Titan
– Titan Gladiator
– Basilisk Drake
– Basilisk Krea
Nihilators (Full)
Praetorian Ferox (Full)
Paingiver Bloodrunners (Full)
Haakar the Destroyer
This list worried me, since Zaal's feat combined with Last Stand meant that everything in this army was a threat in melee if I let it close. Going first, I popped my feat on the second turn, and he responded by advancing and leaping the Ferox under Inviolable Resolve into Boomhowler and Co. as well as my Gun Mages, which is a pretty terrible situation to be in. Hiding behind a wall with 4 Fury and the Krea nearby providing Paralytic Aura to reduce my ranged effectiveness, I was in a bit of pickle. I had the tools to win the game, but getting them to work was going to be a challenge.
My first step was to get Zaal out from behind the wall and away from the Krea's Paralytic Aura. I allocated 7 focus to Haley and the last two (using one from the Squire) to the Stormwall. Thorn marched up into his Nihilators but within 3″ and with line of site to Zaal. Since I could channel through it while engaged, this wasn't a problem, so Haley channeled a Time Bomb onto Zaal that couldn't miss with deviation to reduce his DEF by 2. Then she boosted a Telekinesis onto him, needing a 9 to hit, which missed. Fortunately, the Squire's Arcane Realignment rule allowed me to reroll, which finally did hit, pulling him out from behind the wall, away from the Krea, and with his back to my army, making his DEF effectively 11. Haley then put a Handcannon shot into his back, dealing a few damage that did not get transferred.
I extricated enough of my Gun Mages to get a few shots on Zaal, which hit his paltry DEF 11 and nickel-and-dimed him with low damage rolls. I followed this up with the Stormwall, who advanced up his 7″ and placed a Lightning Pod behind him to do a POW 10 for a few damage that he did not transfer, bringing him down to 2 damage with his four transfers. I rolled badly on Auto-Fire on the Stormwall's Metalstorm Cannon, getting one shot a piece in addition to the two Big Gun shots. This did not bode well since he had enough fury to transfer every attack. All four of my shots hit, but all were transferred.
Fortunately, the Lightning Pod was placed in such a way that my Stormsmiths, which were lurking near my backfield, were close enough to march up and Surge through Pod which was just about at the maximum range of 20″ to finish him off.
That last turn was do-or-die for me, and while I didn't get the Auto Fire rolls that I would have liked, Stormwall still provided enough of a threat to let the middling damage get through while allowing my Stormsmiths to finish the caster off with the placed Lightning Pod.
Post Game Thoughts
Overall, my first play impressions are very positive. Stormwall barely took damage in any of my games, and interacted quite well with Haley 2, her large focus reserve and her warjack bond. My next list I'll be looking at is somewhat odd, but I'm excited to test it. It consists of:
Captain Victoria Haley (+5)
– Lancer – 6pts
– Stormwall – 19pts
– Squire – 2pts
Arcane Tempest Gun Mages – 6pts
– Arcane Tempest Gun Mage Officer – 2pts
— Grenadier – 5pts
Black 13th Gun Mage Strike Team – 4pts
Trencher Chain Gun Crew – 2pts
Journeyman Warcaster – 3pts
2x Stormsmith Stormcallers – 2pts
Trencher Master Gunner – 2pts
Gorman Di Wulfe, Rogue Alchemist – 2pts
This list is designed strictly with the intent of destroying infantry-heavy lists while slowing down and denying lists that rely on high-ARM and multiple wounds. Between the Trencher Chain Gun, Stormwall, and Black 13th, I can put down an effective Covering Fire wall that is 13″. I particularly like Lightning Pods here since they provide a number of uses, like being a perfect target vector for Mage Storms or Chain Lightning as well as providing Surge and Triangulation points for my Stormsmiths. The Grenadier with the Master Gunner and Chain Gun Crew can reach super-high RAT values, especially if it sits still with Snipe on it from the Gun Mage Officer. Its base RAT of 6 goes up to 8 when aiming, 10 with Artillerist, and an effective 12 if I catch the target with Temporal Barrier. With a potential three shots a turn, that's nothing to sneeze at.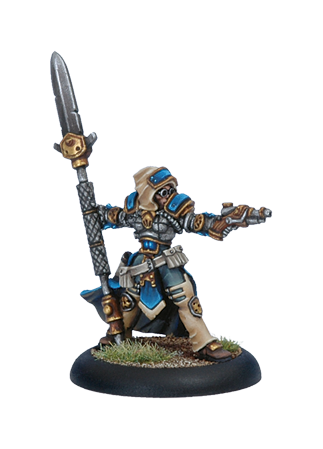 Anything too heavy to take down with shooting is simply shut down with Disruption from the Stormsmiths or Lightning Pods, slowed down with Temporal Barrier, Black-Oiled with Gorman, pushed away with Thunderbolt shots from the Gun Mages and Grenadier, or charged by Stormwall if I can avoid too rough of a following-turn response.
I also like this list because of the inner protection it provides. Things with Hunter that would be a threat to my Trencher module are protected by the Covering Fire Templates that I can bring to bear, then shot up the next turn by the rest of the army. On Haley's feat turn, I can allocate the Stormwall three focus, use four for Temporal Barrier, and put out three effective RAT 8 (RAT 10 if I aim, which I found happens pretty often), POW 15 shots with boosted damage rolls. The Journeyman can protect Stormwall or Haley with Arcane Shield, and Haley's Arcane Vortex ability will allow me keep bad, offensive spells (like Hex Blast, Parasite, or the dreaded Whiplash) from making Stormwall more vulnerable.
I haven't tried it yet, but it's my Stormwall's next assignment. Expect more soon.