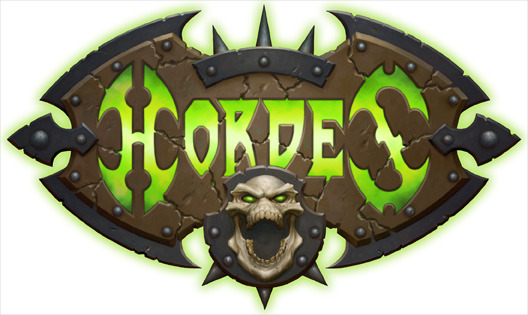 In our ongoing series on Warmachine and Hordes All Stars, or A Young Warcaster's Illustrated Primer, we continue by looking at offensive infantry for the five Hordes factions, starting with Trollbloods and Circle Orboros.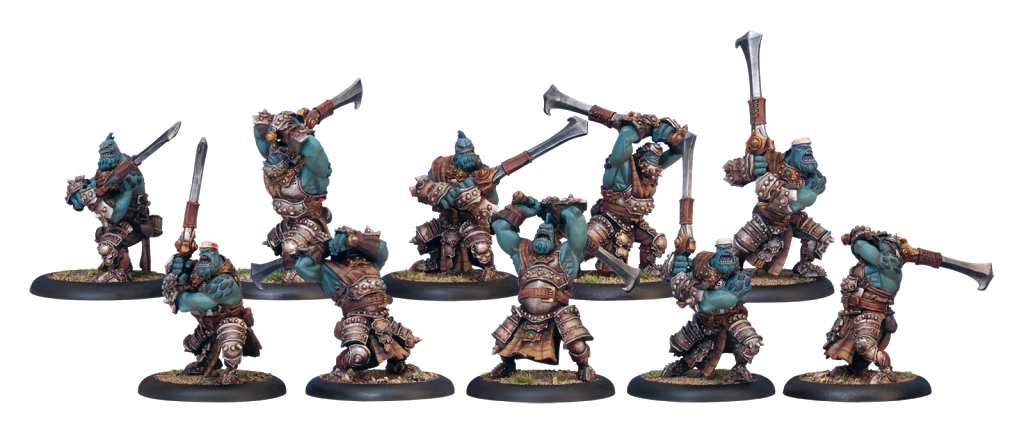 Trollbloods – Fennblades with Officer and Musician
Like with Retribution of Scyrah, I agonized over which unit to discuss here since Trollbloods have several solid infantry choices that I often dread seeing across the table. While each of them presents a unique challenge, I feel that Fennblades have become one of the more common choices, at least in my local meta and at the conventions that I have attended recently.
Stat-wise, Fennblades aren't much to write home about. At DEF 12, ARM 14, they aren't the hardiest of infantry, even with Tough and the +2 ARM bonus from the ubiquitous Kriel Stone Bearer. At MAT 6, they aren't even spectacularly accurate. What the base Fennblade unit represents is speed, threat range, and fast response. At SPD 6 with Reach, Fennblades have a fairly long threat range to tangle with that is increased even further if the opponent kills one of them to allow the entire unit to move 3″ and make an attack during the maintenance phase via the Vengeance Rule. Put simply, if one of the Fennblades is killed during the previous turn, the entire unit effectively has a 14″ threat range (3″ Vengance move, SPD 6, 3″ charge, 2″ Reach), which is pretty damned impressive.
These qualities are pushed even further by the Officer and Musician Unit Attachment, which provide the No Quarter "mini-feat" and In-Step for increasing potential board coverage with the unit. No Quarter gives the unit several benefits, specifically +2″ of movement, Pathfinder for terrain mitigation, Fearless, and Terror. This pushes their already scary 14″ threat range up to 16″ without having to worry about rough terrain slowing them down. In-Step makes the unit effectively CMD 11 for command area purposes, meaning that the unit can spread way out and hit a bigger portion of the opponent's army.
Additionally, the Officer provides Set Defense to the unit, which brings their DEF value up to 14 against charges, slams, and impact attacks, helping to shore up their survivability quite a bit.
Getting the most out of Fennblades comes down to appropriate buffing. Average infantry DEF is usually around 13, often higher for front-line skirmishers. MAT 6 isn't particularly hot for dealing with these models, which is where the Fell Caller Hero comes in, as it's able to provide a +2 bonus to melee attack rolls for the turn via War Cry. If you're using high-DEF infantry as your front-line unit against Fennblades with a Fell Caller Hero present, unless they're Iron-Fleshed Winterguard under Bob-and-Weave or Kayazi Assassins, don't count on their DEF values to keep them alive. With War Cry active, Fenn Blades will eat things like un-buffed Nyss Hunters, Daughters of the Flame, Hex Hunters, or Tharn Bloodtrackers for breakfast. Trollbloods also have a variety of other effective MAT buffs at their disposal that can push them to even higher levels of accuracy with warlock support since half of the Trollblood warlocks have MAT buffs/DEF debuffs that they can throw around.
Where damage output is concerned, their P+S 12 attacks aren't terribly exciting either, but again, Trollbloods aren't without ways of improving that. You'll usually see a Stone Scribe Elder present with most Kriel Stone Bearer units, which can increase that to P+S 13 with the Stone Strength rule. The presence of a Stone Scribe Chronicler can give the unit +2 to attack and damage rolls against models that are engaged by a Trollblood warbeast, often an Axer or Impaler due to their cheap cost and Reach. Stack that with Stone Strength and War Cry from a Fell Caller Hero, and the unit hits MAT 10, P+S 15, putting their damage output at a level comparable to, or higher than, most Weapon Master units. Finally, add in damage buffs from warcasters, and things start to get silly. Madrak 2 can give the unit an additional damage die, Grissel 1 can throw Calamity on a target for an additional +2 to attack and damage rolls, and Calandra's feat will allow you to reroll damage dice that come up as a 1 or 2. Once you stack those spells on top of what we've already discussed, all bets are off regardless of what the target's ARM value is.
The important thing to see here is that you shouldn't simply look at the unit's rules and expect to understand exactly what they're capable of. On paper, they really only look great in terms of the amount of table that they can cross on-the-charge, but with ample access to both accuracy and damage buffs, Fennblades can be a threat to most things in your army, making them incredibly versatile and deadly.
The best way to take this unit on is to either kill it from long range before they can close, deny their ability to charge you, or offer them a piece trade that will deny your opponent from bringing the full strength of the unit to bear, which is what you really should be afraid of. For charge denial, look to spells like Crippling Grasp, Rebuke, or cloud/forest placement to deny line of sight. If you get a chance to kill a model or two in the unit, it can often be better to choose not to in order to deny the Fennblades their Vengeance move since those extra 3″ of movement can have a huge effect on how much of the table the unit can cross, and consequently how much of your army they can attack. If you're going to lay into them at range, make sure you can kill enough of the unit to make it worth it in terms of what you'll lose next turn to their response.
If the UA is present, avoid charging them unless your own melee attacks are boosted or pushing MAT 7+, especially if you're doing so with low-DEF infantry like Stormblades, Exemplars, or Forge Guard, since you'll be looking at an unfavorable trade from the Vengeance move/attack as well as their next full activation.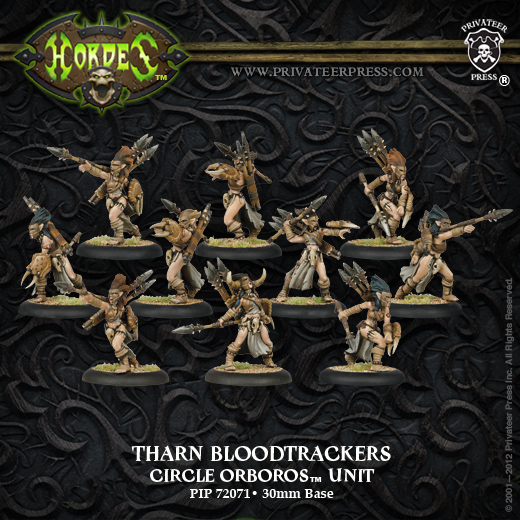 Circle Orboros – Tharn Bloodtrackers and Nuala the Huntress


Circle Orboros isn't particularly well known for their infantry choices when it comes to hurting things. Having played with them for about 10 months now, it usually falls on my warpwolves to get most of the heavy lifting done, but they do have some solid options that shouldn't be ignored, especially since they don't have any egregiously strong warbeasts when it comes to ranged attacks. Woldstalkers and Bloodtrackers are both great examples of what I'm talking about here, but I typically find Woldstalkers much easier to kill since they are rarely buffed and aren't particularly burly or hard to hit, so let's talk about Bloodtrackers.
This is a fantastic skirmishing unit. They have a decent DEF value of 14 in addition to Stealth, and they're really quick with SPD 7. They have a P+S 9 melee attack and a POW 3, Weapon Master, Thrown Javelin attack that will effectively be POW 9 when their STR value is added. Additionally, they're MAT and RAT 6. This makes them equally effective at both melee and range, but they'll typically want to keep their distance from enemy models, since Stealth doesn't do much good up-close, and MAT values are typically higher than RAT values.
On those virtues alone, they're not really that great, but it's their last two rules that really make them hum, specifically Prey and Advanced Deployment. Prey gives the unit +2″ of movement when they start within 10″ of the selected model/unit (chosen after deployment, before the first turn), as well as +2 to attack and damage rolls against that unit. Advanced Deployment helps to ensure that the Bloodtrackers are optimally placed so that they can be brought to bare against their Prey target.
Against their Prey, the unit is effectively MAT 8/RAT 8 with POW 11 Thrown Javelin/Fighting Claw attacks, which is pretty great for taking on light-to-medium-ARM targets like single-wound infantry, or warjacks/warbeasts with ARM stats below 18.
Nuala the Huntress, the Character Unit Attachment for Bloodtrackers, gives them a few other nice abilities: Reform and Quick Work. Reform allows models in the unit to move 3″ after the entire unit finishes their combat action. This ability has a number of applications, be it backing off after a round of ranged attacks in order to stay away from melee and take advantage of Stealth, closing in to jam after a charge, or spreading out to allow your fast-moving warpwolves or cavalry to move through the gap.
Quick Work doubles the unit's potential for killing single-wound infantry models, as it allows models in the unit to make a ranged attack immediately after they kill a model in melee. If a unit of Bloodtrackers can close on their Prey in melee with Quick Work, there usually won't be much left of the unit by activation's end.
Unlike Fennblades, Bloodtrackers don't have access to incredible buff-stacking, so they don't quite have the versatility of Fennblades when it comes to also taking on high-ARM targets like Bronzebacks, but they do have some options, like Krueger 1's Lightning Tendril's to give the unit Electro-Leap to make them even more absurd at taking out infantry, Baldur's Stone Skin to make those Thrown Javelin attacks effectively POW 13, Weapon Master attacks against their Prey while also providing additional ARM to help save them from blast damage, or Curse of Shadows from Mohsar or Cassius for ARM-debuffing. One of my favorite pairings is to run Bloodtrackers with Morvahna for Regrowth, which allows you to return destroyed Bloodtrackers to the table at the cost of one Fury-per-model. Since the unit has Stealth, Eiryss 2's Arcane Interference or spells like Hex Blast won't be nearly as reliable for stripping it off, making them an optimal choice for the spell. Stack that with Zombify from the Gatorman Witch Doctor, and the unit gains Tough and Undead, both increasing their survivability and making them immune to fear effects or attacks with bonuses against living models.
Fortunately for people playing against Bloodtrackers, they aren't the most difficult unit to kill. They have incredibly low ARM values and are very vulnerable to blast damage (save with Baldur 1's Solid Ground and minor protection from it via Krueger 2's Storm Wall spell), so carpet bomb the hell out of them with AOE attacks from things like Reckoners, Redeemers, Dire Troll Bombers, Pyre Trolls, Ravagores, Bloat Thralls, or Winterguard Mortar Crews. Alternatively, look to things that ignore their DEF, like bounced spell effects (Chain Lightning, Ashes to Ashes), Electro-Leap, or Storm Calls. Additionally, their effectiveness can be mitigated if you can keep the Bloodtrackers way from their Prey target, as their accuracy and damage potential takes a big hit against anything that isn't their Prey.
Next time, we'll look at Skorne Nihilators, Legion of Everblight Striders, and the Minion Gatorman Posse