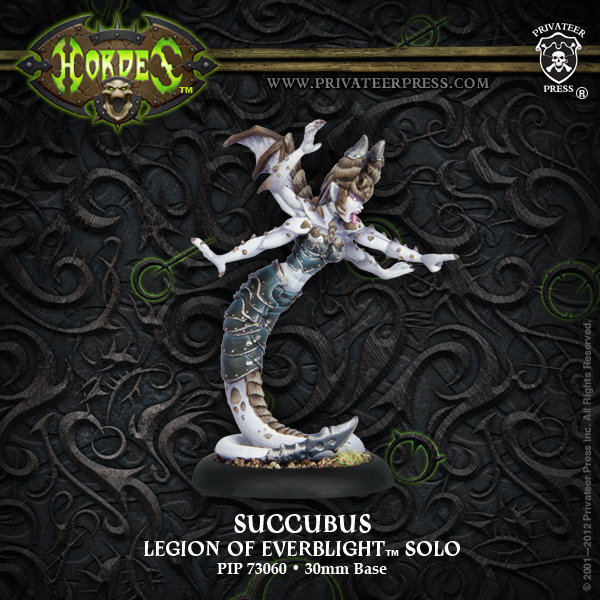 Hello everyone, Caldera here to discuss the latest addition to the Everblight army. The Succubus is a Warlock attachment and our first of its kind. She was just released in the Domination expansion for Hordes, so you can find her stats listed there. I will go over her abilites briefly and then talk about how those effect our warlocks.
So what the Succubus does for the great Everblight army is that she really helps out the low FURY stat warlocks with upkeeping spells so that they don't have to and casting a free animus, also so that they don't have to. This frees up utility for the warlock to concentrate more on the battle instead of a support piece. She also is quite helpful for the higher FURY warlocks as well in that they can do a lot more offensively. I'll go into a bit of detail on our warlocks and what this new warlock attachment means for them.
Our Warlocks:
Prime Lylyth, Hearld of Everblight – With a small portion of 5 FURY, Lylyth is often confined to a very limited and often predictable set of things she can do per round. Be it casting parasite or spreading a couple of anmi around. Now she doesn't have to worry about upkeeping parasite and can spend that precious fury on healing, boosting her own damage, boosting to hit to ensure Blood lure or eruption of spines goes off and still have one left for tenacity while also having the attachment put tenacity on herself.
Epic Lylyth, Shadow of Everblight – The epic version has a very similar use for the succubus. Upkeeping shadowpack and not having to cast tenacity on herself frees up two whole fury to work with. This means you can also have pursuit up without much issue. I've often found myself starting the round with only 4 fury because of the upkeep, wanting to boost a pin cushion spell on an enemy and realizing that would leave me with only one Fury for transfers. Not a whole lot of flexibilty there. Now you have an extra one to boost damage, buy another shot or throw a tenacity on a beast.
Rhyas, Sigil of Everblight – This is one of my favorite warlocks and the succubus makes me very happy. Having both of her upkeeps out now with the succubus doesn't severly limit her potential by starting a turn with only 3 fury to work with. Starting with 4 up means she can cast Dash, charge a solo or crippled beast and have a fury to boost to hit! This is huge! Before either you had to drop Occulation or hope you hit with mat 8. Odds are against you if its high enough defense. Not to mention one of her biggest issues, needing to cast flight animus for lack of pathfinder. Now she has the fury to do it and still have a bit of room to work with. She still has issues but the succubus helps a ton.
Absylonia, Terror of Everblight – This warlock might be the only exception to the rule of me thinking the succubus is great for eveyone rule. The resourceful rule that Abby packs negates half of what the attachment does. Still, its a free animus but so is a shredder at that point.
Bethayne, Voice of Everblight – Another great example of having too many upkeeps and spells to do them all in one turn. If you have both upkeeps going you starting with 5 fury on the table, not to bad. Being able to boost an eruption of spines while having both your upkeeps up is pretty dang good. She is one of those warlocks that is very fury starved in that she wants to spend it all every round. The succubus will allow for a free anmi in the mix as well, most likely on herself while she continues to be a spell slinger.
Kallus, Wrath of Everblight – My most anticipated use for the new warlock attachment is Kallus. Dark guidance costing a whoping 4 fury really dictates what Kallus can do for one turn. Upkeeping ignite and casting DG leaves him with 1 to sit on. Not much choice in what he can do with that. And when is he not casting DG!? I can't tell you how many times I've needed to heal a beasts aspect and be forced to drop DG for it. Not to mention a shredder soaking up a fury to put tenacity on him every round. Now that shredder can be useful and go nab a solo close by! Not to say he couldn't do that before but then that would leave Kallus without his buff.
This is the point in the caster lineup where I feel that the impact of succubus will be a little less. Not unimportant but definitely not sorely needed as the lower FURY stat warlocks.
Saeryn, Omen of Everblight – Who doesn't want to throw another tool into the toolbox? Normally with both upkeeps going she has 5 left on the table to work with. That is usually enough to work with for her, putting out her important spell for the situation at hand. What I like about the succubus with her is the healing aspect. She has enough to sling her spells usually but with the free upkeep and anmi on herself/Beast, she can now heal her beasts aspects more effeciently whereas before she had to rely on the sheperds more.
Prime Thagrosh, Prophet of Everblight – If you want to play the attrition game he's your man!! Now with the succubus he can spread spiny growth all over the place. Upkeeping Draconic Blessing and letting thaggy decided if he still wants the fog rolling. If you do, that means 4 spiny growths can be had without forcing! You can have a total of 5 out if you wanted to! That's amazing. This opens up his spell list alot and allows for still having his buffs out while using fury to do damage or heal. Wonderful addition for him.
Epic Thagrosh, Messiah of Everblight – The Big Daddy. This one is kind of funny. Most of the time if you decide to add the warlock attachment to his lists you will find yourself playing a mini-game every round of how close does the succubus want to get to the big bad monster! Not too hard with being able to measure his control range but still something you have to be aware of because the Succubus might succumb to his Abomination rule. Being able to upkeep and cast tenacity on him does free him up for some more complex game play other than spam Manifest Destiny and swing at anything that gets close. I don't think she is needed with him, the points cost is another shredder for crying out loud!
Prime Vayl, Disciple of Everblight – Our biggest FURY caster, tied with her epic counterpart, isn't screaming for succubus help but I can defintely see a use for it if the points are available. Vayl having command of all 8 of her fury to begin the round with is a very nice option to have. That just means more movement shenigans are to be had! Rampaging an enemy warbeast into a leashed + incited beast is nasty! This just means she can do it with room to spare. Not to shabby but not needed.
Epic Vayl, Consul of Everblight – I can actually see the Succubus being very useful for Vayl's epic incarnation. She already likes to juggle upkeeps, so being one fury up on the equation is extremely useful. She also has three upkeeps and loves to sling spells so not having to pay for one is super beneficial. This warlock already has a steep learning curve with all the juggling and spells she has at her disposal. Adding the succubus into the equation will help immensely.
Overall I am very pleased with the rules for our warlock attachment. I've always envied my opponents always saying, sylas is upkeeping or some other such caster attachment doing the same. Must be nice! Now I can do the same and crush them while having more freedom of options while playing my games. I believe new and old players will really enjoy playing with this model and it might just become a staple of many builds. It's not an overly complex piece to the puzzle of list building and playing but it does add a nice layer to it all.
I hope you guys enjoy it as much as I plan on it.