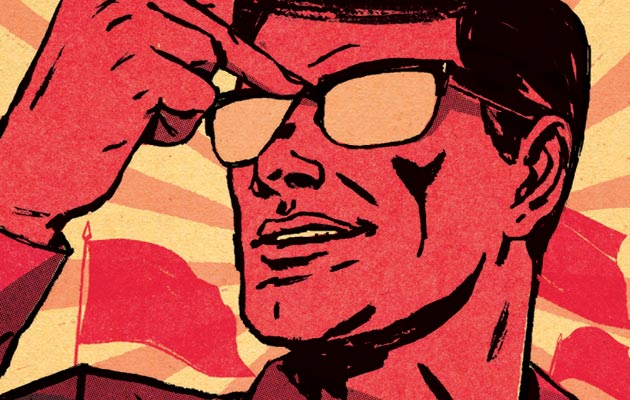 Goatboy here again on a glorious Monday. So about those FAQs.

I was out of town the end of last week in Las Vegas losing some money but having fun as I swam in Blue Hawaiians and 32 ounce beers. I was happy to find out that GW actually got with the program and gave us some answers we have all been clamoring, arguing, and attacking TO's about. So with that in mind let's get on with some FAQ chat.
I mentally highlighted a few of them that I want to chat about. The first one is the biggest in how Look Out Sir's work. For those who haven't fully read it – Look Out Sir is done on wounds caused – not unsaved wounds anymore. This is huge as it forces you to Look Out Sir first before you can start to resolve the wounds. This is huge as basically you have to speed roll a large set of dice to separate the wounds from the squad to the character. So let's say Coteaz is in the front and takes 30 wounds from War Walkers. I have to roll the 30 dice to see which hit Coteaz and which are taken by his chumps that are closest to him. This is interesting as it forces those wounds to allocate and stay where they should be. In fact this is how I thought the rules should work for Look Out Sir and glad to see GW tweaked it to make it fit. Hooray no more truly annoying wound issues.
The other big change is that you have to place that Look Out Sir wound to the closest model. This is extremely interesting as it means that you will be killing multi wound guys pretty easily now. No more floating wounds throughout the squad as well. You mix this with the whole massed removal of Character status to the majority of Death Stars and you have some seriously mean change in the Meta/Environment/War zone. I for one am extremely happy about this as the game moves towards large groups of Plastic Dudesmen hitting the table top and controlling areas.
In fact I have a feeling that you will see a lot of Guard friends helping out with 50 man blobs and hard to remove units of jerks. I do wish that GW removed the ability for certain rules to interact with units that didn't need to have them. ATSKNF is pretty powerful now and when you mix it with a Unit of Guardsmen who can go to ground, get a low Cover save, get forced to jump back up and still provide a nice bit of Overwatch, board control, and scoring potential. With tournaments moving to a more "control to win" instead of "kill to win" mentality you start to get some interesting army designs that push this style to the max. Tony did this with his interesting NovaOpen list and I think this is something to look at as more tournaments start to follow that style of primary win conditions.
I like the change to the Aegis defense line being one long chain. In fact I argued with Jon Wolf that this is how you should play it but when you read the RAW of the rules it did not needed to get put together that way. In the end I guess I was right in the spirit of the game and it is good to know for when I play with the damned thing. The crazy thing is if your guys can't "see" over it that well you also give your opponent a 4+ cover save from your regular fire. Jerks indeed. I wonder if the Aegis should be called the parking lot wall for the people still playing massed Vehicle spam. It does make for a nice bit of cover for those jerkhole Psyflemen Dreads.
They also answered what kind of Cover save you get on a top of a Bastion. I know it was rather annoying to deal with Exarch shooting laser beams and getting a 3+ from your evil weapons. At least you can have a better chance of killing that gun as well.
There is a lot more FAQ fun but those are the main things I saw that changes up how we play the game. I am so happy that GW did this as it shows they might actually be listening to us for once. I am sure will see other small tweaks as people get used to the "corrected" rules and finally get to playing 6th edition like the boyz in England wanted us too. I think this also helps out a lot of the TO's to not have to "rule" on things and generate a lot of internet hate with trying to figure out a way to enforce rules. It is their tournament and as long as you get a consistent set of rules then life will be alright. These FAQ's help make TO's go away from being the bad guy and become the dude that helped you have a bad ass weekend.
Right now I am still waiting on deciding what I should bring for Feast. With Chaos looming (we all know it is coming) it makes it hard for me to complete my decision. Lucky I am a paint machine so I should have time to get an army painted up.
Next week I will hopefully get a chance to talk about Chaos some. We'll see if any more rumors come out so I can start to theory hammer some lists that hope to use 6th edition to its fullest. Until then I will make my armies full of Orks and Friends.
~So what are the new "killer unit combos" now in the post-faq era?