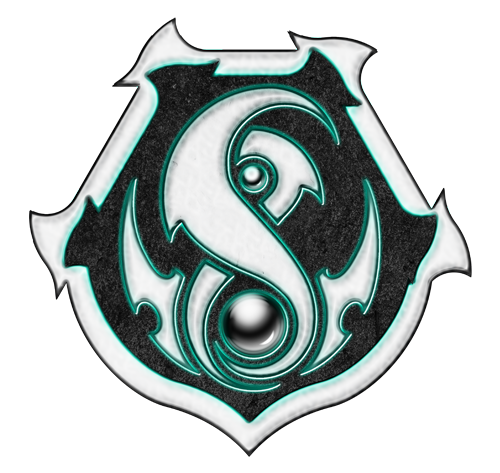 I've put in ten games with the Retribution of Scyrah. Is the faction everything that I thought it would be?
My first Retribution army was a combined arms, Ossyan list:
Lord Arcanist Ossyan
(*6pts)
* Banshee
(10pts)
* Hypnos
(9pts)
* Sylys Wyshnalyrr, the Seeker
(2pts)
Houseguard Halberdiers (Leader and 9 Grunts)
(7pts)
* Houseguard Halberdiers Officer & Standard
(2pts)
Mage Hunter Strikeforce (Leader and 9 Grunts)
(8pts)
* Mage Hunter Commander
(2pts)
Stormfall Archers (Leader and 3 Grunts)
(5pts)
Stormfall Archers (Leader and 3 Grunts)
(5pts)
Arcanist
(1pts)
Arcanist
(1pts)
Mage Hunter Assassin
(2pts)
Mage Hunter Assassin
(2pts)

I gave this list five games before really wanting to switch things up. Overall, I'm liking it so far, but the big weakness I'm finding is that I'm often having to expose Ossyan a little more than I'd like on his feat turn. Long-ranged attacks that originate from outside Ossyan's control area from things like Defenders and Ravagores have proved a difficulty. I also find that Ossyan typically ends up getting tied up in melee after his feat turn. Consequently, I'm considering a list edit to add an Aspis for Shield Guard to protect from shooting and Beat Back to push engaging models away from Ossyan.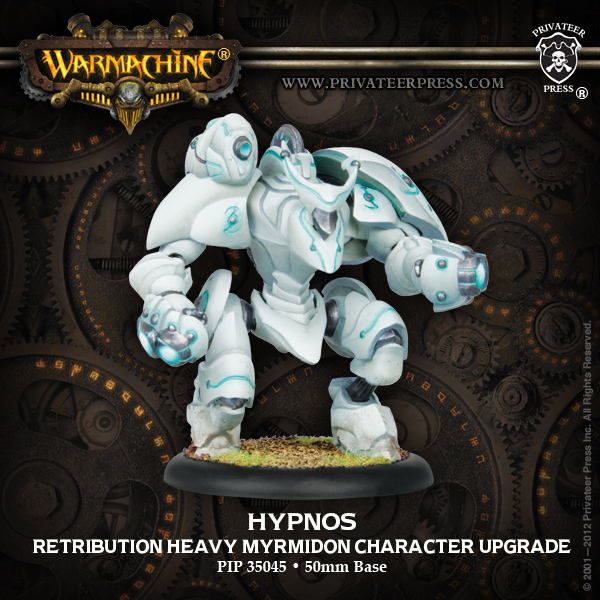 I like Hypnos quite a bit with Ossyan, but most of the attraction continues to be the strength of her Affinity, which gives Hypnos an unnamed version of Disruption that also denies warbeasts the ability to force. This is particularly effective since it stops Colossals from receiving focus despite their immunity to Disruption. This also applies to Power Booster as well, which removes the Disruption effect. Without that Affinity, I can't say that I'd want to take Hypnos.

Houseguard Halberdiers
With Ossyan, Quicken on Halberdiers has been really good, granting them an effective 11″ advance with Reform while maintaining Shield Wall. When their high-ARM and mobility is stacked with Ranked Attack, Brutal Charge, Set Defense, and the Gang "mini-feat", Halberdiers prove a capable forward element. They can hit hard and accurately, eat a charge, survive fire on the approach, cross the board in a hurry, and they don't block line of sight for the rest of my army. They're something that my opponent can't afford to ignore regardless of the list build, and they aren't easily removed from the table. While I haven't run them in a list without Ossyan yet, I'm still rather under the impression that they'll be a solid addition to other lists.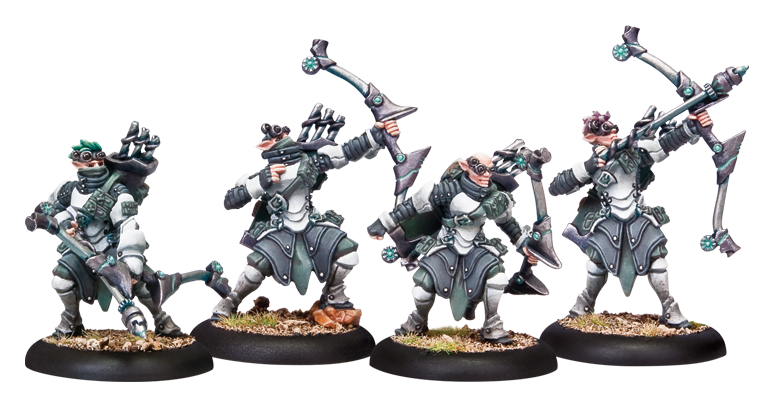 Stormfall Archers
The Stormfall Archers have absolutely been all stars. They're extremely versatile and always have something to add. I was originally concerned with their low RAT value, but more often than not, they're either getting the aiming bonus, shooting at low-DEF targets, or looking for good drifts onto low-ARM infantry. I've run a pair of Stormfall Archers in every list so far, and I haven't regretted it once.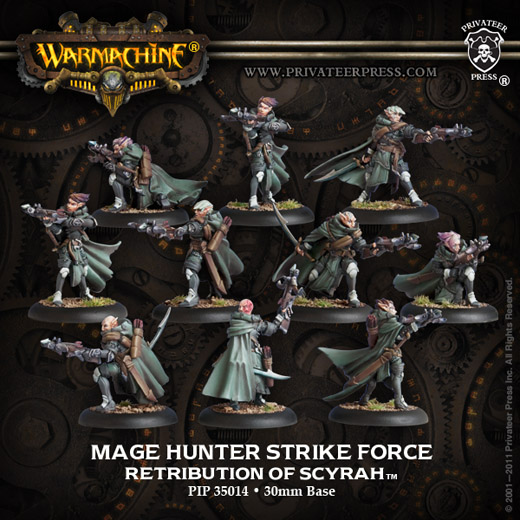 I do like the Mage Hunter Strike Force quite a bit. One of my main concerns with them was whether or not they'd be effective against Hordes lists, but I've been strongly convinced that these concerns were unfounded. They've been great at cutting down infantry and support when nice, juicy warjacks aren't available. While RAT 6 isn't exactly winning any awards, I've discovered that, with RNG 12 and Phantom Hunter, half of my unit is typically aiming. I'm enjoying mixing them in lists with Aiyanna and Holt to give them Magic Weapon for shooting at Protectorate warjacks under Safe Passage or hitting their target with Kiss of Lyliss to make them effectively POW 12 for attacking high-ARM targets.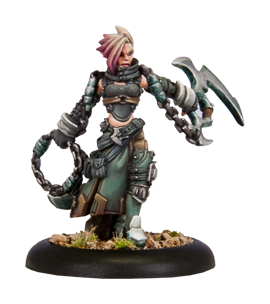 Mage Hunter Assassin
The Mage Hunter Assassins have been interesting. People are scared to death of them, but entertainingly enough, they only really succeed in earning that fear about 33% of the time. I miss more of their attacks than I care to, and often their damage roll isn't what I hope for, but every once in awhile one of them gets to charge a Seether and put 24 damage into it on a hot roll, and the reason for the fear is again made evident. I try to put at least one in every list, but I'm finding that the more I play with them, the more I can live with leaving them on the shelf in favor of other things, like in my Ossyan list, where I'm contemplating dropping the pair for an aforementioned Aspis.
The other lists that I've run have a similar core with the paired Stormfall units, full Mage Hunter Strike Force with Commander, an Arcanist for each warjack, and one or two Mage Hunter Assassins. Overall, this core feels really solid and is likely to be a common thread in most of my lists. I'm wanting to swap out the Mage Hunter Assassins with Dawnguard Invictors, but I'm just finding a lot of success with the Strike Force so far. Perhaps I'll start feeling differently once my locals start building their lists to deal with them more (i.e. saturated blast damage), but for the moment, my Mage Hunters have been great.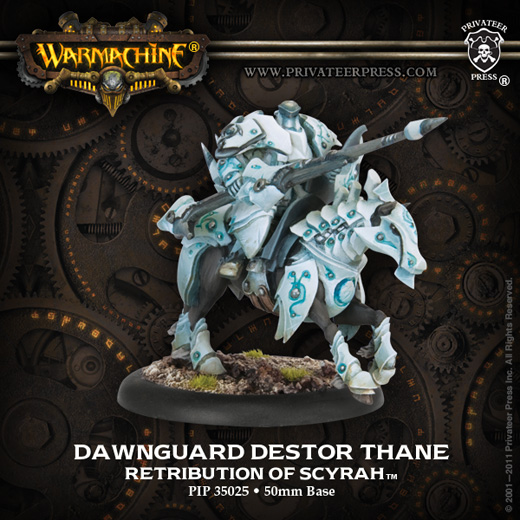 I've put a pair of Dawnguard Destor Thanes with my core, and they've done well by me. Their high SPD lets them to get an optimal position on the first turn, often allowing them to aim and Multi-Fire into an approaching unit on turn two. Once things get too close for comfort, they can switch to Ride-by-Attacks to let them fire a salvo and haul ass out of there. I've only played a few games with them, but I'm liking them so far. Dawnguard Sentinels have also popped up in a few lists, most notably with Kaelyssa and Garryth. Like Mage Hunter Assassins, the Sentinels draw a lot of attention due to their high damage potential. I'm liking them quite a bit, but I feel that certain warcasters, Ossyan or Ravyn for example, prefer the cheaper, more versatile, and more supportive Houseguard Halberdiers. That said, if I'm looking for consistent, high-damage output, Sentinels are my go-to guys.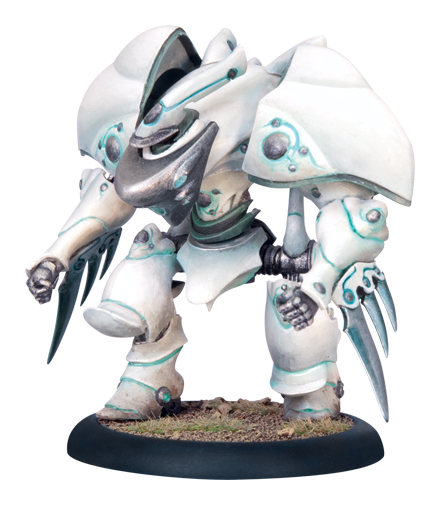 Discordia
In terms of their other warjacks, I haven't been entirely impressed. I'm finding that due to their middling ARM stats, they're getting taken out fairly quickly. Perhaps I need more practice with proper positioning or application, but I'm not exactly thrilled, particularly with their high cost. I've run Banshees and/or Phoenixes in most lists hoping that their melee attacks under Concentrated Power would be enough to get the job done in melee, but it just hasn't been. It's because of this that I'm strongly considering investing in a Sphinx, which is fairly cheap at 7 points and hits at P+S 18/16 with Concentrated Power. I do like Discordia so far, as it does quite a bit for keeping my Mage Hunters protected from blast damage, leaving them vulnerable to very few things from range. Pairing her with a House Shyeel Magister has been really handy for Whip Snap, which allows me to get an additional 3″ of movement in order to best position her for a spray.
As I continue, I'll be diving harder into the other warcasters. I'm avoiding Rahn at the moment since I'm very much aware of his apparent strength, as well as the fact that his feat suggests a very different list core. I'll have more to say as I get more games in. Mostly, I'm pretty pleased, am having fun with the army, and am managing to win most of my games.