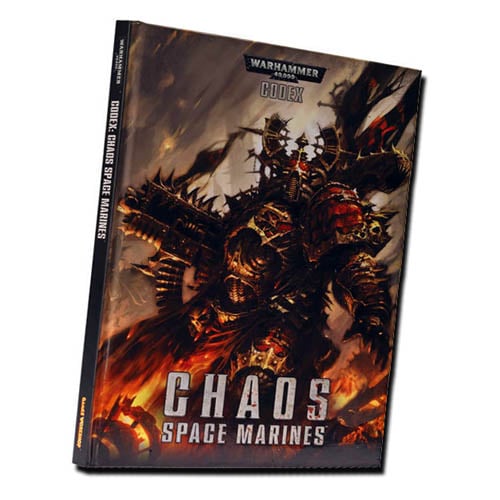 Hey guys, lets take a look at the villains of the Chaos Space Marines in detail. Oh, and Death to the False Emperor!

A tactical series by Learn2Eel
Last time we talked about the Generic HQs. Lets move onto the Named Characters. Basically, I'm going into detail about what I feel are the competitive choices in each of our force organization slots, and my recommendations on the best builds for each unit.
Chaos Space Marine Named Characters
Abaddon – Still a nightmare in combat, but provides great buffs to your army – if you tailor the list to suit those benefits and remember that they are only really useful against Loyalist Space Marines. Typically, a good choice as he can reliably kill most enemy units in the game in combat, and will laugh off other armies dedicated combat HQs of similar costs – i.e. Mephiston, Draigo, etc. There aren't many things Abaddon can't deal with once he gets close – notably AV14 and the Swarmlord. However, his exorbitant price means you should reserve him for bigger games. A fun alternative – if you are playing against Loyalists – is to stick Abaddon into a unit of Obliterators and simply slowly advance towards your enemy. It makes the Obliterators even more of a target, but your opponent won't be happy when Abaddon tanks the damage whilst the Obliterators re-roll all 1s to hit and wound with lascannons, assault cannons, plasma cannons, etc. He also does work in this capacity in smaller games as you don't have to worry about a transport – this also allows him to move up with an army and they can all benefit from the joys of Preferred Enemy. A good choice overall IF you build the list around him.
Huron – He has probably benefited the most from the new rules, at least IMO. He could be quite accurately called the jack-of-all-trades special character of the codex, with a heavy flamer, a S6 lightning claw with 2D6 armour penetration, a power axe, a random psychic power each turn, etc. He also guarantees D3 Infiltrating infantry units if he is your Warlord. He has a 4+ invulnerable save. You literally cannot go wrong with this guy. He is also very cheap – he costs about as much as a basic Daemon Prince. Excellent choice overall, you could quite easily throw him into any army list and he would do whatever job you give him well.
Fabius Bile – He has lots of attacks, he is tough, he is strong, he can dish the pain out pretty decently and can give any enemy without a good armour save hell (and even power-armoured enemies have to be careful not to fail an armour save). He, like the Dark Apostle, can be seen as an upgrade character – giving an entire unit S5 and Fearless for free is a very nice benefit. This works well if you intend to use said squad in combat (which you should). However, his abilities are of questionable value – whilst the free upgrade to a unit is good, getting them into combat and realizing their durability doesn't change is still the kicker. Funny on Nurgle marked Chaos Marines, they are essentially super-marines with S5 T5 and Fearless. Personally, as his cost is similar to Kharn/Lucius/Huron, I wouldn't recommend him as his abilities just do not stack up IMO. However, he is not a bad choice by any means. Solid choice overall.
Ahriman – I've used him a few times so far in the new rules, and boy, he is quite the nutcase. My recommended power load-out is this – roll once on Tzeentch (mandatory), roll once on Telepathy (if you don't get one of the Mastery Level 2 powers, switch for Psychic Shriek), and then either roll twice on Biomancy (any power here is good, but Iron Arm/Enfeeble/Endurance/Life Leech are almost unfair on Ahriman) or take a roll on Pyromancy. Two games in a row, I got Doombolt, Psychic Shriek, Iron Arm and Endurance, and my opponent simply could not beat him down without Ahriman making his points back. Dependant on luck mostly though, which means he isn't the best option for a competitive army. Allowing Thousand Sons to Infiltrate solves a few problems, and he can spam witchfire powers to your hearts' content. Very expensive, and will statistically be killed outright by two krak missiles. A solid choice overall.
Kharn – You thought Huron's close combat abilities were good? Guess again. S7 I5 A7 AP2 with 2D6 armour penetration on the charge that always hits on a 2+ says hi. Get him into combat and also take advantage of his abilities, particularly his Warlord trait – as he grants Hatred to himself and his attached unit, you do not have to worry about Veterans of the Long War for his bodyguard unit. Keeping that in mind, he also gives the whole unit a 2+ Deny the Witch save. Run him into Grey Knights and laugh as their force weapons can't instant death you. However, be aware that daemon hammers and sheer number of AP3 attacks will still kill you. That is, of course, if they get to strike back (stay the hell away from Halberds). Also a challenge monster. Cheap as hell and one of the most damaging HQs in the game – there aren't too many things you should be afraid of, and remember, he's Kharn.
He can chop up monstrous creatures (remember to keep away from ones that can challenge you though), stands a great chance of blowing up Land Raiders (and thus any other ground-based vehicle), chops through walkers, weaves through Terminators and other Infantry, etc. Also, just in case his rules confused you, here are a few clarifications that I've found; he always hits on a 2+, even if he would otherwise hit automatically, in combat – this means you still risk hitting your own models when attacking a model that is WS0. Hatred also does not allow him to re-roll his misses; his rolls of a 1 are treated as 'hits' against his own side, even in a challenge, as it affects the same combat. As such, the only time he can actually make use of Hatred himself is if he is by himself in a combat (i.e. no allies) – however, the main reason he has Hatred is that he confers it to his unit, which is great and means you don't have to worry about paying for Veterans of the Long War. Very good choice overall.
Typhus – Nasty in combat, but of limited use against Walkers and high armour vehicles. Can make monstrous creatures cry. One of the toughnest nuts to crack as far as small arms fire goes. Fear is situational and you shouldn't bank on it. Be aware not to waste the Destroyer Hive – it might kill half a Terminator squad, but it will also make mince meat of his bodyguard. His best application (arguably) is his ability to make Cultists into Plague Zombies free of charge. T3, Feel No Pain, Fearless, scoring models that are cheaper than Ork Boyz. They can't do anything in shooting, but they are objective-holders/grabbers unparalleled in our codex. A 'build-the-list-around me' kind of guy, especially given his very high entry fee and inability to embark on a cheap transport. Good choice overall – becomes very good if you pair him with Cultists.
Lucius – Why aren't you taking Kharn? All jokes aside, Lucius is a useful character that is in the similar price range of Kharn and Huron – i.e. cheap. Lucius is quite different to those two however, and you must understand that if you want to make him worthwhile. Lucius is a challenge-monster against anything that isn't T6 or has a +2 armour save. The reason being, his I6 and A-reflecting opponent's weapon skill as well as Shred makes him very good at killing enemy commanders, infantry, MEQs, etc – but not much else. Unless you are lucky, you won't typically succeed against +2 armoured opponents or monstrous creatures. Don't be tricked by Armour of Shrieking Souls and its AP2 – +2 armoured opponents typically carry weapons that will put Lucius out of his misery from one failed save anyway. With three wounds, anything that ignores his armour (i.e. almost every combat HQ) will only allow him to really cause a wound back once or maybe twice.
Hence, that particular ability shines against things that force armour saves and not invulnerable saves, i.e. hordes/infantry in general. He doesn't have to worry about hidden power-fists either because he will promptly single them out and kill them before they strike. Against a Space Marine Captain in power armour (how often does this happen though?), he will have 7 attacks on the charge, hitting on 3s with re-rolls, then wounding on 4s with re-rolls. That is more than likely a dead Captain, all before he gets to strike. In that sense, yes, he is quite good. Putting him up against Lelith Hesperax is hilarious. As I said before, he is not able to deal with certain units, and as such should be used against what he will do well against. A solid choice overall, but you need to be careful with him.
CSM HQs Summary
The most competitive options are probably Chaos Lords, Sorcerers and Huron. If you are wanting to adopt a theme, i.e. a single mark, then Huron probably shouldn't be your HQ (Undivided). The Chaos Lord will usually cost you more if you trick him out, the Sorcerer however doesn't need many upgrades to deal damage. As far as marked special characters, Kharn and Typhus are the best.
Next time – Elites… Have at it folks. What's your favorite CSM Named character and how do you equip them?