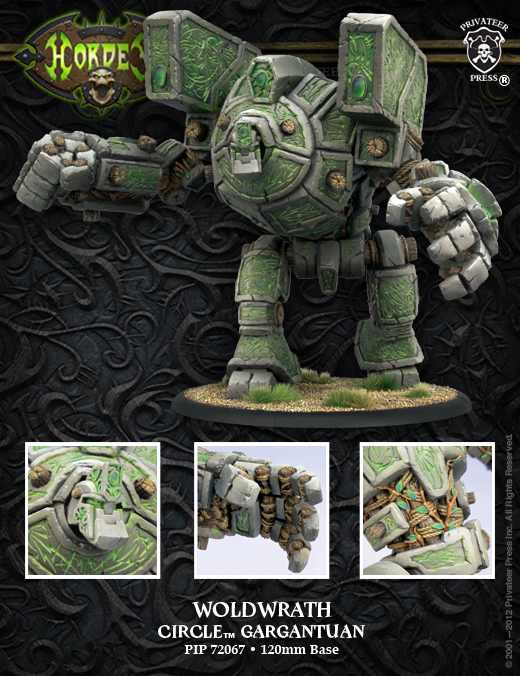 I've managed to get in a few games with the Circle Orboros's new Gargantuan, the Woldwrath. Just how does it stack up so far?
I've put the Woldwrath through the ringer with several warlocks, including Cassius the Oathkeeper, Baldur the Stonesoul, and Krueger the Stormlord, and I think I'm beginning to understand what the Gargantuan is all about. For me, the Woldwrath has been a bit of a toolbox, and has always had something to contribute, which is a fine thing considering its high cost.
The most difficult thing that I've seen about the Woldwrath is that it has completely different support requirements than most Circle players are accustomed to bringing. Most Circle Orboros strategies revolve around defensive tech like Prowl, placed terrain features or clouds, or hit-and-run tactics via spells like Warpath or the Warpwolf Stalker's Sprint animus to keep expensive investments safe. Unfortunately, these strategies don't work with the Woldwrath since it can never benefit from Stealth and line of sight to it is never blocked by terrain or cloud effects. Offensive application changes somewhat as well as the Circle's beloved Shifting Stones can't teleport the Woldwrath forward.
While the Circle Orboros is flush with ARM buffs, 90% of them are completely inapplicable to the Woldwrath due to its Spell Ward rule, which keeps it from being targetted by spells. The lone exception here is Baldur2's Roots of the Earth, but this only applies when he uses his feat. So, if a Bronzeback under Enrage is able to close on my Woldwrath, chances are good that I'll be quickly kissing the 20-point investment goodbye.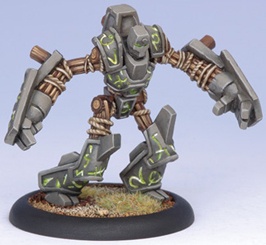 Woldwatchers: Think of them as little bomber escorts.
Consequently, protecting Woldwrath is a challenge as the usual tricks won't be effective. To counter this, I've been looking for less-expensive pieces that can stand up to a charge and tie up expensive heavy hitters. This has made options like the Woldwatcher, Argus, Winter Argus, and Warpborn Skinwalkers nice additions to lists that utilize a Woldwrath. While piece trading is often a game that Circle usually tries to avoid, keeping your Woldwrath alive and killing will often require it.
In terms of list construction, I've encountered a renaissance of sorts for Circle players exploring ranged-heavy builds. For example, pairing a Woldwrath with Druids of Orboros, the Celestial Fulcrum, Shifting Stones with the Stonekeeper, and ranged models like Bloodtrackers or a pair of Woldstalker units has proven a strong module for scalpeling out a warlock or warcaster, albeit an expensive one. Executing with it is theoretically pretty simple; the Woldwrath advances to within 10″ of the enemy warlock or warcaster and activates its animus, then either fires off its potent Lightning Strike attack or pummels the nearest enemy models into the ground, the Druids of Orboros and Stonekeeper launch their spellls trying to clear a line to, and hopefully knock down, the enemy warcaster/warlock, and finally the rest of the army's ranged elements clean up. This can, of course, be augmented through your own warlock support, particularly by spell-slingers like Cassius, Krueger, Morvahna, or Mohsar.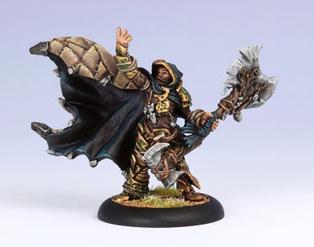 Black Wayfarer
Making the above work, however, can be a bit tricky for a few reasons. If the enemy can slow the advance of your Woldwrath such that you can't get it into a position to lend its animus to the fight, you could be losing a bit of flexibility since it doesn't have the ranged capacity that Colossals like Stormwall or the Judicator can bring to the table. Consequently, keeping the Woldwrath free and clear of enemy interdiction should be considered a priority. Since you're not left with a lot of points with any type of Woldwrath module, it would be smart to invest whatever you have left in enabling the Woldwrath to do its job. This can be done by having things that can clear out, destroy, or slow down your opponent's jamming elements, like the Celestial Fulcrum, Lord of the Feast, Winter Argus, and Blackclad Wayfarer. The Wayfarer has actually grown on me a bit during my Woldwrath testing not only for its ability to clear out a jam with Stone Spray, but also its ability to get a Woldwrath moving farther on the charge via Hunter's Mark. I'm actually considering picking up a second for this very reason.
If my thoughts here seem rather disorganized, it's because I've honestly been having a little bit of trouble wrapping my head completely around the Woldwrath. It requires completely different tactics than I've been accustomed to employing in Circle Orboros, and doesn't seem to synergize in any one completely obvious way. My personal play experience has thus far determined that a Woldwrath is going to have some trouble earning its keep unless you can strongly dictate the ebb and flow of battle, so I have been exploring list builds around warlocks that have a strong control game, namely Krueger2 and Mohsar. Both of these warlocks have a potent spell lists and high Fury values, made that much more formidable by the Woldwrath's animus, Druid's Wrath. I've also found Baldur2's Rock Wall to be a boon as well, denying enemy model placement so that they have a tougher time jamming my Woldwrath. Add in cheap Woldwatcher's via his Tier 4 benefit with Roots of the Earth, and you also have some very solid pieces to hold your opponent in place as well.
Unlike my experience with Stormwall and the other Colossals, my instincts thus far also point to the Woldwrath being a stronger investment in 75-point games so that it will allow for a more robust battlegroup, but in my neck of the woods, we tend to stick to 50 points.
At this point, I've only had a handful of games with the Woldwrath. I can feel that there's a strong piece there, but I think it's going to take some more time to truly unlock it. Expect more articles on the Woldwrath in the future.