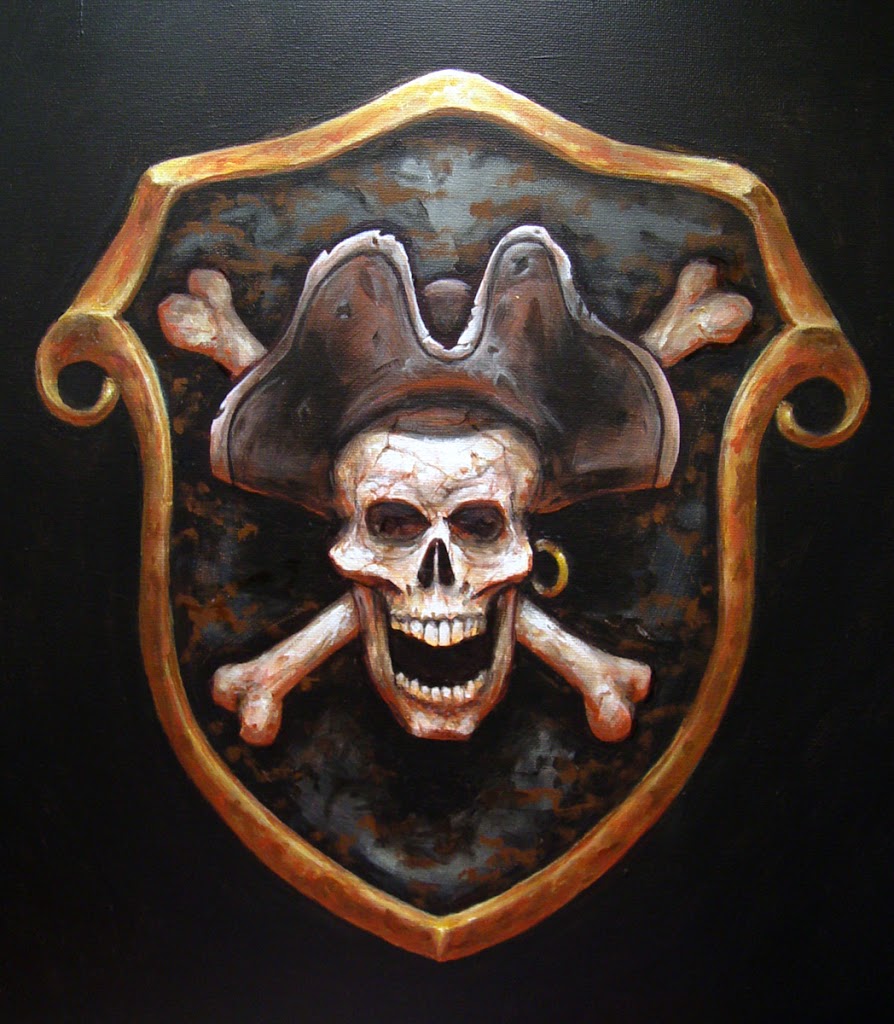 Aside from Gun Mages, I'm not a huge fan of Cygnar infantry. Consequently, I find myself often looking at Mercenary options for ways to build up the base of my army. Today I'll be looking at what has come to be known as The Pirate Module, how it works, and why it's effective.

The core of the Pirate Module will work for and can go into any non-theme Cryx, Khador, Cygnar, or Protectorate army.

Sea Dog Crew
For the uninitiated, the Sea Dog Crew Mercenary unit has a cavalcade of solos that take them from being pretty unimpressive to being a potential terror for the opponent. They are armed with lackluster Hand Weapons and short-ranged Pistols with the Point Blank rule, which allows them to make melee attacks with their Pistols. With MAT 5 and RAT 4, they're not the most accurate ladies at the dance either. The Gang ability is the first thing that really begins to elevate them, as it grants them a +2 bonus to melee attack and damage rolls when they are attacking a model that is engaged by another Sea Dog in the unit. This effectively put them at MAT 7, P+S 10 with their Hand Weapons and POW 12 with their Pistols, which isn't honestly that bad. The damage output is a little low, but it's usually more than enough for taking on infantry, especially while charging. This does mean that getting the most out this unit will require a modicum of thought in terms of placement.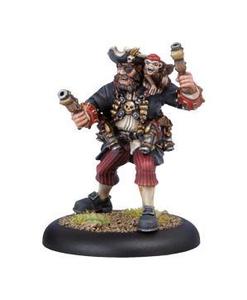 Mr. Walls, Quartermaster
The second piece of the puzzle is their Unit Attachment, Mr. Walls, the Quartermaster, who is armed with a pair of RNG 8, POW 12 Heavy Pistols and boasts a slightly higher MAT value than his subordinates. Walls brings two very important abilities to the Sea Dogs: Advance Deployment and No Quarter. Advance Deployment allows the unit to be placed after normal deployment and an additional 6″ up the board from the normal deployment zone, allowing optimal placement when choosing what you want to send them after as well as a nice forward position that can allow you to more quickly jam them down your opponent's throat. No Quarter is a once-per-game ability that gives the unit Pathfinder, Fearless, Terror, and an additional 2″ of movement, making them more mobile and immune to fear-inducing effects, further increasing the speed at which they can engage the enemy. Walls additionally has the Monkey Bite rule, which reduces melee attack rolls by living models engaged with him by 2.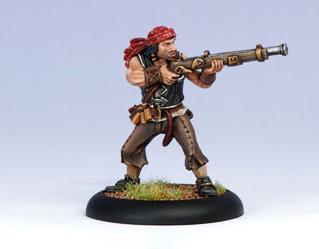 Sea Dog Rifleman
The third part of the Sea Dog unit is the Sea Dog Rifleman Weapon Attachment. The Rifleman is pretty much the same as his brethren save that his gun is RNG 14, he has the Combined Ranged Attack ability, and has Take Up so that if he dies, another model in the unit can pick up his gun. Functionally, the Rifleman is typically used to flesh out the Sea Dog unit since they are only one point a piece, but if you take the full 3-man allotment, you can throw out an effective RAT 9, POW 15 Combined Ranged Attack if Rockbottom's Money Shot is active.
Lord Rockbottom
Next comes the parade support solos that take this unit to terrible, terrible places, starting with the aforementioned Lord Rockbottom. While his Fire Breather does give him some damage-dealing capability, he is more about his support role. Rockbottom has the Paymaster ability, which allows him to spend one of his five coins to grant one of three abilities to a Sea Dog unit. Money Shot gives the unit +2 to ranged attack and damage rolls, making normal Sea Dogs effectively RAT 6, POW 12 at range. Payday gives models in the unit boosted melee attack rolls and Overtake, which lets them advance 1″ after destroying an enemy model with a melee attack, making them accurate up close and able to move past models in the very front after their initial attack, occasionally getting them into melee for a second attack. Walk It Off gives the unit Tough to improve their survivability. Tough is a very important rule for Sea Dogs, as it is the base for how they interact with the other Sea Dog support solos. Finally, Rockbottom has Bought Loyalty, which lets him spend one of his coins to cause a model/unit to pass a command check that they failed.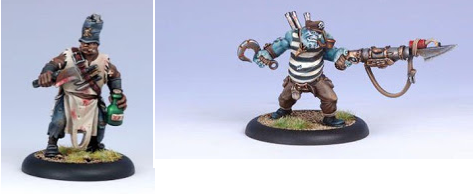 Doc Killingsworth and Bosun Grogspar
Doc Killingsworth is fairly simplistic in what he applies to Sea Dogs: the No, I'm Fine rule, which allows nearby Sea Dogs with Tough the ability to pass a Tough check on a 4, 5, or 6, giving them a 50% chance to shrug off any attack. This stacks nicely with Bosun Grogspar's No Sleeping on the Job rule, which makes friendly models in his command range immune to being knocked down.
Now, if you're thinking that this is beginning to sound like a Rube Goldberg Machine, you'd probably be right to. Getting these cogs to work together by negotiating unit placement in conjunction with the unit's many support solos can be a challenge. Unfortunately, I'm really just getting started.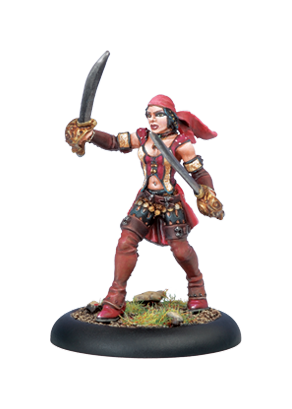 First Mate Hawk
First Mate Hawk brings a few things to the table. Firstly, she grants friendly Sea Dogs in her command range an additional damage die against warrior models via her Object of Desire rule. While their POW 10/12 attacks are usually enough to get the job done, the extra die never hurts, especially against warcasters, warlocks, or multi-wound infantry models. She also makes them effectively Fearless with her Inspiration rule, which is nice considering their low CMD stat. Those rules aside, she is hell on wheels at SPD 7 and MAT 7 with Acrobatics and a pair of P+S 9, Weapon Master melee attacks, making her able to cut into the middle and rear ranks of the enemy lines to carve through important support solos and unit leaders.

Press Gangers
Press Gangers are actually a whole unit that supports Sea Dogs while also benefiting from their support solos as well. They innately have Advance Deploy and Tough, so they get to start upfield and have no need of Rockbottom's coins for survivability. They also have a pair of melee attacks and Gang, putting them at an effective MAT 7, P+S 11 when they are engaging with another model in the unit. What makes this unit cool is the Shanghai rule, which allows them to turn destroyed enemy warrior models into Sea Dogs while benefiting from Gang, adding them to a nearby Sea Dog Crew.
This core of models can net you an ever-growing unit of Advance Deployed models with 4+ Tough, immunity to being knocked down, on-demand buffs to ranged or melee attacks, and a once-per-game mobility buff. On turn one, your lead Sea Dogs and Press Gangers will often be between 25 and 28″ up the board. This alone forces your opponent to play very aggressive, running upfield as fast as possible so that they don't get jammed by your pirates.
As far as Sea Dog-specific buffs go, that's pretty much it, but the party doesn't have stop here. There are loads of other Mercenary models that can make this unit even more of a pain. Things like Gorman di Wulfe, Lady Aiyanna, and Ragman can increase the unit's damage output through effective ARM debuffing. If you manage to stack all three of their buffs/debuffs, those little Pistols go from POW 10 all the way up to POW 18. A unit of Sea Dogs can kill a fresh colossal with damage output like that. Eiryss, Angel of Retribution can help out as well by removing defensive upkeeps with her Arcane Interference ability.
Rhupert Carvolo is another nice thing to have around, able to give the unit Tough and Fearless with Heroic Call so that you're not spending Rockbottom's valuable coins, increase the units DEF with Dirge of Mists, or give them Pathfinder with March. Alexia Ciannor and The Risen allow you to recycle your horde of pirates into a horde of the undead, creating an unending tide of bodies from your opponent to chew through. Master Gunner Dougal MacNaile can give the unit Double Powder Rations once per game to give them additional range on their Pistols.
The important thing to remember is that this is all before warcaster synergy is factored in. Long story short, the Pirate Module can be a strong, stand-alone force that effectively fill a slot in many lists in many armies. In my next article on the Pirate Module, I'll be discussing my plans for it with Cygnar. Stay Tuned!