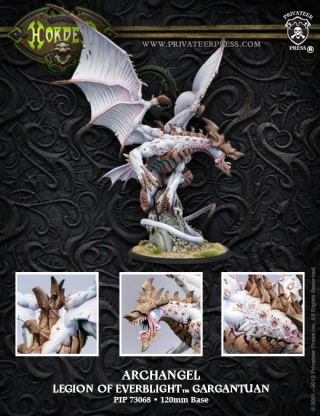 Look out! It's a Dragon!!! Hey gang, Caldera here to talk to you about Legion's Gargantuan. The very reason I wanted to play Legion in the first place, it has a dragon theme. Now they have given us one!!
In the following article I will go over the stats and abilities of the Archangel. Following articles will be about my experiences with specific casters.
Archangel Stats
First let's go over the stats for the Archangel. At speed 6, it clocks in at the fastest natural speed of all Colossals and Gargantuans. Now I know that doesn't mean much in the grand scheme of things due to all the speed buffs and threat increasing abilities other factions have access too. Though it still means it has a respectable 11 inch threat range due to the innate reach all Gargossals have.
It has above average strength and can chuck models 7inches plus deviation. I have had some fun with that so far. It carries the same Mat and Rat as most of our other heavy's with 6/5 respectively. This should mean that playing with it on the field, the numbers for hitting enemy models are the same as your other models which is nice.
Defensively, it leaves a lot to be desired for. Having the same defense and armor as the standard Legion heavy. That means it has the highest defense of all Gargossals in the game! If you add tenacity on top of that you end up with the same stats as a Skorne Titan! Here is the kicker though, the Archangel only has 46 health boxes. So even though a few things will end up missing, it won't usually matter as the hits that do get through will take a heavy toll on the small life pool. Now there are a few casters that can increase the Archangel's survival chances. Absylonia can put tenacity and Forced Evolution on it to increase to an amazing defense 14!! Now we are talking, because this forces the other player to devote a lot more resources into trying to hurt your huge dragon! Bethayne can sort of do the same thing but it only applies to melee and living models. Both Thagroshs can increase the armor by 2 effectively, one in melee and the other for all attacks.
Fury 4 and 3 initial attacks are what the Archangel is boasting. Starting off with an effective p+s 19 and two p+s 17s. Basically the same stats of a Carnivean but one higher. This equates to a nice amount of 6 attacks on the charge. Not too shabby. The Angel is also sporting a D3 + 1 strafe attack that has a total threat of 16 inches with AOE 3.
Archangel Abilities

Ride by Attack – This is interesting on a model who can only move 6-9 inches in a turn and the ranged weapon profile of 10 inches. Time and game experience will tell but as of now I am still waiting to be impressed by this ability so far.
Consume – This is probably my favorite listed ability on the Archangels card. Most of the time the p+s 19 that the ability is tied to won't save the model you are attacking(keep in mind it only works on small based caster models), but the important part is that is gets around pesky abilities like Tough and Self-Sacrifice!
Flight – What would a dragon be without Flight right? In the big picture I don't see this as game changing or anything crazy because all Gargossals have pathfinder innately and flying over a lot of things in the game is actually quite hard with the huge base lol. I can't tell you how many games I've tried to get my Archangel into cool positions only to find that the model is too fat!! hehe. It's nice that our dragon can fly though.
Blood Creation – You don't want your Gargantuan going frenzy on your warlock right? Legion players are accustomed to having this ability already though.
Souless – Same as above.
Draconic Aura – This is the Archangels Animus. Models ending activations within 2 inches are set on fire and costs half the Fury of the warbeast. Also only has the range of Self so only the caster or beast can cast it. I'm not sure what this animus is supposed to accomplish really that tenacity or spiny growth don't do better.
First Impressions

In a few words, I think the other factions got better Gargantuans. When you look at what other factions received for their Colossal or Gargantuan and then you look at the Archangel, you are left to wonder what happened? I suppose the vitriol in my article is because I am channeling my inner Troll 🙂 Now I'm not saying it's all doom and gloom though, because at the time of writing this article I have played quite a number of games with the Archangel. The point of this writing is first impressions though. There is a fine line that Privateer Press had to stay on or below in order to not make the Gargossals a mandatory addition to everyone's armies. In all honesty I think they hit a bit too low for both the Mountain King and Archangel as I feel they are one or two stats from being fair and balanced. Though they are also only a few stats away from being broken as well. Then you look at the Stormwall and Mammoth…. but that's an editorial for a different day.
What's your thoughts on Legions most beautiful model to hit Immoren?