The DIRT – GenCon 2014 Infinity Prep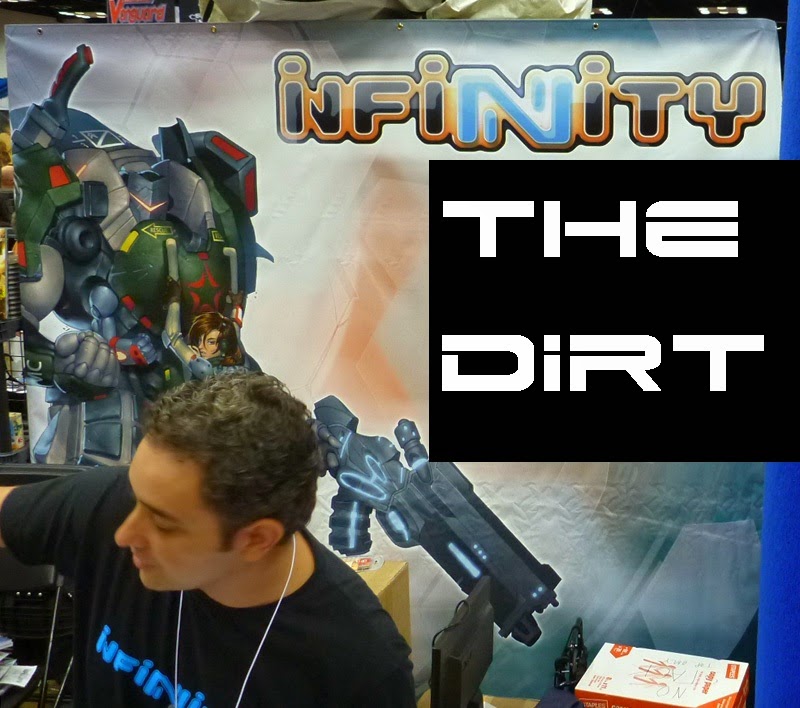 The News – GenCon 2014 = Infinity Maximized
This will be Corvus Belli's 3rd return to GenCon. And there have been minor changes each year. But this time around, with the inclusion tons of inclusions by Corvus Belli and the assistance of the Infinty WarCors….. GenCon 2014 is lining up to be epic. I figured with event registration starting May 18th at noon Central time, this might be the last chance I have to make sure people know what's going on at GenCon for Infinity before many of the events can no longer be registered for.
The Skinny – Let me Count the Ways…
The Infinity booth will double once again


In 2012, the Infinity booth was 10 feet x 10 feet. In 2013, it doubled to 10 x 20. In 2014, it will be 20 x 20. What exactly will we be seeing in the booth? While I don't know any details, it would be hard to imagine that there won't be some pieces of 3rd edition, amazing art work, and a multitude of miniatures painted by Angel Giraldez.
Angel Giraldez Will Be At GenCon 2014
While this was discussed in an earlier article of The DIRT. What wasn't discussed is that he will be running a painting tutorial on the complete process he uses when painting infinity miniatures. And it was discovered on the Gencon 2014 website that the models to be used in Angel's class, are NEW Panoceanian Fusiliers which is evidently at least part of the exclusive miniatures to be released at GenCon 2014. This is not a typo as some might have assumed, it has been confirmed, there will be new Fusilier models.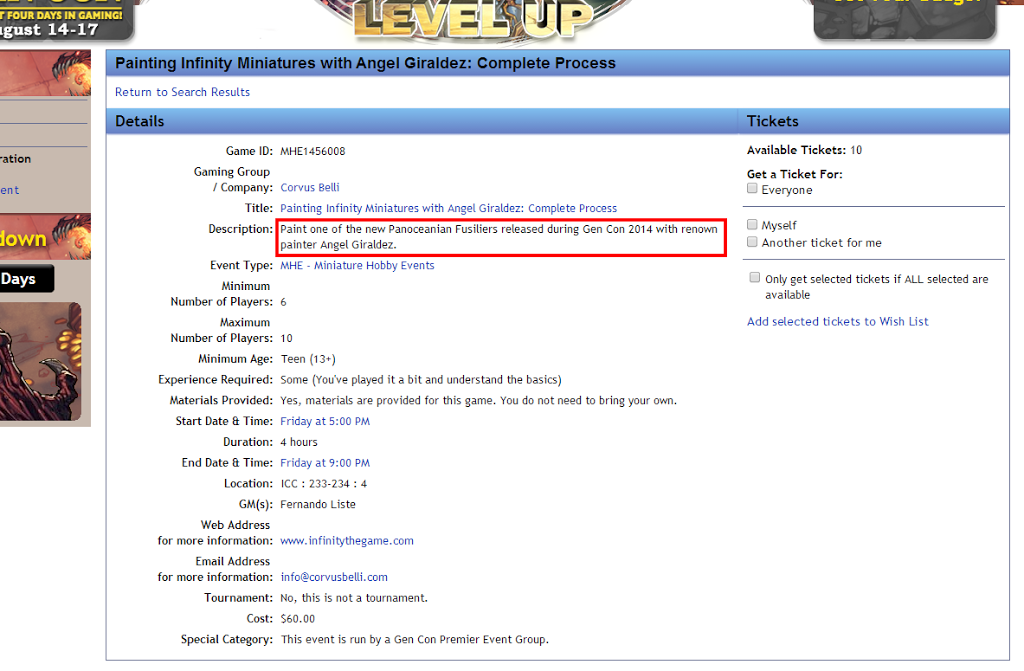 Infinity Seminar for GenCon 2014
If FicZone did anything, it made me crave all the good Infinity news that will be coming out of GenCon. For those of you who cannot make GenCon, I will do my best to provide you with a complete Infinity Seminar video. In all seriousness, nothing beats being there. Having a chance to ask your questions directly to people who can answer them with authority. If you're going to GenCon and even have a slight interest in Infinity, I cannot stress how much you need to drop by the booth (to get a demo game) and make sure you're signed up to attend the Infinity Seminar.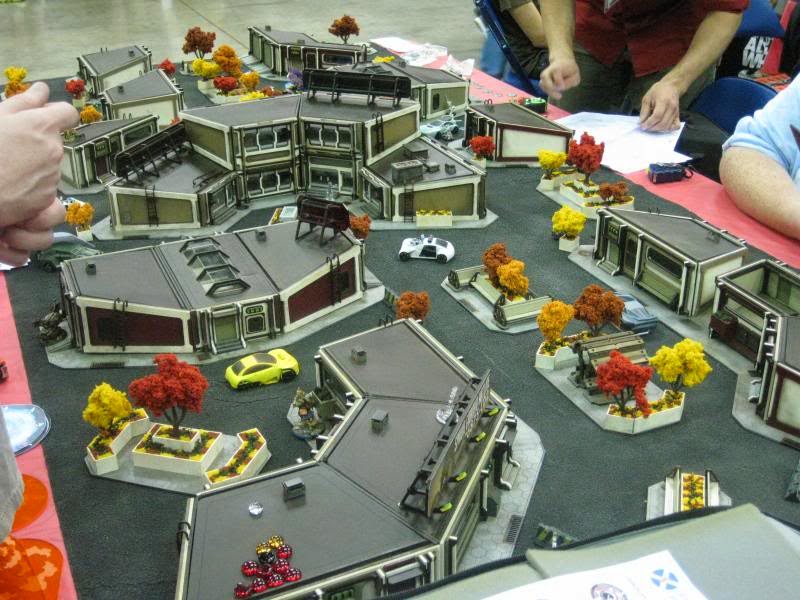 One of the many amazing tables of terrain at GenCon 2013 – Terrain by Warsenal.
12 Infinity Play areas full of Terrain
Many of these tables will be reserved for the 3 ITS tournaments that will be running during GenCon as well as Introductory Games run by members of the WarCors. Beyond stuff planned during the day, there are also evening events hosted by Warsenal like the Morat Prizon Break and the Raicho Initiation developed by
Guillermo
(Magno on the Infinity Forum). For those of you who enjoyed the story driven event articles I wrote earlier this year, you have to only look to Magno's Fiddler Event at GenCon 2013 for inspiration. These events are well coordinated and organized.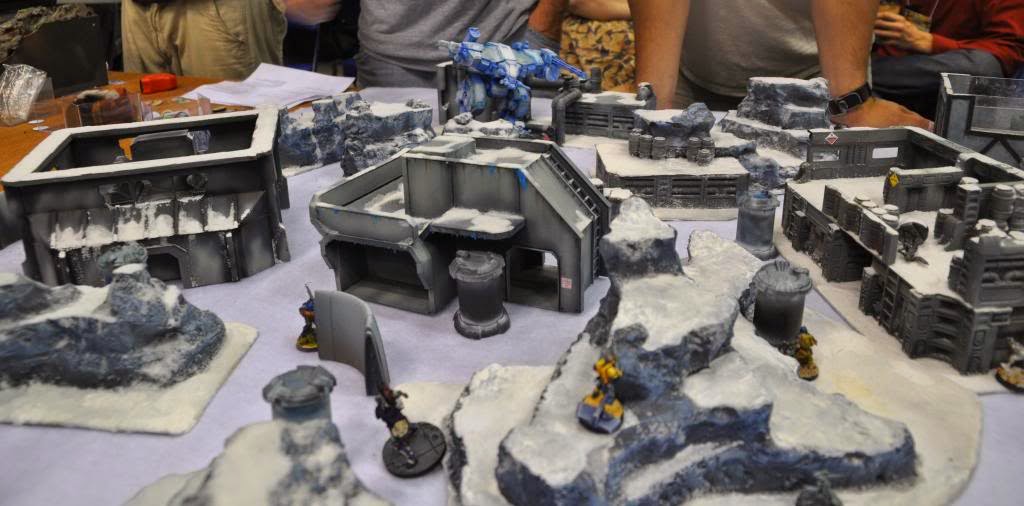 A photo from the Fiddler event – GenCon 2013
The evening also opens up time for a free-for-all availability of amazing Infinity terrain for pick up games, impromptu tournaments, and events. Even better, should there be enough WarCor volunteers, these tables will be usable every hour that GenCon is operation. I personally will be taking advantage of some of this terrain which means I can leave my terrain at home! I also think it'd be awesome to have a tournament at 1 AM, sponsored by energy drink x.


The Warsenal Invitational Infinity Tournament
This HAS to be mentioned. The winner of this invitational tournament will get a flight and hotel accommodations to Vigo, Spain for next year's International Infinity Tournament in Corvus Belli's back yard. Want more details about the invitational tournament (3 of the invites can be won at the GenCon tournaments), check out the details here.
There will be more people manning the Infinity booth
While this might not sound as exciting for you (the amazing reader of The DIRT), it means a ton to me. With three "booth babes", I'll be able to leave said booth from time to time, mingle and get in a game. Who knows…. I might even have to try my hand at cosplay. Probably not, but who knows.
Are you coming to GenCon 2014 or did you attend a previous GenCon and have some tips for future attendees? Let me know in the comments below.
As always find me here, my YouTube Channel, or drop me a line or Infinity photos at my new email address
[email protected] .