Hordes Trollbloods: I'M ON A FREAKIN BEAR!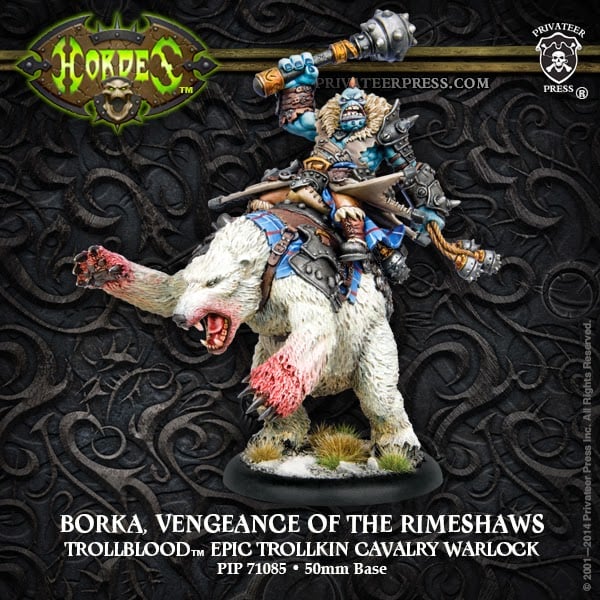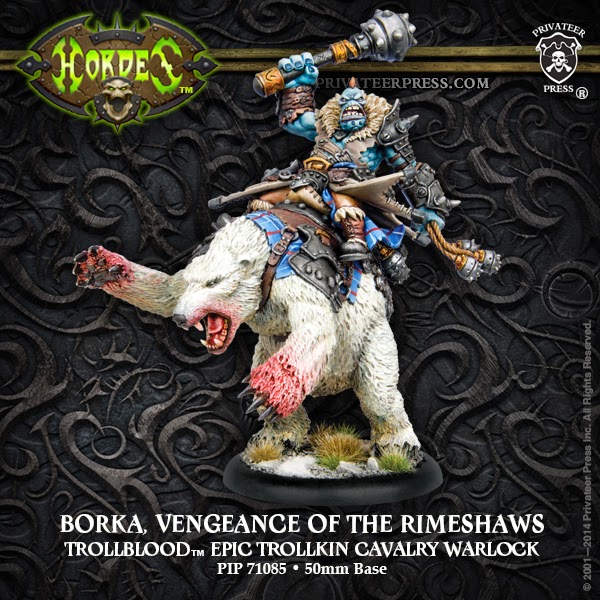 Let's talk trolls on bears. Borka, Vengeance of the Rimeshaws is HERE!
I'm having such a hard time trying to pin down how I want to play Bearka. Just when I've thought out the perfect list I stop and find myself asking if there isn't a better way I could take advantage of all of his spells and abilities.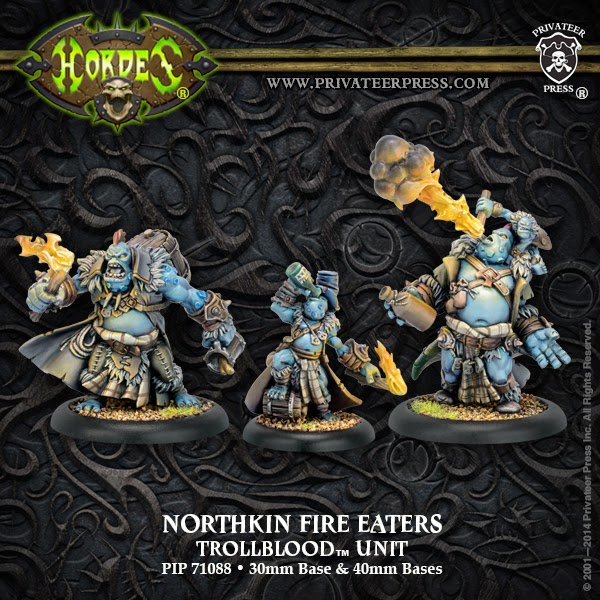 This first list has already had a couple of tweaks since I whipped it up immediately after the Exigence War Room update gave me access to the Avalanche Tier for the first time. It's an excellent theme and I think it's probably always the way to go . The biggest things you lose out on are Mulg and Janissa, but they could easily be in one of your other lists in a tournament setting.
Borka, Vengeance of the Rimeshaws – WB: +6
– Rok – PC: 11
– Winter Troll – PC: 5
– Pyre Troll – PC: 5
Trollkin War Wagon – PC: 8
Horthol, Long Rider Hero – PC: 4
Northkin Fire Eaters – Leader, Grunt, and Pyg Buddy: 4
Northkin Fire Eaters – Leader, Grunt, and Pyg Buddy: 4
Long Riders – Leader and 4 Grunts: 10
Krielstone Bearer and Stone Scribes – Leader & 5 Grunts: 4
– Stone Scribe Elder – Elder 1
THEME: Avalanche – Tier 4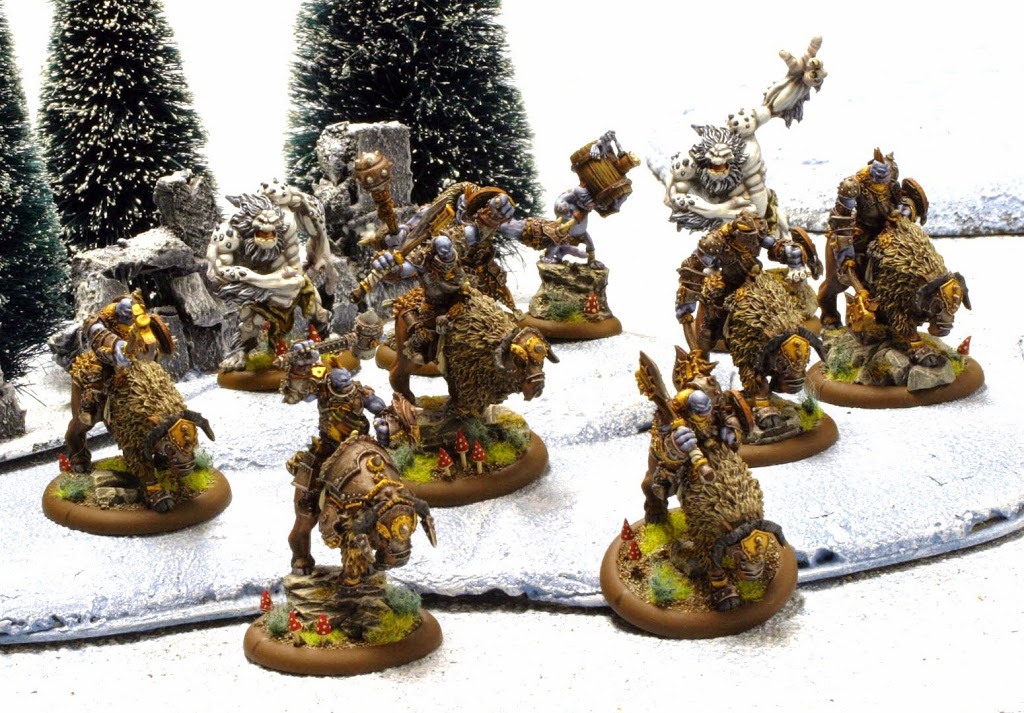 As you can see, it's mostly inspired by the flavor of the theme – but that doesn't mean there aren't lots of things that work well about it. The Long Riders will be the Snow Shroud target. This will hopefully help them last a bit longer and allow me to place those snow templates aggressively since the unit will ignore difficult terrain while in them. In fact the only models in the army that won't ignore those templates are the KSB, and Horthol.
The Pyre is there so that I have an Animus that bumps Borka's damage output, and he can also light up the Fire Eaters if I'm feeling dangerous. Additionally, as a lead from the front warlock, you can never have too many transfer targets for Borka.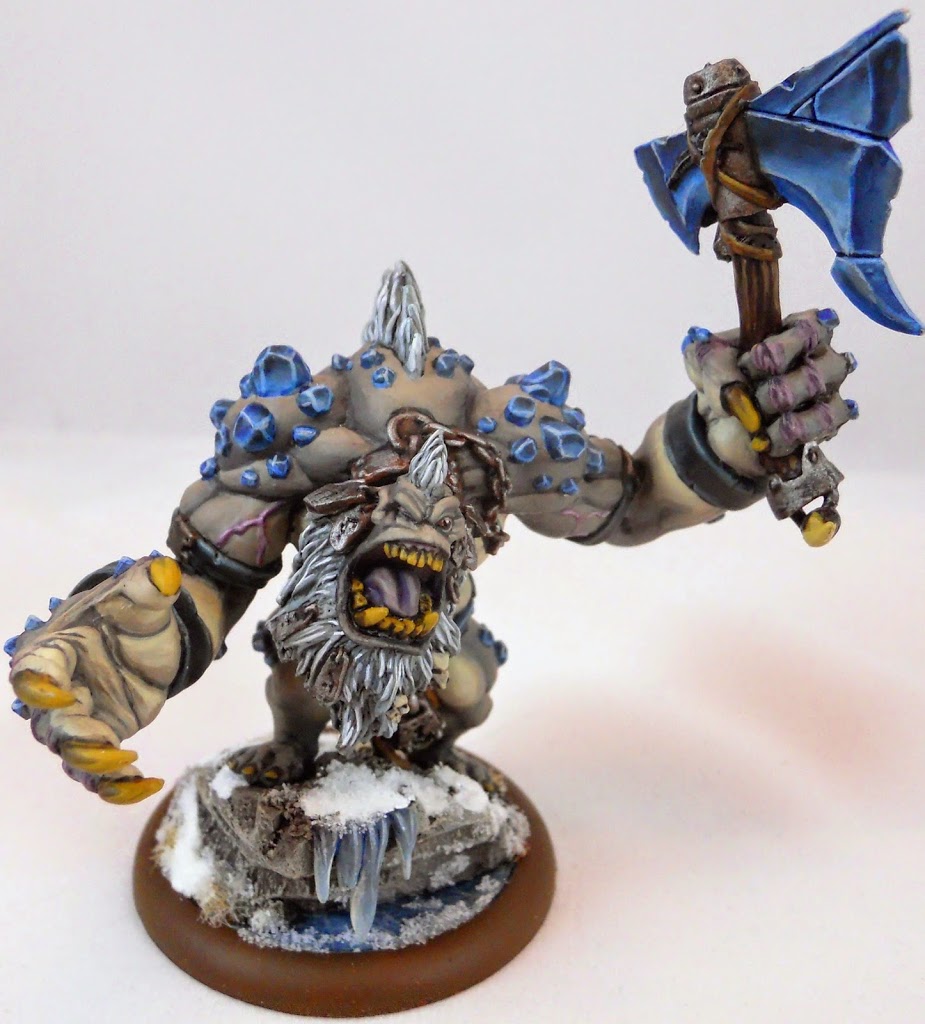 Because of Tier 2, I can actually field the KSB knowing I can toss 5 Fury in it and still have upkeeps out turn 1. Not sure if I need a full unit, but I like them to be able to absorb some casualties. The point for those two extra scribes might be better spent on a Sorcerer though. He'll be easy enough to sub in if I decide min KSB is good enough. And his ability to steal Pathfinder will be helpful when I can put down my own rough terrain.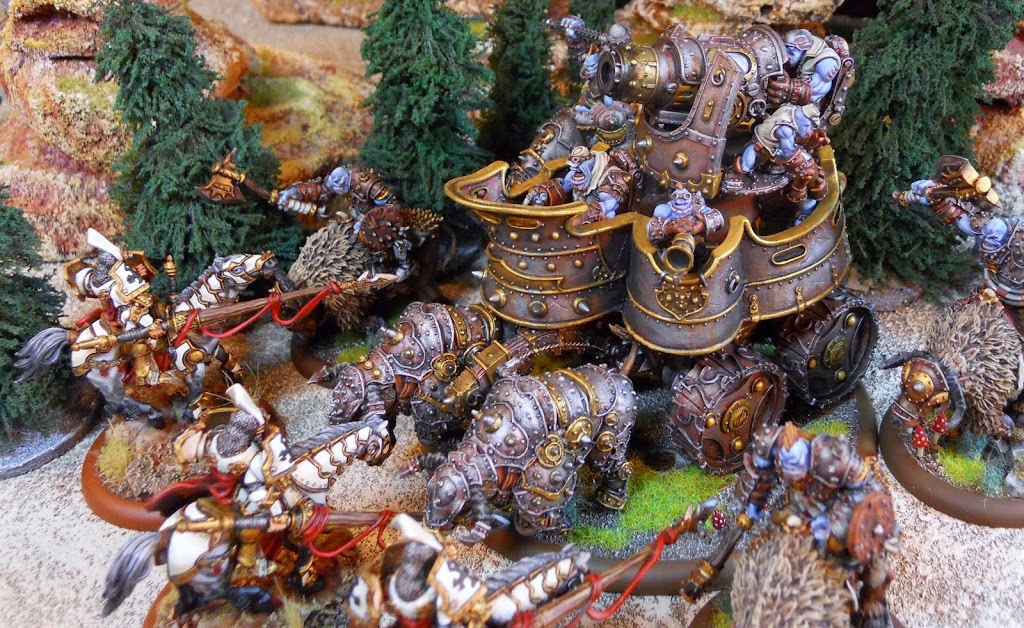 The War Wagon will do War Wagon things. But what makes it kinda special with the bearlock is that it will be super easy to hit models made stationary by his feat – and knock them down… of course that means it will probably hit friendly models too. Be careful with this thing. It can also give Borka something to hide his large base behind on his way up the field. Hopefully everything else should be pretty self explanatory.
With Advance Deploying Fire Eaters, the War Wagon, and Long Riders, this is a fast moving army that can have an early turn of serious denial, with the feat. Shooting armies will obviously hate the stealth turn, and against melee armies these troops should be sturdy enough to freeze a lot of models without losing too many itself. It's loaded with anti-infantry potential but it does worry me just a bit that Rok is the only real hard hitter. Borka himself can swing his Mace if he has to I guess.
Subscribe to our newsletter!
Get Tabletop, RPG & Pop Culture news delivered directly to your inbox.
While I think this list is a good way to run Borka 2, it's not the only way. I have a considerably crazier idea in mind. Have a look.
56 / 56 (50+6) Warlock(s) : 1/1 Warbeast(s) : 9 Battle Engines : 0 Solos : 1 Units : 1
Borka, Vengeance of the Rimeshaws – WB: +6
– Night Troll – PC: 4
– Night Troll – PC: 4
– Night Troll – PC: 4
– Troll Axer – PC: 6
– Slag Troll – PC: 6
– Storm Troll – PC: 5
– Storm Troll – PC: 5
– Winter Troll – PC: 5
– Rok – PC: 11
Trollkin Skinner – PC: 2
Northkin Fire Eaters – Leader, Grunt, and Pyg Buddy: 4
THEME: Avalanche – Tier 3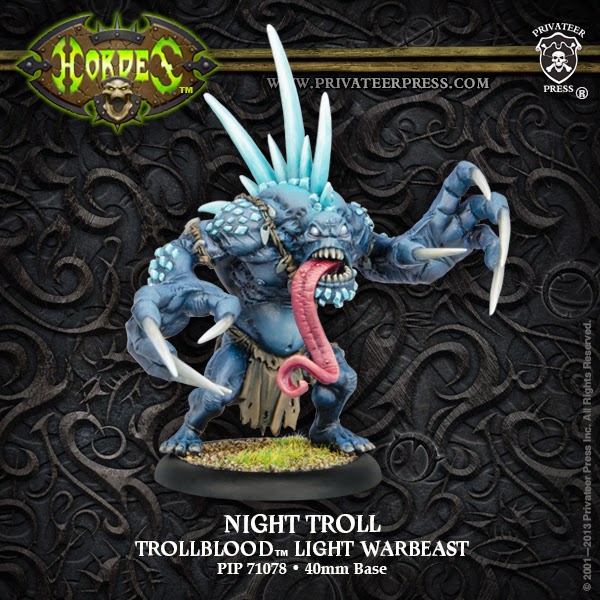 Whaaaa? THREE Night Trolls? A SKINNER? Ok so maybe this won't be the best list but I feel like I
have
to try it. Or at least something close to it until I decide it's worth buying two additional Night Trolls.
So just what the hell am I going for here? You guessed right this list is all about Battle Charged shenanigans. Battle Charged and Night Trolls can be used together to create a fascinating puzzle for your opponent. Night Trolls use Animus. On your turn they counter charge. Now the next model your opponent activates has to advance toward the Night Troll rather than the thing they wanted. This can keep your beasts alive as your opponent is forced to spread out their charges, but really it's just messing with their head and forcing them to do everything on your terms. Oh and also this list has nine of those AoE's to put down and this time everyone in my army will ignore them. That alone can make this list strong in certain scenarios.
Like most of the crazy ideas I have, this one will be more than a little tricky to pull off. There are a couple of big restrictions. Counter Charge is only triggered within a six inch area around the enemy model. And the Night Troll's Animus has an even less impressive bubble of 5″. Without proper planning I'll easily pull myself out of range of doing anything really clever that turn. This list will take a lot of trying to get right. And it may never work. Proxying will have to happen before I make any purchases towards this list.
Besides I'm still not sure if it will even all pull together the way I want. Do I need that Axer or would he be better as another Slag Troll? Will I need all those AoEs of rough terrain, or should I drop the winter troll for another Storm Troll (at which point, is going tier is pointless anyway, and should I drop the Skinners and consider adding Mulg)? Should I drop a couple Night Trolls or otherwise shuffle things around to get a War Wagon to give all beasts that extra SPD turn 1? Will the ARM boost from the KSB give these trolls enough survivability to make it worth the points, or should they be another troll. I think my biggest flaw as a Troll player is not being able to leave that huge rock at home. I always want to field it. Of course none of those questions are worth asking if the first couple of times I take this army to the field it ends up as an abysmal failure. Failure or not I think it's worth trying.
~So while all those previous questions were pretty much rhetorical, I would love an answer for this one: How do you guys plan on running Borka 2?