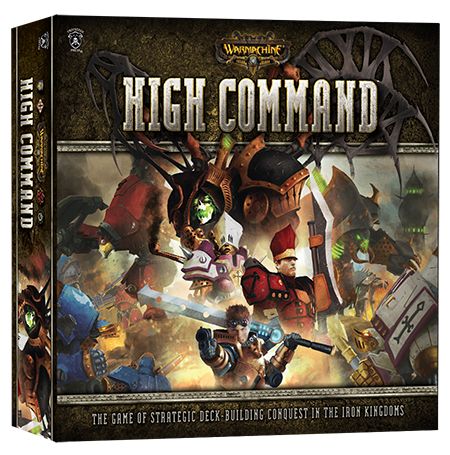 The release of an updated Kingmaker document, the official organized play rules for Privateer Press's High Command deck-building game, has effectively remade the game in the best of possible ways.
High Command has had a bit of a systemic problem when it comes to detachment design, particularly where the two original Warmachine and Hordes factions are concerned. When the game was released, people quickly discovered that the quickest route to victory was through passive purchase-based strategies that left little in the way of interaction between players. Within this scheme, a few specific factions were titans based on available scoring cards, which is to say cards that have a Victory Point value. Instead of enticing players into aggressive moves wherein they attempted to score Victory Points through capturing locations, they would simply purchase cards while attempting to deny capture attempts when convenient.
This strategy was terribly effective in-so-much that it nearly destroyed the game save for a few players who kept up with new expansions in hopes that Privateer Press would course-correct this problem, and to a large extent Privateer Press did. This was done by creating a market for strong, aggressive rushing cards that let players make fast moves for captures at a speed that out-paced the previously-dominant purchase strategy. This was to be the way of things for the last several expansions for the original Warmachine and Hordes core sets and the game suddenly came alive and was quite fun to play, but it still was not without its flaws.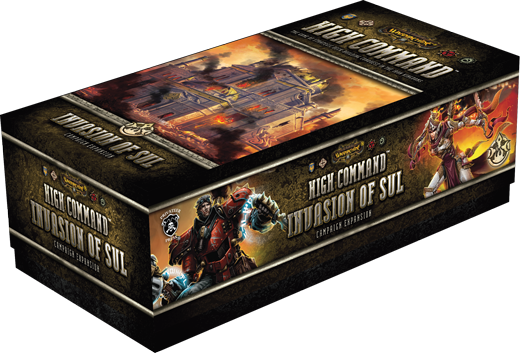 As expansions released, the problem became that more and more cards were released with fair-to-aggressive rush costs that also scored Victory Points. This lead to large portions of a faction's available cards, specifically those without scoring values, to be a liability in normal play since the dominant strategy became to play aggressively for locations while also scoring Victory Points through rushing scoring cards. While this certainly made the game more interactive and more fun, it was a problem that was going to be bad for the overall health of High Command as time progressed and more expansions were released. For example, here is Cygnar deck that I have been running lately:

This deck is on the pretty aggressive end of things with the most expensive card rushing for 9 WAR and many rushing for far less. What makes this deck so strong, however, is the fact that every single card in the deck is worth at least one Victory Point with several being worth two, giving me a total of 42 Victory Points that I can simply purchase or rush as they come up. This means that I am scoring a Victory Point or two every single turn just by virtue of rushing cards to locations. Decks like these became fairly dominant in High Command's modest metagame, and consequently large volumes of cards became largely inviolable. To further this problem, two entire factions, specifically Protectorate of Menoth and Skorne, severely lacked the quantity of aggressive scoring cards to survive this state of the metagame, and so they fell by the wayside.
Again, I would like to reiterate that despite these aforementioned issues, High Command has been quite fun to play for the last 10 months, but if these issues were to continue, I am not entirely sure what it would mean for the long-standing health of the game as a whole.
This takes us to September of last year when the Faith and Fortune core set was released, giving us four brand new factions to play with and refreshingly-new design approach. Not only were the individual factions more flavorful on a mechanical level rather than a simple statistical one, but the emphasis on Victory Points was significantly reduced through a noticeable reduction in the volume of scoring cards. Whether or not this was going to continue to be the way of things with the new core set was a mystery, but it did create some genuine concerns. The chief among these was that the mechanical and statistical strength of the Faith and Fortune factions was going to need to be very high if they were to compete against the rush-hungry, 40+ VP monstrosities from Cryx and Circle Orboros.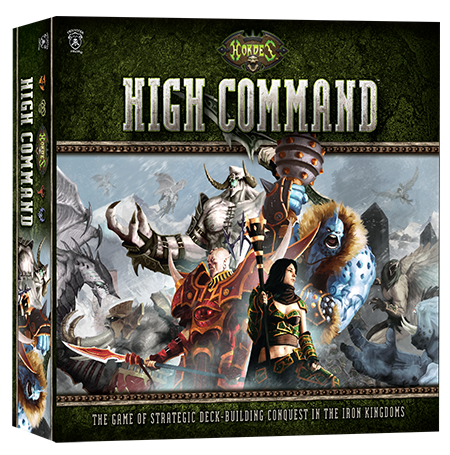 However, as the last three expansions have been released, it has become obvious that this is not to be the case. Scoring cards continue to come at a premium for Retribution, Four Star, Highborn, and Convergence. While their strengths and violable strategies have certainly increased through more options, they just cannot compete with the existing metagame.
Things became a little interesting when a Press Ganger from Seattle, the ubiquitous podcaster and blogger Charles "Omnus" Arrasmith, created a tournament format that he thought would allow the original eight factions to co-exist with the new four factions in a state of parity. He did this by simply limiting the total VP value of all cards in the deck to 30 or less. This immediately caught my eye as something to watch, particularly as Charles's events have been attended by High Command game designer David "DC" Carl, meaning that he had the attention of one of the few people who could affect real change on the game. It was a great change because it was simple, elegant, and could potentially fix not only the problem of making the Faith and Fortune factions stand on near-equal footing, but also give Skorne and Protectorate some new life. Additionally, it deemphasized the importance of scoring cards, giving the other six factions even more strategies to pursue.
Then, on April 2nd, soon enough to the month's beginning to give me serious pause, Privateer Press released an update to its Kingmaker document, which details its official tournament rules. The updated document introduced a new official format called "Kingmaker Showdown", which uses all the standard High Command tournament rules save for one addition:
Showdown Deck Construction

In addition to the standard rules for deck construction, the total VP values of all cards in a player's deck cannot exceed 30.
While Showdown is now simply a variant format for the game, I strongly suspect at this time for it to become the standard one to follow. No longer do i feel bound to only run Cygnar decks in excess of 36 Victory Points. Non-scoring cards like Sword Knights or Trencher Cannon Crews are suddenly worth a good, hard look while taking the maximum volume of 2-VP Avengers or Stormblade Platoons is no longer a necessity. Meanwhile, my Green/Red/Purple Retribution deck that comes in at 28 Victory Points can actually compete with some of the nastiness that the original eight factions can bring.
So, if you have been following High Command but have had some concerns over its balance, now is a fantastic time to give it a good, hard look.