With a sweet new resculpt just hitting the shelves, it's time to talk about Koldun Kommander Zerkova's No Quarter Theme Force; the Hunting Wolves.
What's up folks!? It's Trevy the Great here again from Way of the Swan to talk about another super cool theme force! This time we're stepping away from the proud nation of Cygnar and moving across the battlefield to their sworn rivals; the indomitable war machine of the Khadoran motherland! Today on Thememachine I'll be examining the intricacies of Koldun Kommander Aleksandsa Zerkova's Hunting Wolves released in No Quarter #34.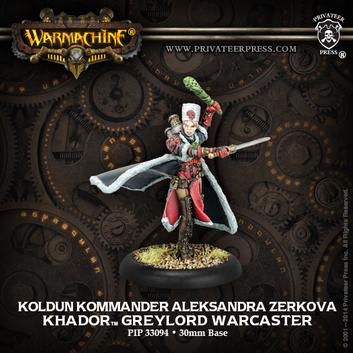 As Theme Forces go, this is a pretty interesting one; not only does it allow access to Mercenary models, it allows Mercenary Warjacks (namely the Vanguard) in the Warcaster's battlegroup! Before we get into everything this theme force gives you, let's talk a little about the Vanguard and why this is such a big deal. Anyone who's played against them knows that the Vanguard is one of the most unassumingly difficult-to-kill models in the entire game. With a decent DEF of 13 and surprising ARM of 17 is was incredibly solid defensive stats… which are further increased by its Shield (for ARM 19) and Set Defense (for DEF 15 vs. charges). For 5 points, this little bugger makes a solid speed bump or a disposable piece to contest a zone, but he also has Shield Guard to protect Zerkova or your heavies from enemy shooting, as well as a RAT 6, RNG 8, POW 12 cannon poking out of his shield, which he can fire as part of a charge via Assault. A complete package for a reasonable cost; who could do without?
So beyond these incredible little Warjacks, which can actually be included in this theme force? Unfortunately, it's relatively restrictive; in addition to the Vanguards, Zerkova is only allowed Khadoran 'jacks with ranged weapons as well as Marauders. Greylords (Ternion and Outriders), Widowmakers and Kayazy (Assassins and Eliminators) are allowed as units and Koldun Lords, Widowmaker Marksmen as well as Gorman di Wulfe are available in the solos department.
Art by Howietzer (howietzer.deviantart.com)


So, what do you get for leaving most of your favorite characters and Warjacks at home? Fortunately, the benefits are pretty dramatic:
Tier 1 increases the FA of Greylord units (note that this includes Outriders as well as Ternion), Kayazy units AND Kayazy UAs by 1; this allows you to bring two Kayazy Underbosses to the battle, making two separate Kayazy Assassin units forces to be reckoned with via Killstroke and Duelist!
Tier 2 gives you 3" AoE clouds within 20" of your table edge as long as you take a Greylord unit and Gorman; these clouds only last for the first round so they're of limited usefulness unless you take the first turn and your opponent has AD troops with guns. Probably the weakest of the tier benefits.
Tier 3 gives you and additional 2" of deployment if you take two or more Kayazy Assassin units; and with the ability to take Underbosses on each, why wouldn't you?
Tier 4 is the real moneymaker; as long as Zerkova's battlegroup includes three or more Warjacks, their cost is reduced by 1. In any normal Khador force this benefit would be of limited worth, but since Zerkova stole some poor sod's Vanguards, it's pretty easy to hit the necessary 3 with only two light 'jacks and one big stompy heavy. With all the merits I touched on earlier, Vanguards are totally worth 5 points and are an absolute steal at only 4.
So putting all these pieces together, what does this Theme Force end up looking like at the end of the day? From the models allowed under the tier restrictions combined with Zerkova's personal abilities, this list is going to *shred* infantry. Between MAT 7-9 Kayazy knives, Greylord sprays and Widowmaker bullets combined with Zerkova's Icy Grip and Howing Gale, regardless of the particular composition of the list it's going to kill tons and tons of dudeguys. With the number of sprays and skirmishing infantry available this theme force isn't going to have an issue with infantry, but armored targets will be a bit of an issue. While they can be controlled by Force Blasts, jamming with Kayazy or blind grenades from Gorman, removing them permanently may be a problem for Zerkova's Warjacks.
The best Khadoran light Warjack
Personally, I'm a fan of bringing two Vanguards and a Conquest in Zerkova's battlegroup; because Force Blast only requires a Warjack to be in Zerkova's CNTRL and LoS, the Vanguards can range out and perform as strong scenario pieces to contest zones or push enemies away. The Conquest can take advantage of Zerkova's Feat and Force Blast to fire its impressive batteries at armored targets before becoming an imposing presence in the later game. The Vanguards can also protect Zerkova or the Conquest with Shield Guard against heavy shooting in necessary matchups.
The infantry loadout of the list is pretty variable; while two Kayazy units with Underbosses are nice to have, they're relatively expensive, coming in at 10 points for the full unit+UA or 7 for a minimum unit. With the 2x Vanguard+Conquest battlegroup, a Gorman (necessary for the Tier 2 requirement), a single max unit of Assassins and two max units of Outriders can be included in order to kill lots and lots of infantry and take advantage of Icy Grip combined with Zerkova's Feat. Alternatively, Outriders can be dropped to make room for a second unit of Kayazy Assassins if melee is more of your style. That gives you a list that looks something like this:
Koldun Kommander Aleksandra Zerkova (*6pts)
* Vanguard (4pts)
* Vanguard (4pts)
* Conquest (18pts)
Greylord Outriders (Leader and 4 Grunts) (9pts)
Greylord Outriders (Leader and 4 Grunts) (9pts)
Kayazy Assassins (Leader and 9 Grunts) (8pts)
* Kayazy Assassin Underboss (2pts)
Gorman di Wulfe, Rogue Alchemist (2pts)
That version of this theme force brings a pretty well-rounded list that, while it struggles a little against heavy armor, can play into a variety of matchups. The theme force can be skewed pretty hard to clear infantry swarms if that's what you're expecting to face. Dropping the expensive Conquest for more Vanguards lets you squeeze more sprays into the list, but means that it will be relying on repeated Kayazy charges and perhaps a couple attacks from Vanguards to nickel-and-dime enemy armor, but can kill lots of infantry with the best of them:
Koldun Kommander Aleksandra Zerkova (*6pts)
* Vanguard (4pts)
* Vanguard (4pts)
* Vanguard (4pts)
* Vanguard (4pts)
Greylord Outriders (Leader and 4 Grunts) (9pts)
Greylord Outriders (Leader and 4 Grunts) (9pts)
Greylord Ternion (Leader and 2 Grunts) (4pts)
Kayazy Assassins (Leader and 9 Grunts) (8pts)
* Kayazy Assassin Underboss (2pts)
Widowmakers (Leader and 3 Grunts) (4pts)
Gorman di Wulfe, Rogue Alchemist (2pts)
Widowmaker Marksman (2pts)
While this theme force is relatively restrictive compared to many available the options it offers are pretty strong and it can be built in many different ways; the examples I offered previously are just examples of how it might be built and there is still tons of room for changes and customization.
Do you play Hunting Wolves? How do you like the theme force? Remember to check out Way of the Swan for more sweet Warmachine/Hordes content and keep it classy!