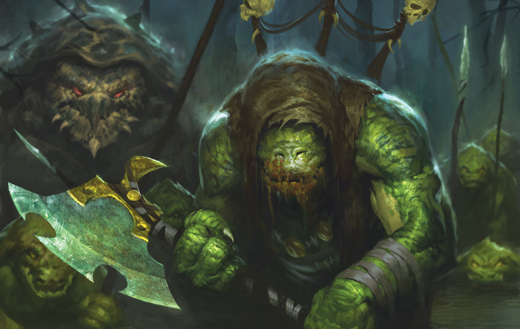 The warlocks of Western Immoren command the creatures and magic of the wilds to their own ends, but at a cost.
With the release of the Iron Kingdoms: Unleashed Core Rules, players looking to play as warlocks finally have the opportunity to do so. For the uninitiated, warlocks act simultaneously as king and queen models, to borrow the chess terms, in the Hordes miniatures games. They wield ultimate power, have incredible flexibility, and are the lynch-pin of your army. In Iron Kingdoms: Unleashed, warlocks are at the beginning of their training, and are consequently just starting to unlock their magical abilities, martial strength, and the will to command the massive and fearsome beasts of war. With this process come some growing pains that will inevitably make playing these characters a challenge in the early stages of the game, but will not be without serious long-term rewards.
Warlock Breakdown – 
Warlocks must all start with the Gifted archetype and a race specific to one of the five currently available faction-/race-specific warlock careers. This will allow them to use magic and give them access to the Harnesser school of magic. Additionally, all warlocks start with the Warlock Bond and Resonance abilities. The Warlock Bond ability grants a warlock a "bonding slot" that they can use to connect to and command a single warbeast, making the beast a part of the warlock's battlegroup. This ability can be taken multiple times as they level up with each additional instance unlocking further bonding slots for the warlock. Resonance is the ability that allows warlocks to be bonded to exclusive families of warbeasts that are again tied to specific factions or races. Circle Orboros warlocks can choose between Resonance: Wold and Resonance: Devourer Warbeast, with the former representative of wold constructs and the latter representing warbeasts such as warpwolves, satyrs, or griffins. Farrow warlocks gain Resonance: Farrow Warbeasts, allowing them to take the expected porcine creatures. Swamp warlocks have Resonance: Swamp Warbeast, and so on.
In addition to this, warlocks start with a pair of spells (one supportive, one offensive), a small tithe of gold crowns, and a medium warbeast of choice. Farrow and Legion warlocks (whose rules are found in No Quarter #60) can start with a pair of lesser warbeasts instead of a medium warbeast if they so wish, with lesser warbeasts each occupying half a bonding slot.
Harnessers and Fury –
The term "harnesser" is representative of the resource mechanic that warlocks use in Iron Kingdoms. Those familiar with the Hordes miniatures game will find this system easily recognizable, as it is largely, if not entirely, a copy of the system used for warlocks in that game. For those who are not acquainted with Hordes, the system is fairly elegant. The warbeasts that a warlock controls can be "forced" to do certain actions that would take them beyond their normal level of ability, be it striking more accurately, slamming into something at a dead sprint, or hitting with greater power than they might otherwise attempt. Every time a warbeast is forced, it receives a fury token up to the maximum value of the warbeast's Fury stat. These fury tokens can be removed from a warbeast by its controlling warlock via "leaching". Every fury token leached off of a warbeast becomes a resource that the warlock can spend to cast spells, activate specific effects, or achieve feats of strength, speed, or accuracy. Warlocks start with an ARC stat of 2, allowing them to hold up to two fury tokens at a time. This is a painfully low value to start at, so most savvy warlock players will immediately take an advance in their ARC stat at character creation to put their starting ARC stat at 3.
As warlocks progress and gain experience, they can choose from a wide range of spells that are specific to their warlock sub-type that will serve to define what role the character will play. Some may choose to invest in warbeast-supporting spells and choose to flex their power on the battlefield through the beasts they control. Others may accumulate spells that support other player characters. Others still may collect spells that are more offensive in nature. There are several paths that a warlock can take here.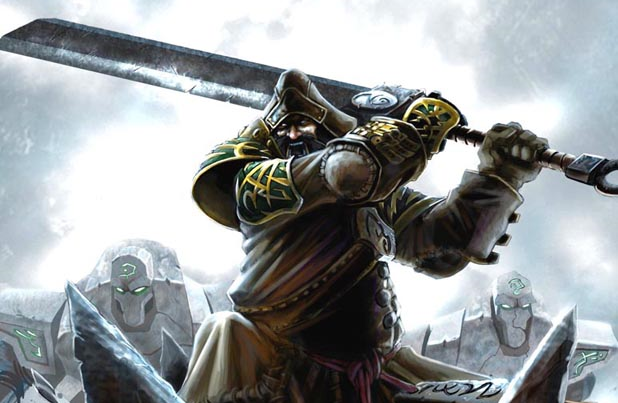 Earlier, it was mentioned that warlocks can use their fury to increase their martial ability to boost attack or damage rolls or make additional attacks. This, however, comes with a very important caveat: the weapon they are attacking with must have the Magical Weapon quality. As it stands, there are not any rules for the creation or accumulation of magical weapons, save for the Empower Weapon ability that all warlocks can gain access to as early as after the second game session. Empower Weapon grants the character a ritual where-by they can make a single melee weapon gain the Magical Weapon quality. Note that this is limited to melee weapons, and that there are currently no rules that would grant access to a magical ranged weapon save by game master fiat.
Abilities
The abilities that warlocks gain access to and ultimately choose to gain are another source of customization for the career. All warlocks have access to several Field Marshal abilities, which grant a warlock's entire battlegroup a specific benefit. One such example is Field Marshal: Relentless Charge, which allows warbeasts to charge while ignoring penalties for traversing rough terrain. Another is Field Marshal: Unyielding, which grants all characters in a battlegroup +2 ARM while engaged in melee. Other abilities will be quite specific to a warlock's faction. Circle warlocks, for example, can take abilities that will make them more adept at building and working with wold constructs. Farrow and Swamp warbeasts can push their warbeasts a bit harder at the cost of doing minor damage to them via the Maltreatment ability. Trollkin and Farrow warlocks can use Goad to increase the mobility of their battlegroup by allowing them to move after destroying an enemy character. The selection of abilities here, however, is notably small, so aside from how your warlock interacts with their battlegroup, a character's selection of abilities will largely be defined here by their second career choice.
Warbeasts
The ability to command monstrous creatures into battle is what primarily gives warlocks their identity, but it is also the source of their power in more ways than one. While also a direct martial threat on the battlefield, warbeasts, as mentioned earlier, are also the primary power resource for spellcasting and personal combat effectiveness. Because of this dichotomy, care needs to be taken when sending a warbeast into the fray. If you're too conservative with your warbeasts, you will not get much of a return on the investment. On the other hand, if you throw them head-long at the enemy, you risk losing the warbeast and its associated fury generation. This is particularly the case at earlier levels where first-advance options are not among the hardiest of possible selections. A single farrow razor boar can dispatched rather easily by a pair of charging infantrymen with its 13 damage boxes and 14 ARM.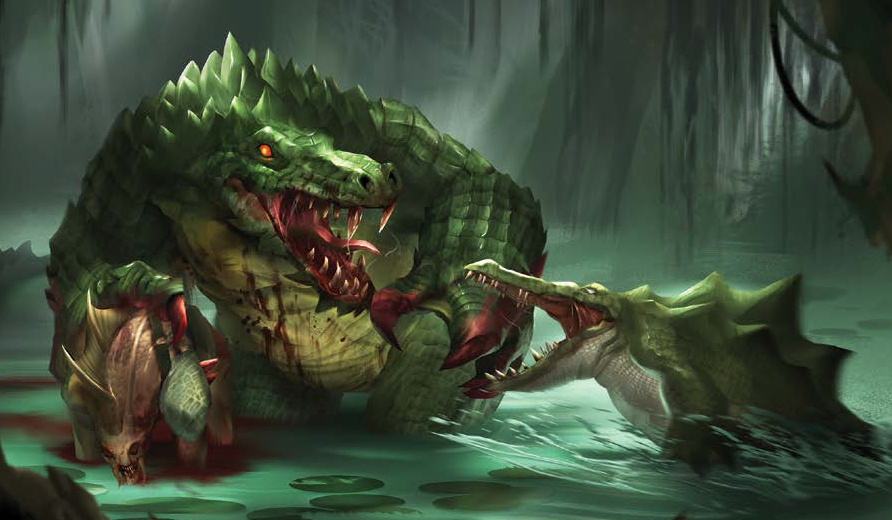 Unlike warcasters in Iron Kingdoms: Full Metal Fantasy, warlocks do not simply go to a mechanik and purchase a new warbeast. These creatures must be sought out in the wild, captured, broken, bonded, and trained. This inherently makes for a quick and potentially exciting source for adventures and short scenarios. For example, if a Legion warlock were to lose a warbeast or desire an additional one, they might be forced to lead a raid on a wilderness village to supply the necessary blood for the ritual to create new dragonspawn. A farrow warlock may have to track and capture a giant hog and drag it off to Dr. Arkadius's laboratory to be modified into a monstrous war hog. A Circle Orboros warlock may need to secure a ley line junction into order to craft and empower a wold construct. This, to me, is really great in a lot of ways since it is a decidedly more interesting and interactive way to gain a warbeast instead of simply spending crowns at the local mechanik's workshop for a new warjack.
Strengths and Weaknesses
As has been alluded to, warlocks will tend to struggle early on their careers before they have really been able to establish their identity in the game mechanically. They will need to be quite careful with their warbeasts so that they do not lose them and ultimately their well of magical power. That said, it would be wise to try to direct your party composition so that you have a character that can act as the warlock's bodyguard until they they are proficiently strong enough to stand on their own two feet. Great examples of this are Nyss Ryssovass, Trollkin Champions, or defensively-minded Warriors taking abilities like Shield Guard.
Until more rules for magical weapons present themselves, warlocks will be restricted from being truly effective with ranged weapons. Whether this is by design or not is beyond me, but I hope to see such options present themselves within the next few months. Once warlocks get to the mid-to-late Hero level and are able to get their ARC stat up to 5 is when they will start to hit their stride, but prior to this it will be important to tread carefully and let characters with a stronger early game do the heavy lifting in combat.
One of the big concerns about warlocks is that warbeasts can both present a tremendous strength and a liability. Scenarios set in close quarters, certain political situations, or stops in a village may deprive a warlock of their warbeasts. While visiting a wilderness tavern with a giant pole cleaver might raise some eyebrows, it will not generate near the response of doing so with a 12-foot dire troll, which will probably get you attacked on-sight or send the occupants fleeing in terror.
Summary
Overall, warlocks are in an awkward place for the first 15-24 experience before they have a control range and ARC stat high enough to bring their warbeasts to bear without putting themselves too much in harm's way, which will make the first several game sessions feel like your warlock is less exciting than you might have otherwise hoped. As mentioned earlier, the current lack of a means to gain a ranged weapon with the Magical Weapon trait makes character concepts like Llylth, Grim Angus, or Rask impossible to emulate. This will force you into playing a more supportive role or to purchase the heaviest armor you can afford and hope that you can survive in melee. Fortunately, Privateer Press has been quite aggressive in releasing new content for Iron Kingdoms through No Quarter, so hopefully we will see a solution to this soon.
These concerns aside, the warlock appears to be a spectacularly rewarding career if you can make it through the salad days of the hero level. Expect a follow-up article to this one within the next few weeks were I build a starting warlock character and go into the career with a bit more depth.
Stay tune to Bell of Lost Souls for my Iron Kingdoms coverage.
*All images are the property of Privateer Press Digital. Used with permission.