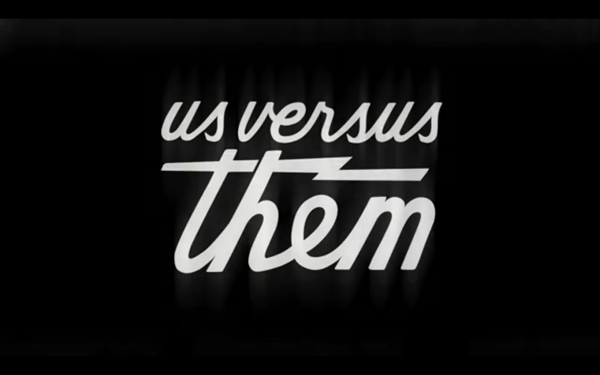 Us and Them…
It's your friendly neighborhood Black Blow Fly here to share some thoughts on the current state of the game. Bunnies vs Killers style!
Today I'm going to comparing fluffy bunnies versus competitive gamers. Remember that the majority resides somewhere in between these two gaming archetypes.
INTRODUCTION
The common mindset 'us versus them' is a central tenet in the way of life – either you are for or against something. I think it doesn't have to be that way though. Really deep down inside at some point we are all the same. You can find good in something as well as bad. It's a two way street if you stop to think about it for a moment.
So it could be just 'us' if we drop our boundaries and preconceived perceptions. We can all be together and I've seen it happen – it's truly a beautiful thing. Really we all actually want the same things in the end. To me the Horus Heresy 30k game from Forge World demonstrates this to be true. In a game where all things are Space Marines there is actual balance and every army has lots of awesome units to choose from that are very exciting to field and play. The most fun I had ever was playing in a 30k campaign and everybody who participated said as much… It was not so much about winning as having a good time and enjoying each other's company. It took me a long time to understand – and sure some times I still forget in the heat of the moment.
Of course in 40k there are many races and not all are created equal but I do think just about every army had its day in the sun so to speak and it could always happen again.
Army Selection
We choose our armies for various reasons but I think it's safe to say each person choose theirs for something about it that drew them into the game. Some people stick with the same race while others go from one to another trying to find the one that's just right for them. The hobby can be many things for many people but we really all want to have fun.
Differences that Make Us Unique & Acceptance
So I talked about how really deep down we are all the same. While that is true we are unique too which means there are differences and these are the things that make us each individual.
Sometimes there are things that we are not used to and how we deal these differences are a big part of what define us.
We can accept, deny, ignore or try to change these differences more to our own liking. The 'us' versus 'them' type of thinking really comes into its own for these types of situations.
In regards to our hobby my line of thinking now is to accept most anything in terms of what people want to play as long as it's battle forged. I don't like Comes the Apocalypse allies, especially when I see specific units chosen to simply make an army more winning at the expense of its own theme. I did finally come to realize this is me not accepting something because it's different from what I like so I learned how to accept it.
The more we can accept the better we are for it. It's important to be very honest with yourself when you find something different not to your initial liking. You need to know truly why you don't like it… Is it simply due to peer pressure? Did you ever decide not to field a certain unit you really wanted to play because you were afraid another player might think it's cheesy?
I remember the parable about one person who drew a circle around themself to isolate then someone else drew a bigger circle with everyone inside of it. To me that's the ideal to which we should aspire. The game is a big sand box and there's room for everyone.
Fluffy Bunnies versus Competitive Players
Everyone picks an army to play for their own reasons – it might because they like the background or think it's competitive… A lot of times the reasons are in between these two ends of the spectrum. Everybody enjoys a win now and then and we all want to have a good time. Try to be accepting of other people's armies even if it doesn't appeal to you. We all rub off on each other which can lead to us being more alike.
The fluffy bunny builds their armies based upon a unifying theme and often won't spam while the competitive player builds their armies to win and might spam. Often there is some friction when they square off against each other on the proverbial table to play a game. The fluffy bunny is often frustrated because it's hard to enjoy the game while the competitive player might actually even find the game to be boring, or they simply focus on overpowering their opponent for an EZ win.
I've often heard certain players say there was no way for them to win while their opponent will say they went about it all wrong right from the very start, even going so far as to criticize their list. The fluffy bunny also criticizes their opponent's list complaining it was designed solely to win with no thought given to develop any real theme.
Overall Skill Level
Sometimes it all comes down to experience and skill. It's possible the competitive player could field a less powerful army and still win. The lesser skilled player might consider working on their own game to make less mistakes. I've often asked better players for advice – this could be in regards to everything from painting and conversions to strategies, tactics and building an army list that best suits a particular person's own desires how to improve thus gaining overall more satisfaction.
The Middle Ground
Optimally both players should have the opportunity to enjoy their games. What if the fluffy bunny were to focus a bit more on their tactics and strategies to better optimize their army? What if the competitive player left their Death Star at home and focused more on developing an army that wasn't totally beat face and focused more on theme?
Ultimately we rub off on each other which can be a really good thing. It can be an opportunity for each player to put themselves on the other side of the table and see the game through the eyes of their opponent taking into consideration how they both feel about the game.
The fluffy bunny shouldn't automatically be put upon a pedestal viewed as the exemplar example of what the game is supposed to be about nor should the competitive player be automatically decreed as winning at all costs (WAAC).
Conclusion
If we can somehow meet in the middle it's the opportunity for everyone to have a better experience during their games.
What do you desire most from the hobby? Are you willing to indulge your opponent? These are the real questions you should ask yourself.