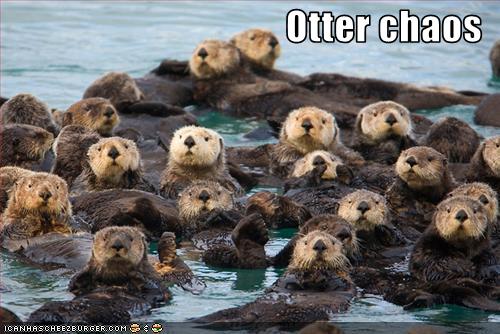 Goatboy here again and as a true follower of Chaos, rumors of new Chaos Marines always has me perking up my ears/horns/hooves. He's my take the rumormill.
I do sometime think it is just the rumor mongers churning up some hits as while the army is one of the most popular in terms of model purchases/army builds it still is very lackluster in game play.  The only true good bad guy army is still the Chaos Daemon book which breaks my heart as I stare at my 10,000 points of chaos looking space marines.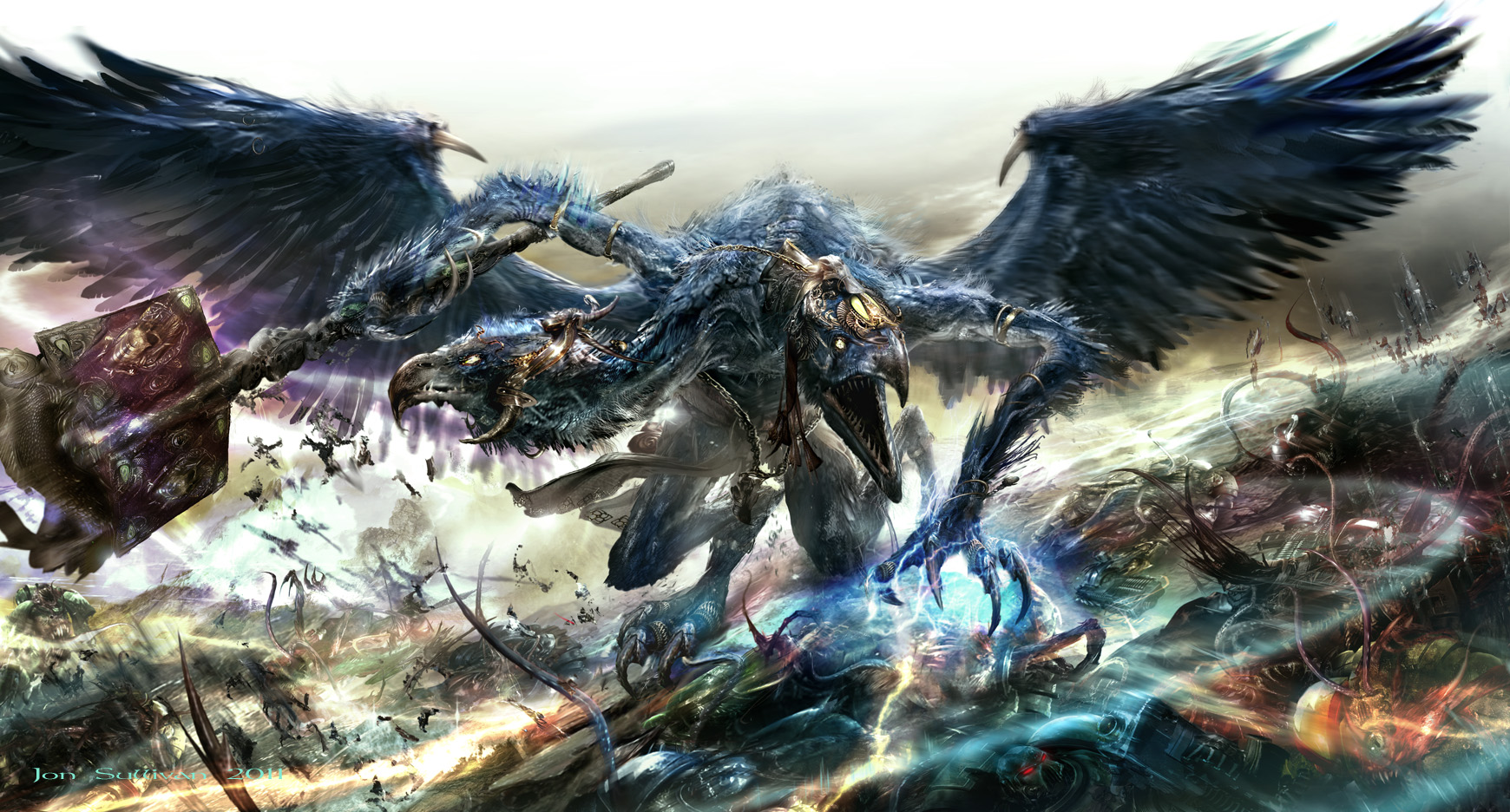 Regarding Tzeentch
Initial rumors pointed to a Tzeentch Daemonkin release.  I feel this is what we'll see for the new "Chaos Space Marine" book because the Khorne Daemonkin book, while very interesting design/build wise, did not even change any of the actual Chaos Space Marine rules.  They added some extra keyword, combo'd the Mark of Khorne onto units without changing point costs, and left use worried any future Daemonkin books would see the same thing for ancient and evil super humans.  The only truly changed Chaos Space Marine unit was making the Possessed truly a Daemon/Space Marine hybrid with both rules added in from both sides of the Khorne Axe Blade.  This also was followed onto the Daemon Engines so there could be hope for some of the future books if they get combo'd – or changed in what I feel will happen with Tzeentch.
Let's think about what will see – most likely there will be the big Lord of Change in 3 flavors.  One will be a casting monster – probably Lvl 4 and weaker in some stats etc.  He might reroll his powers or reroll some of his casting dice.  They seem to like that ability and I expect it to happen again.  You will have your midranged one that might have some no magical shooting attack to give you army some anti air ability that isn't just some kind of mind bullet.  The final one will either just be a basic Lord of Change or do something different and make a kind of combat one for the army?  Maybe some kind of leader model etc.  They won't mix Fateweaver into this as the initial model can be purchased in Finecast and still looks pretty good.
The other big change could be removal of reroll saves of 1.  It is one of the most annoying powers we have right now and a lot of the times there is no true way to stop it.  I expect the Daemon of Tzeentch ability to just go back to +1 to the Invulnerable save.  It is easy, still good, and fits within the fluff for the Tzeentch book.  Beyond that I would also expect some kind of "similar" method to the Blood Tithe rule that might either generate more Warp Dice for casting or make things easier to cast.  Heck if Marines can have 2 versions of a Librarian Conclave then you know Tzeentch needs a Sorcerer Gang/Coven/Etc.
If we do see a Tzeentch Daemonkin book – then we have better hope that a Nurgle Daemonkin book will be coming out.  That seems to be the one a lot of players are excited about and I hope GW would actually listen/read about and get one fast tracked.  It might actually be good too with a large amount of mixed in "durability" as well as just a large amount of conversion potential.  Plus you could add in the Tally instead of a Blood Tithe/Magic Build Up.

Bring on the CSMs
That is where I think new book will go but rumors are pointing to an actual change to the Chaos Space Marines.  I remember a few months ago, right before Khorne Daemonkin, there was chatter on an updated Chaos Space Marine book.  They all stated it was just a clean up and felt more like Grey Knighting of the book instead of a true rework/Necroning of their codex. That depresses me a bit as while I always hold out hope in getting a "good" army I just know they will keep pulling that football away from me and hurting my back.  But since I am glutton for punishment lets go over what I would actually want in the new book.
1. Make Chaos Space Marines good.  I don't just want them cheaper I want them actually viable to take beyond your needed troop choice.  They are supposed to be the boogeymen of the Imperium and I really would like to see them good again.  They should be stubborn or have some other ability to mitigate leadership issues.  They don't know ATSKNF but something is needed to make them good.  Maybe if you take a Chaos Lord of a certain mark all your Chaos Marines get that mark for free and fearless?  And then free rhinos, smoothies, and a pizza party every Friday.  Comment on some ideas to make them decent.
2. Chaos needs better options for shooting.  The Forgefiend is too expensive to not have Armor 13 on it.  The Defiler is just a sad imitation of the Soul Grinder.  They need better shooting options that still makes them Viable.  I think if the Forgefiend was Armor 13 it might actual see use as its damage potential is pretty good.  Heck some formations that give some extra rules and break you from needing to fill up your heavy support slots would be great.  The Obliterators are cool but the cost so much when you compare them to the damage output of their pre diseased brethren, Centurions.
3. Make Cultists not the only true troop choice.  I have painted a ton and I am tired of just taking 20-30 to fulfill my troop option as I need all the points I can get to make a viable army.
4. Do not ruin Chaos Spawn.  I think if we get a Coven of Sorcerers then these guys will be the perfect "guards" for that unit.  Please don't ruin them.  You could make them better.  I won't mind.
5. Make Cult troops actually worth it.  All are too expensive right now to do the job they were designed to do.  I don't have much hope for fixing them as Berserkers stayed the same in the Khorne Daemonkin book but some kind of point fixing/rules tweaking would do a lot.  Heck the Noise Marines should get sonic blasters for free and cost a heck of a lot less.  Thousand Sons should get a heck of a lot more dusty.  Plague Marines maybe should get benefits to FNP and shrouding because they stink so much and always stay too late at the party.
6. Maybe give them a Drop Pod/DreadKlaw.  We know they have them and it makes no sense they can do a shock and awe type of deployment.  They could even cause damage if they hit near you.  Heck give them some Dirge Casters and give ways for your army to get into combat.  This is all within their rules and would do wonders to make them better.
7. Let Heldrakes shoot 180 degrees.  Shooting out the butt was dumb but the flamer is on a swivel head.  180 degrees makes it good but not super dumb good.
8. Make Helbrutes as good as Space Marine dreads with the added ability to be Marked.  This would mean all those damned Helbrutes I have from the Dark Vengeance sets actually good.  Heck that Helbrute kit is pretty dang awesome too.  Oh get rid of Crazed because it is dumb.  Let them get more attacks if they take damage and fleet.
9. Move Abbaddon to Lord of War so you could have a chance to field him with other stuff.  Also make him cheaper, give him a haircut, let him win a Dark Crusade, and combo his weapons up again so he strikes at Initiative with a Str 8 Ap 1 weapon.  Let him reroll the daemon weapon attacks and cause some other random things when you choose him.  He is supposed to be the crazy bad ass/monster of the Grimdark and we need him back to being cool.
10. Remove that dumb chaos gift table.  Let Chaos gifts be a simple thing – d6 you get +1 to a stat.  If you are marked you get the one assigned to you by your god – i.e. +1 Toughness/+1 Attack/+1 Random Bewb on your chest.
11. Don't give them Grav.  Just don't do it.  But do give them BS 4 scouts cuz – eff those Blood Angels.
I am sure there are ton of other ideas that are actually good.  I just want this book to be decent.  I want to have my opponent be scared to face the Chaos Space Marines instead of me trying to hook/crook my way into a win by just playing the mission.  I want people to be scared the Crusade is coming and I am going to steal all their beer from the fridge cuz the Chaos Gawds demand cold frosty beverages.
Comment away on what you think the book/books need for Chaos Space Marines.  I know a lot of you have good ideas and we all have some kind of buried love for those dastardly bad guys.