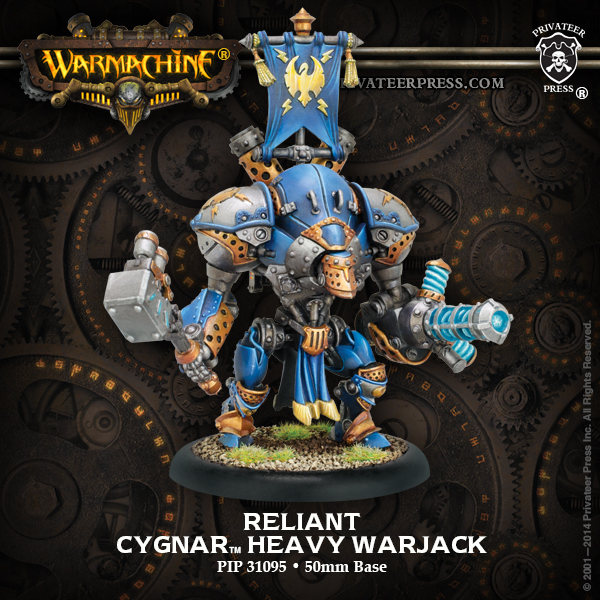 Get out your wallets Warmachine fans. Privateer Press has bunch of new goodies that just hit the shelves!
By taking the impressive bulk and chassis of the Ironclad and adding powerful voltaic weaponry, the Stormclad and Reliant were born. The Stormclad is equipped with an accumulator that draws on the galvanic energies of nearby Stormblades to augment its impressive storm-powered generator blade. The Reliant is built for versatility, whether enveloping the enemy with crackling electrical fields from a distance using its Stormbringer or driving the opposition to its knees with pulse hammer strikes.

The earth-shuddering charge of storm lances is an awe-inspiring vision of might and precision in motion. Bound within a corona of crackling energy, the knights pound into the enemy without remorse. The rippling surge of thundering hooves and weaponry advances like a living thing while bolts of electrical power arc into the enemy.

Through a combination of fearsome reputation, ruthless tactics, and intimate knowledge of the occult, Aleksandra Zerkova has scaled the ranks of the Greylords Covenant. Her open display of mystical power, from forbidden relics to guardians enslaved to her will, has earned her many enemies—but none capable of standing in her way. She is as skilled at espionage as the dark arts, and more than a few of her detractors have disappeared without a trace, while those once vocal about her wrongdoing have grown strangely quiet.

Privateer Press Extreme models embody the full-throttle attitude of WARMACHINE and HORDES cranked up another notch. These models represent the ultimate creative vision for the Iron Kingdoms' most iconic warjacks and warbeasts—taken to the extreme! Designed for the display case, these models are also legal for use in WARMACHINE and HORDES games.
Displayed in mid-smash, the massive Extreme Dire Troll Mauler is a perfect embodiment of the raw power of the Trollbloods army. This huge beast exudes aggression and brutality.

High Command Rapid Engagement features everything two players need to engage in dynamic battle for the Iron Kingdoms. Leverage your resources and ray your armies to set your banner above all western Immoren!
This box (PIP 61011) contains game rules and 132 cards, including:
2 Pre-constructed Army Decks: Khador and Circle Orboros
1 Winds of War Deck detailing the events that shape the continental conflict.
1 NEW Location Deck featuring key cities and landmarks across the Iron Kingdoms.
~I love the new Zerkova model – a vast improvement on the older one! Which is your favorite?