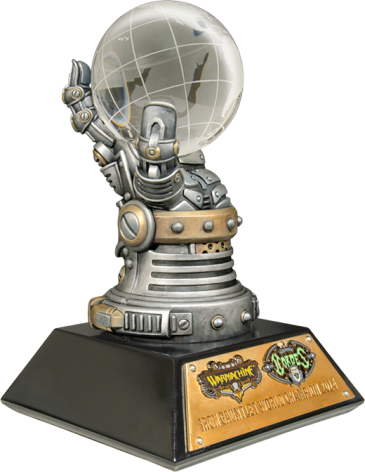 What do you actually GET when you win a tournament? A discussion of why awarding awards is so rewarding in Warmachine and Hordes.
Chalkboard here from Chalkboard War, with a discussion about awards and rewards in Warmachine and Hordes. This winter has been unofficial tournament season for me as I've participated in a variety of events lately. At the same time, I'm coordinating my spring and summer travel season to coincide with different Privateer Press gatherings. Thus with tournaments on the brain, I thought I'd ruminate on the what and why of awards.
Warmachine and Hordes are games built for competition, and Privateer Press makes that obvious in places spanning their infamous Page 5 to the way they develop new models and rules for the game. Privateer Press also produces an impressive number of items that can be used as awards: journeyman league award patches, reward coins and pins for organized play, the large steamroller trophies for retailer and club-led events, and of course their epic Masters and Iron Gauntlet trophies. These two together can make the hobby both exciting and intimidating. Although I often hear players expressing the joy they get out of a tournament, I've also heard a few comments how Warmachine and Hordes are "too competitive for me."
So to begin a discussion of awards and tournaments, I wanted to begin not with the "stuff" of awards, but rather with the motivation. Why are we interested in rewarding victory to begin with? Why this competitive spirit?
I submit for consideration that what drives a great deal of competitiveness in gaming is fundamentally rooted in a simple concept: Glory. In a moment of rare, lucid, gamer-reflection I think we all can appreciate that feeling to some extent. Even if you're playing for other reasons as well, the reason you want to "win" the game is about getting the glory. Glory is about uniqueness. There's a "Highlander" element to it: there can be only one. For you to win, I've got to lose. Glory is about possession and accord of that uniqueness.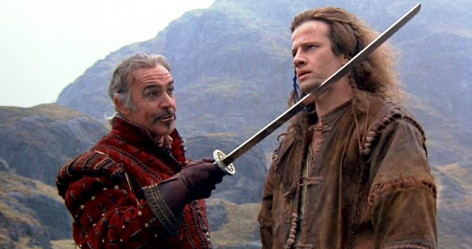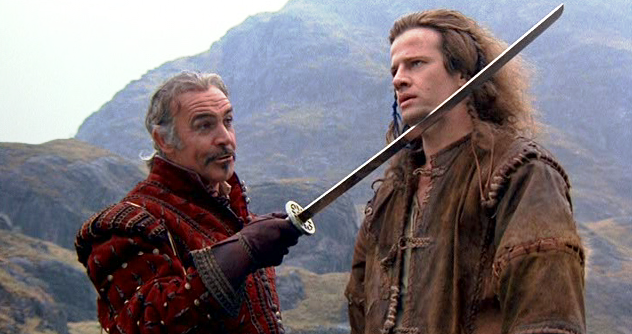 "I am Connor MacLeod of the Clan MacLeod. I was born in 1518 in the village of Glenfinnan on the shores of Loch Shiel. And I am the overall winner of two Steamroller Tournaments and one Best-Painted Award for my Cygnar Stormwall force."
To complicate things further, glory is all the more rare and sought-after in a world where we're often not able to get that uniqueness in the rest of our lives. We ALL want that feeling of possessing glory and uniqueness by extension, each and every person. And we seek it in all sorts of ways. For us as tabletop wargamers, it's our competitive drive: to win the match, to get the best record in the tournament, to paint the best army or model… to be recognized as special or outstanding in some way.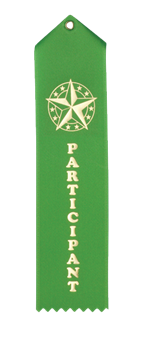 Not that way! Doesn't that defeat the purpose?
So why is awarding awards so rewarding? Because they are a tangible record of past glory. The trophy, the ribbon, and the prize are all outlets of this "glory-drive" that our record alone cannot provide. Saying "I've won more games than I've lost with my Convergence of Cyriss army" is fine, but think about your record in whatever game you play. Maybe you remember better than me, but older games become a bit of a blur. What you remember from your record of wins and losses most are those moments which were critically interesting–which told a specific tale. That time when you were on the ropes but your hail-Mary attempt at caster assassination actually succeeded. That moment when you were weathering the storm and managed to slam the last model out of a zone to eke out a scenario win. That moment when your charging support mechanic model managed to improbably kill an enemy caster with the swing of their wrench. You remember the legendary moments.
And that's what makes the trophies, the patches, the buttons, the ribbons, and everything else of physical awards so rewarding. It gives a focal point for our memories of victory. We can look at an object, and in viewing it recall that lapsed sense of glory. It helps make the event more legendary to the individuals that receive them.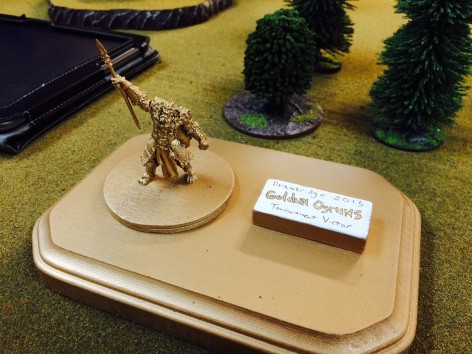 The moral of this is that it's important for tournament organizers to remember the rewards of awards. Offer those tangible prizes to entrants, as it enhances victory and extends those feelings of success. Give players not only an outlet for glory, but something tangible to carry with them to revisit that feeling and moment of glory.
Of course, Privateer Press offers all manner of rewards for stores and clubs to support their Warmachine and Hordes organized play. But it can also be really simple: for a recent tournament we commandeered some spare prize-support Blighted Ogrun Warspears, combined them with wooden pieces from a craft store, glue, and metallic paints. We invented a name for the tournament–"the Goldun Ogruns"–and ran with it. Suddenly a simple tournament took a life of its own thanks to the simple action of awarding awards.
Stay tuned for part two next week, where I'll talk about what other sorts of awards we might consider to expand the pool of "glory" for players to achieve when playing Warmachine and Hordes.
~Do trophies matter? Do you choose events based upon the trophies they offer? 
Want to see Chalkboard's participant ribbon collection? Check out his blog at www.chalkboardwar.com.