BoLS Unboxing: Unleashed: Game Masters Tool Kit
The Ultimate Game Masters Kit for all your Unleashed RPG needs – Check out our quick rundown!
Hey BoLS Readers, I recently got my hands on the Unleashed: Game Masters Tool Kit and I was pleasantly surprised – it's absolutely perfect for all your GMing needs:
This kit comes with an awesome GM Screen with all the quick references you'll need at your finger tips. It also comes with some nice tiles to play on as well as Character and Initiative tracking cards. The Cards are actually made out of some type of laminated material that you can use your Dry/Wet Erase markers on so you'll get lots of milage out of those cards. It's a nice touch to keep your players (and you) honest and organized! It also comes with a neat adventure which you can use as is or "borrow" parts for your campaign.
Game Mastering is a lot of work and if you're a player in an Unleashed Campaign and your GM doesn't have one of these kits it would make a great Christmas Present or really just a super nice "THANK YOU" gift. So go pick one up for the GM in your life, your Player Character might just make it a little bit longer because of it…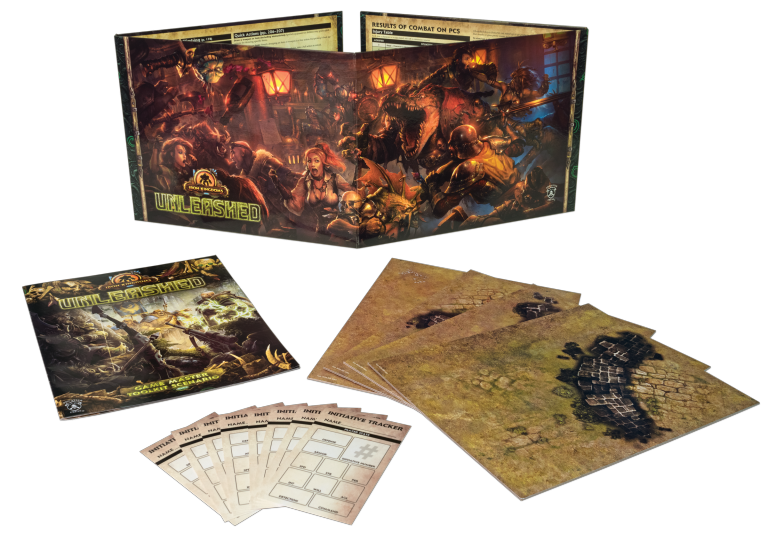 Equip yourself for adventure with the Iron Kingdoms Unleashed Game Master Toolkit. Included are five reusable dry-erase initiative cards and five dry-erase life spiral cards. The four-panel Game Master screen, made from high-quality hardcover stock, is big enough to conceal your core rules book, notes, and secret dice rolls yet allows unobstructed access to the player area. With full-color art on the player side and frequently used tables and charts on the GM side, this screen is perfect for keeping your head in the game and out of the rulebook. Also included are four full-color, double-sided map tiles to help you build an incredible array of encounters and an all-new 16-page adventure set in the wild world of Iron Kingdoms Unleashed.
The GM Tool Kit – No GM should be without one!
Subscribe to our newsletter!
Get Tabletop, RPG & Pop Culture news delivered directly to your inbox.