BoLS Unboxing: Aetherium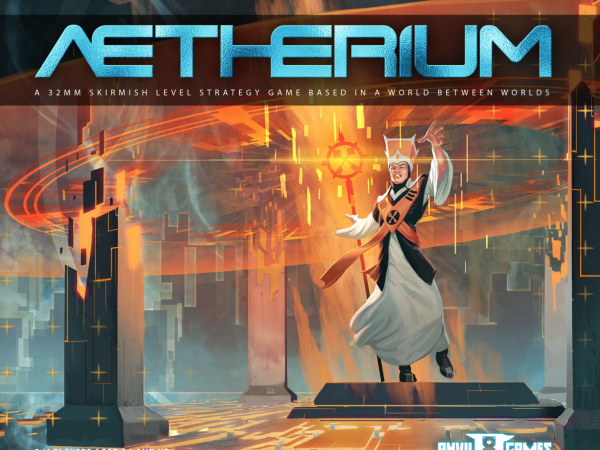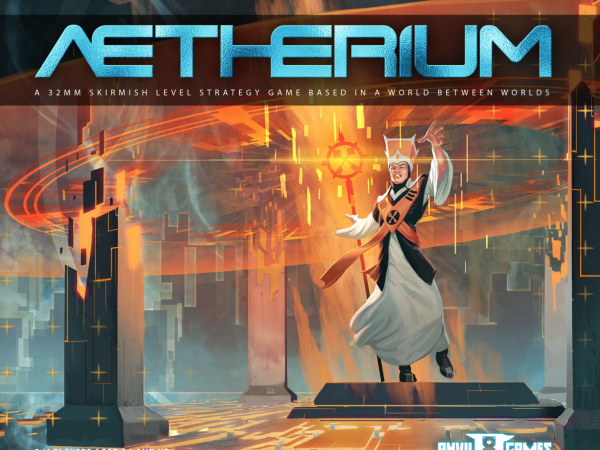 BoLS takes a look at Aetherium –  a 32mm Skirmish Level Game. Fire-up your console: it's time to crash some servers!
Aetherium from Anvil 8 Games is a new 32mm Skirmish level game set in "a world between worlds" – it's a digital battle of wills! We got our hands on the starter box set – come take a look at the stuff inside:
The board contents and gaming mat & accessories were all great. Good quality and very durable – so no complaints there. I even liked the model designs and was expecting some light clean-up because they were resin. What I wasn't expecting was some of the bubbling that happened on some of the obelisk pieces. And while I'd say the model designs were a solid 4/5 the quality control on the models was more like a 3/5. Not terrible, but not great. And it wasn't on all the pieces – just the larger ones with flat surfaces. That could have just been the batch that I got however, so YMMV!
I still wouldn't let that discourage you from picking this one up. There may be a ton of Skirmish games out there but the look and feel of this one – being set in a "digital" space – is just a really cool concept. I hope to see more from these guys!
via Aetherium Kickstarter
Enter the Aetherium – a world between worlds, a place capable of containing the human mind, a place of infinite possibility, a place that is no place at all.

Aetherium is a miniatures board game by Anvil Eight Games for 2 or more players.

Subscribe to our newsletter!

Get Tabletop, RPG & Pop Culture news delivered directly to your inbox.

Control the tyrannical and neo-fascist government of the Axiom, or fight for your freedom alongside the anarchist Nanomei.

Aetherium requires roughly one hour for a full game. Assemble your collective of hackers, agents, activists, or anarchists and lead them on a hyper-fast run through a dangerous virtual reality. Aetherium is a contest of mental skill, as players try to outthink their opponent using programs, resources, and the world itself in order to carve a space inside this fluid reality. Fight for control of the greatest discovery of human existence.

THE AXIOM: ORDER IS FREEDOM. OBEDIENCE IS SALVATION.

One of the last relevant governments in the world, the Axiom rose from the ashes of the First Great Trade War. The Axiom movement has been the salvation for nearly 1.5 billion souls in a dour future, and its citizenry exalts the twin notions of order and secular progress. The Axiom has stood on the edge of civilization, peered into chaos, and pulled through only from its zealous sense of community and discipline.

And so, the Axiom State rules with righteous fervor in both the Aetherial and Maeterial worlds. The state is its religion. Control is its only interest.

Progress and faith in stability -that is what matters – one need merely believe that the world is better than it was, and that it will be better still through hard work and the adherence to the basic principles of civilization and social order. The status quo is progress. Order is liberation.

THE NANOMEI: WILD. RECKLESS. FREE. NO MATTER THE COST.

The Nanomei are an extraordinary, decentralized collective –though there are two characteristics that seem to bind them to a single purpose: they worship the idea of freedom, and they are wild.The Nanomei are innately gifted hackers who can bend the Aetherium's fluid reality to their will and, though they lack the power and resources of corporate houses and oligarchical governments, they have embraced the anonymity afforded by their coded representation in the Aetherium. They do so to resist. Always. Resist.

The Nanomei inspire extraordinary reaction. They are freedom fighters to some and reckless extremists to others.  They are talented. They are mundane users. They are wild. They are arbitrary. They are juvenile, vibrant, and cruel. They are anarchy itself. They are the end of civilization. They are humanity's last hope against vile oppression.

The Nanomei are all this. With an intuitive and a violent resistance to all forms of repression, all systems of control, the Nanomei fight ceaselessly to wrest the Aetherium from the hands of those who would contain the human psyche within narrow confines of order and obedience. No matter the cost.
Here is a quick Game Play Demo so you can see Aetherium in Action:
It looks like a pretty cool game with a lot of great features. If you're wanting a fast pace skirmish level game that plays in about an hour check out Aetherium and Free Your MIND!
Also keep an eye out for more from Anvil 8 Games – they have a Kickstarter launching in February 2016 for the release of the upcoming house expansion for Aetherium: HOUSE IKARU!
Red Pill, Blue Pill, One Pill, Two Pill – Bah, Let's take them both and get Phaded!