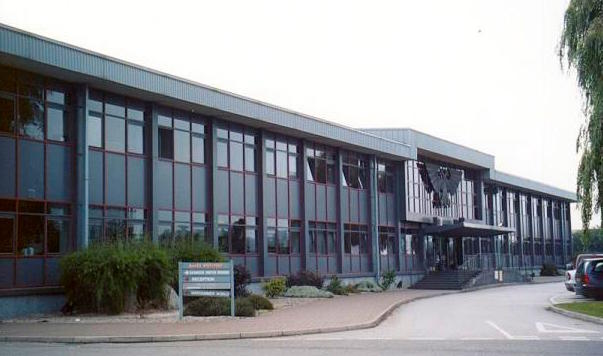 A former Games Workshop Designer speaks out on GW's meteoric rise and their current state of affairs.
Tuomas Pirinen, of Brutal Deluxe Game Design has worked for Games Workshop, Electronic Arts, Ubisoft and Remedy.  Here are some excerpts of his thoughts posted on Facebook regarding the recent performance of his former employer:
"For those following the long-term history of my old workplace Games Workshop, I found the chart of the history of the sales extremely interesting and revealing. I have to say, it was great to be part of the halcyon days of the huge growth, we must have been doing something right during those heady times.

While these are still exceptionally impressive sales for almost any games company (and with healthy profit margins too), it is clear that the current approach is not generating growth and expansion of the hobby. It could of course be down to competition, but the magic of the huge growth curve from 1990 to 2003 just isn't there any more no matter how you slice it, and in my heart of hearts I am not sure if it had to be this way."
Mr. Pirinen then references this chart: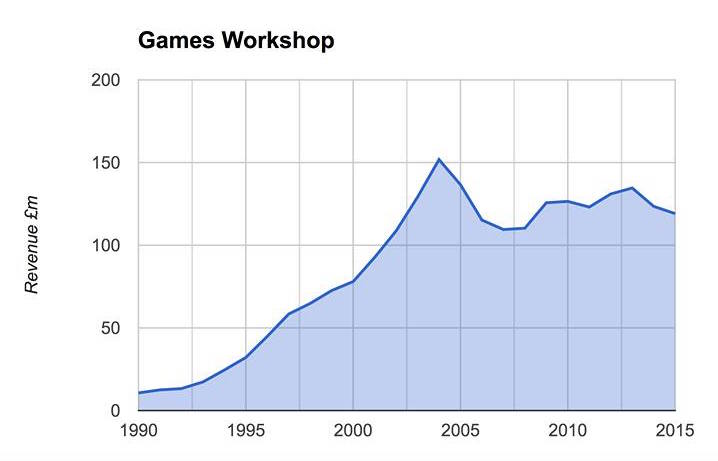 GW Annual Revenue from Richard Beddard's "Games Workshop's revenue problem"
His thoughts on GW's culture, Rick Priestley and Tom Kirby:
…I would say it was perhaps more of a question of not holding on to the talent rather than pushing them away. I have learned in many companies since then how much effort you need to put into talent retention.

…Most likely not, but GW in my days was willing to try ANYTHING, while now it seems to be turning inwards and doubling down on the safer bets.

…And Rick was the most instrumental person and the secret sauce behind this huge success. And I will stand behind this statement against any man or woman who says otherwise.

…Tom bought the original GW from Mad King Bryan Ansell, who with Rick essentially created the heart and soul of GW. Tom has a very good understanding of scaling and finances. However as the company grew, it focused more and more on corporate aspects and cost-cutting, while whittling down the Old Guard, out of whom only Jes Goodwin Alan Merrett and Jervis are still there. My own feeling is that it was a few cuts too deep and the company lost a lot of its vitality and ability to take risks and do mad things that lead into new success stories. This is of course very common whenever a company gets larger. Note that these are my views, and someone like Rick would have FAR better idea of what exactly took place. I do NOT think Tom tried to sabotage the company at all, quite on the contrary.
In the end, he leaves us with a sense of person who is proud of his work for the company, who views its current troubles as lamentable, but fixable, and with only positive hopes for GW's future.
~ Have at it.