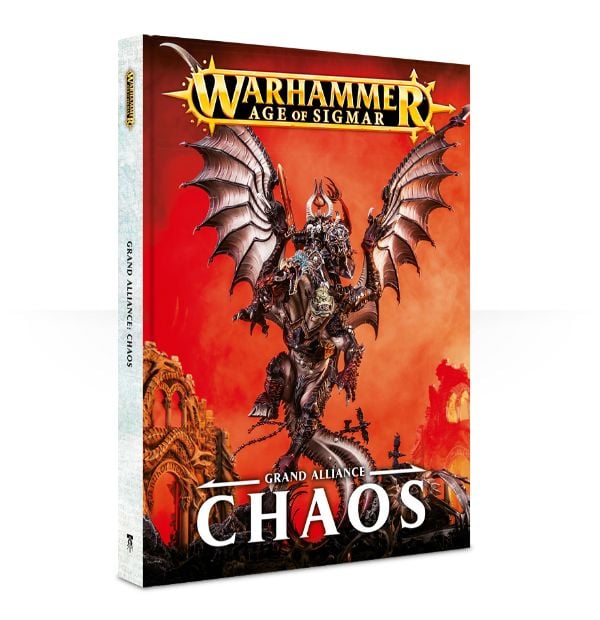 It's Chaos & Fyreslayers this week from Games Workshop!
The Age of Sigmar Releases continue this week with Fyre and Blood:
via Games Workshop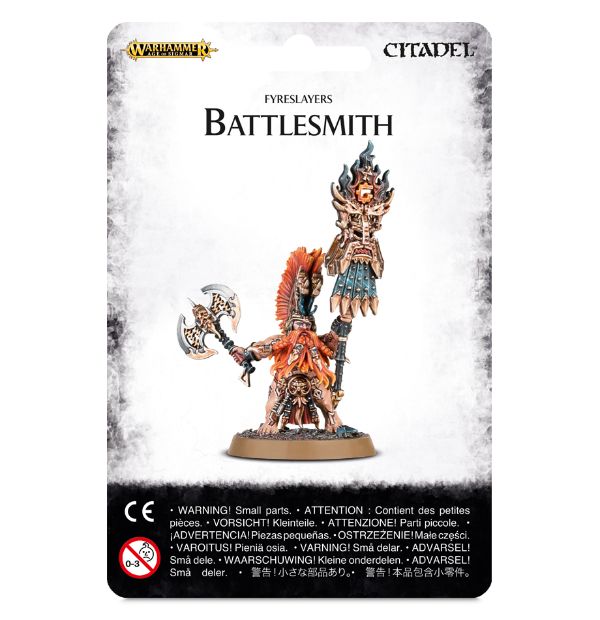 Artisans of renown, trusted with the honour of forging and carrying the standard of their lodge, a Battlesmith is the living memory of the Fyreslayers. A lodge is known by its reputation and deeds, and each hard-fought victory is a credit to their name. Battlesmiths stand proudly at the fore of their ranks, witnessing every moment of war for later recitation. Not only a chronicler, each Battlesmith is a fearsome warrior in his own right – not only do they carry aloft the sacred icon of Grimnir, they undertake to protect it at all costs; their skill with a fyresteel throwing axe is prodigious, and they use their ancestral battleaxe to butcher any enemy who gets too close.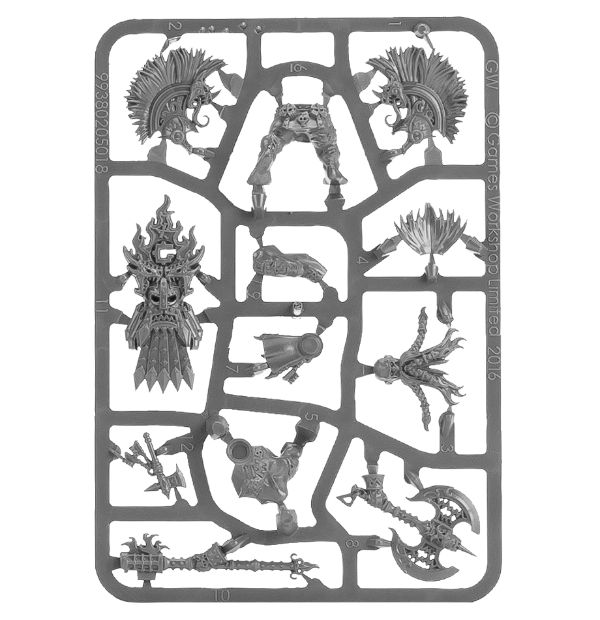 This multi-part plastic kit contains one single-pose Battlesmith, recorder and reciter of the Fyreslayer lodge's great deeds. He comes armed with an ancestral battleaxe and fyresteel throwing axes, and holds aloft the icon of Grimnir, an inspiring presence to other Fyreslayers in the field. Bearing many runes of ur-gold hammered into his flesh, he cuts an imposing figure with his ornate drake helm and twin mohawk! Eleven components make up this miniature, with a Citadel 32mm Round base.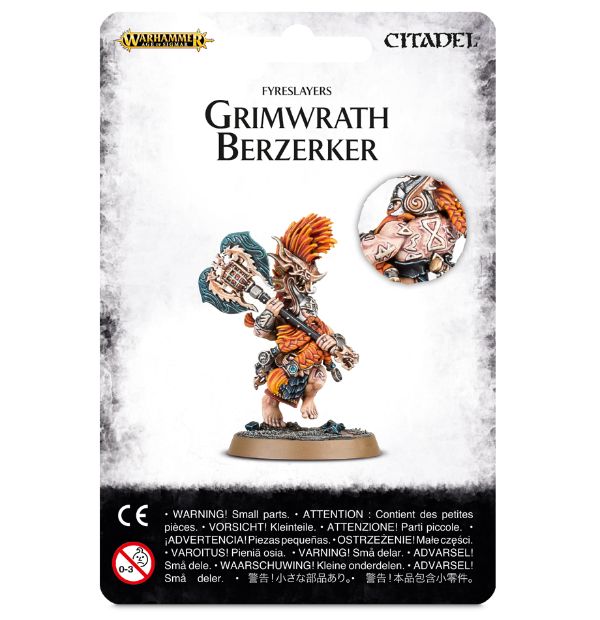 The strongest and most skilful warriors of their lodges – no small feat amongst the Fyreslayers – Grimwrath Berzerkers are the fury of Grimnir given form. Not content to have a mere few ur-gold runes hammered into their flesh, these stubborn champions of battle are covered in dozens of these powerful artefacts, awakening the spirit of Grimnir within them and giving them a merciless determination equal to their incredible strength. This furious spirit extends far beyond mere anger – legends tell of Grimwrath Berzerkers fighting on after suffering wounds that would bring down the largest Daemon, expiring only when the battlefield was clear of enemies and their mission complete.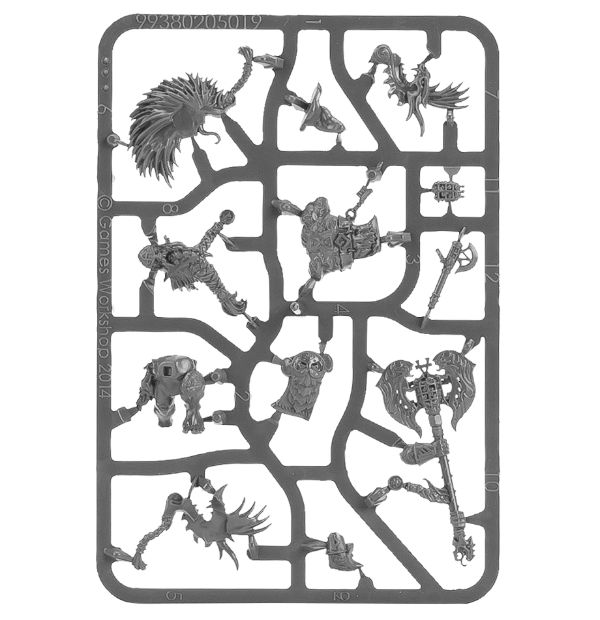 This multi-part plastic kit contains all the components necessary to build one single-pose Grimwrath Berzerker, unstoppable warrior of the Fyreslayer lodges. Armed with a fyrestorm greataxe and fyresteel throwing axes, he cuts an imposing figure with his huge mohawk and skin adorned with numerous ur-gold runes – he also features the biggest beard of any Fyreslayer! Twelve components in total, includes a Citadel 32mm Round base.
Bloodthirsters are the mightiest of Khorne's daemons, the fury of war given terrible form. Every one of these towering beasts is the equal of an entire mortal army.
This multi-part plastic kit allows you to make any one of three specific types of Bloodthirster: the Wrath of Khorne Bloodthirster, the Bloodthirster of Insensate Rage, or the Bloodthirster of Unfettered Fury.

The Wrath of Khorne Bloodthirster is armed with a wrathaxe – a double-headed axe that bears two equal-sized blades – and a bloodflail. The head is designed to represent the classic Bloodthirster hounds face, framed with the Khorne icon.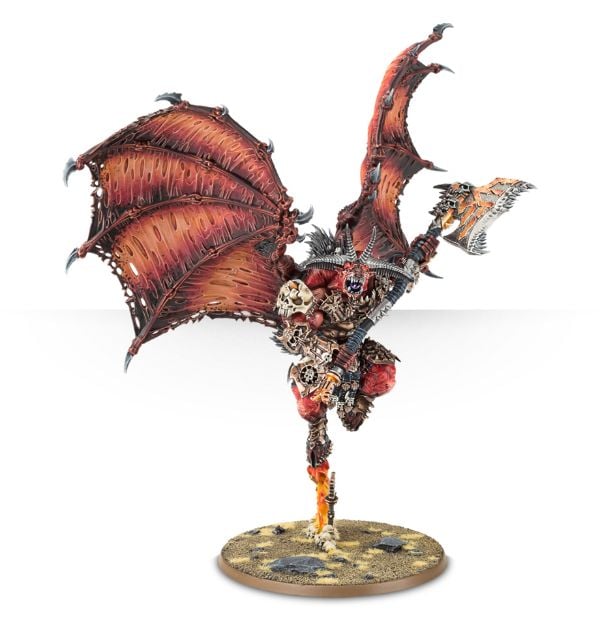 The Bloodthirster of Insensate Rage is armed with an enormous double-handed axe. His head has a fanged maw with a forked tongue protruding between the teeth, and there are four horns atop his head.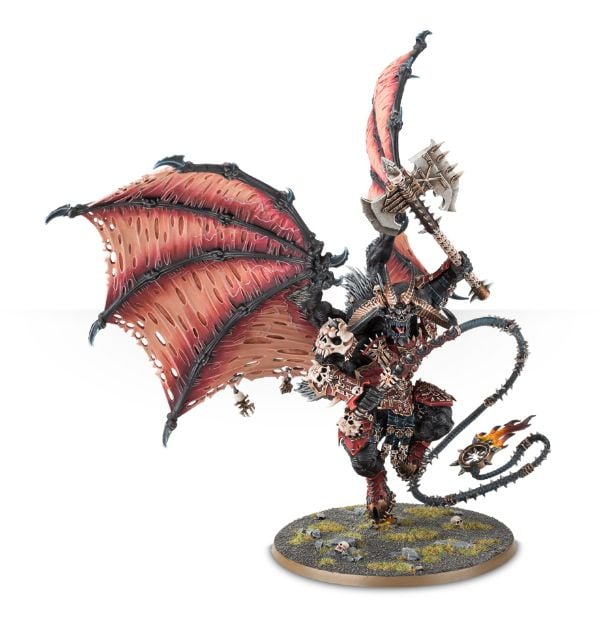 The Bloodthirster of Unfettered Fury is armed with an axe – a double-headed version with two different sized blades – and a long whip. As with the other Bloodthirsters there is a specific head for this variant; the most gruesomely skull-like of the three.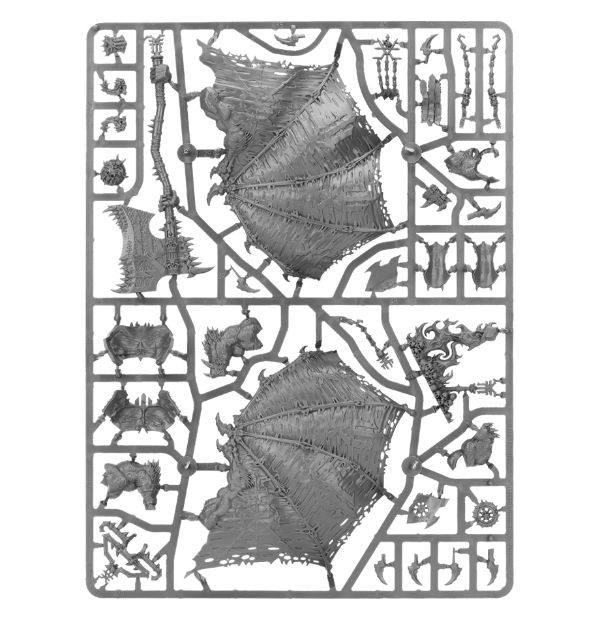 Whichever variant you choose to build, the model is absolutely covered in the iconography of Khorne, from the weapons through to the pair of wings and armour detailing. There is a choice of two sets of legs, either running or leaping atop flames. There are three different torso fronts, two designs of belly plates, two choices of loincloth and the option of adding armour plates to the legs and torso should you wish. All in all, this model is a total monster, in every sense of the word.


The Khorne Bloodthirster has 80 components and is supplied with a 120x92mm Citadel Oval base.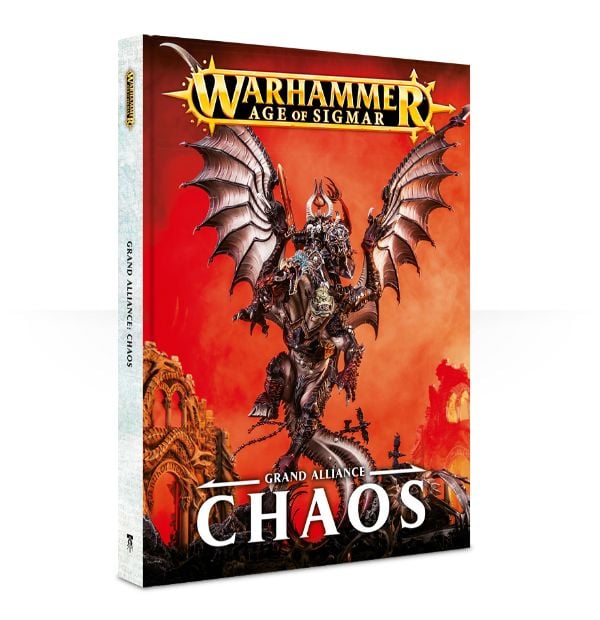 A blight upon the once-verdant mortal realms, the forces of Chaos are a terrifying swarm of murderous killers who fight for the glory of their hideous patrons. Monsters, daemons and mortals are all caught within the spell of Chaos, lured by the promise of glory and bound to destroy. Followers of the four Dark Gods – and the Horned Rat – storm across the lands, slaughtering all in their path with brute strength, revolting disease and sheer animal cunning – though the Stormcast Eternals fight bravely, to turn back this tide is surely beyond the will of even Sigmar…

A truly weighty tome clocking in at over 300 pages, Grand Alliance: Chaos is an absolute must-own artifact for anyone and everyone collecting Warhammer Age of Sigmar Chaos armies; whether concentrating on a single faction, mixing and matching from the range or splitting the pantheon into smaller chunks, this book is everything you need! The ultimate guide to the myriad forces of Chaos it features extensive information on each of the 21 the factions that make up Chaos, Warscrolls for each and every warrior and beast from each faction (a total of 158!), guiding information and diagrams helping you to choose, collect and organise your forces into armies ready for the gaming table – and a number of Warscroll Battalions, collections of Chaos might with their own special rules and abilities.

Put simply, if you love Chaos, you'll REALLY love this book.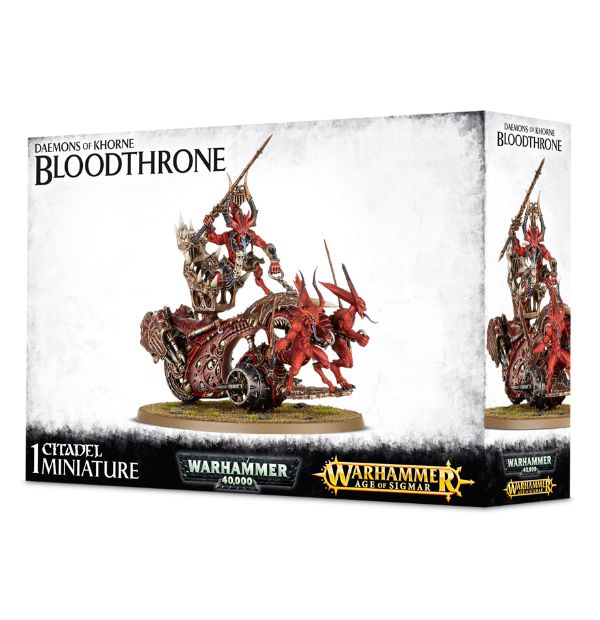 The Blood Throne is a baleful echo of the mighty dais upon which Khorne himself resides. It is a terrifying Daemon engine, armoured in brass and driven into battle by iron wheels that mangle all who stand in its path.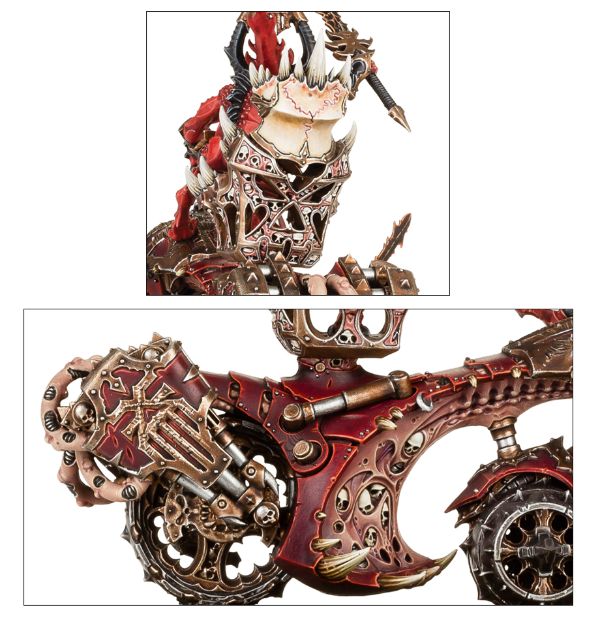 The Blood Throne of Khorne is an industrious creation, a hybrid of flesh and daemon engine, and comes bedecked in icons of Khorne. The body is based around a large, curved, frame, which from one angle looks like a huge open mouth rolling forwards upon barbed, cylindrical wheels; yet from others is very much a machine. There are metal tubes, wires and pistons as well as horns, skulls, spikes and open maw motifs. At the front is a platform based on the Khorne symbol, and standing on it are two horned Bloodletters holding chain. But at the top of the Bloodthrone variant is a mighty skull and horn-wreathed throne. Standing atop that is an armoured and muscular Herald.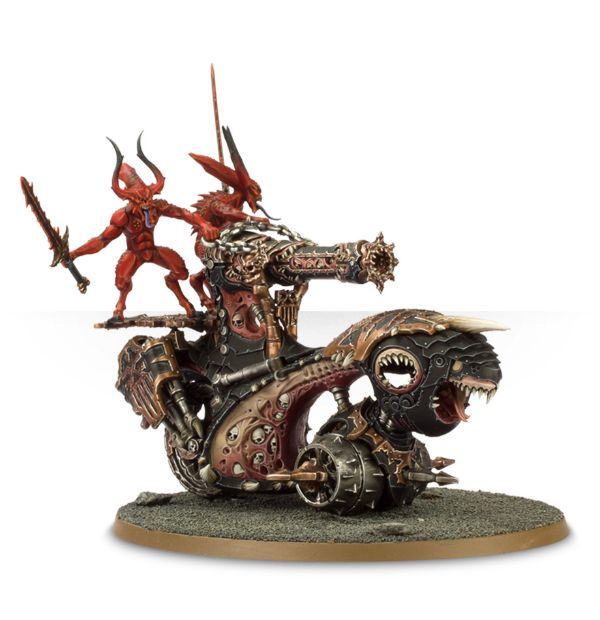 This multi-part plastic kit contains 84 components with which to make either a Blood Throne of Khorne or a Skull Cannon of Khorne.

Includes a Citadel 120x92mm Citadel Oval base.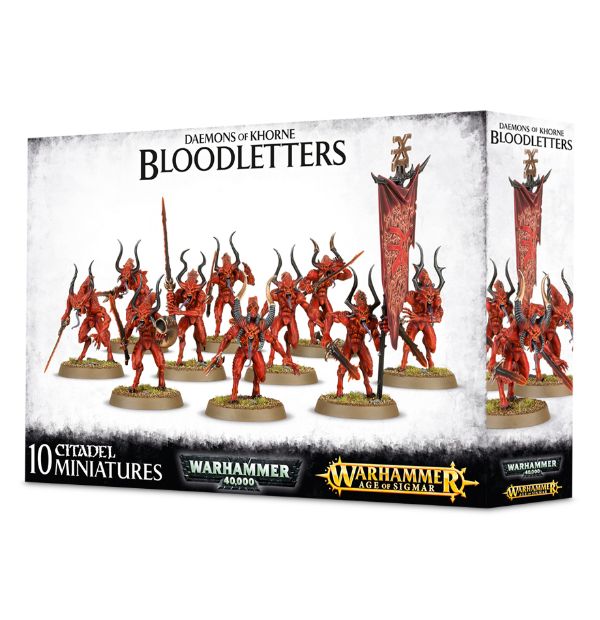 The Bloodletters form the core of the vast legions of the Lord of Battle. Believed to have been foremost amongst the Blood God's followers in mortal life, their will is as implacable and blood-hungry as Khorne himself. Festooned with rippling muscles, knotted sinews and driven by an unparallel killing instinct, Bloodletters are fearsome opponents.

This plastic box set contains 10 complete miniatures. These finely detailed plastic kits contain a host of extra parts and accessories, enabling you to assemble your Bloodletters in a large variety of ways. Includes ten Citadel 32mm Round bases.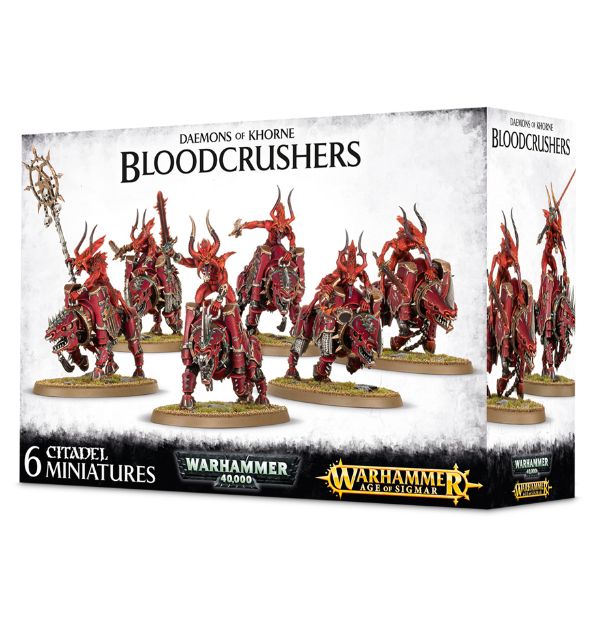 The Bloodcrushers of Khorne are heavy cavalry from within the Realm of Chaos, massive Juggernauts, ridden into battle by deadly Bloodletters. Beasts of brazen brass and corded muscle, Juggernauts are massively resilient and incredibly strong – their charge powerful enough to smash any battleline in a single earth-shattering stampede.

While the mighty Juggernauts trample and gouge at their foes, the Bloodletters whirl about them with their bloody hellblades, claiming ever more skulls for their rage-filled patron Khorne.
This set contains six multi-part plastic Bloodcrushers of Khorne.

This set includes an assortment of spiky bits, chains and icons to allow you to customise your Bloodcrushers. Also included are all of the components needed to assemble a standard bearer, musician and champion. The set contains six Citadel 90x52mm Oval bases
Bundle Deals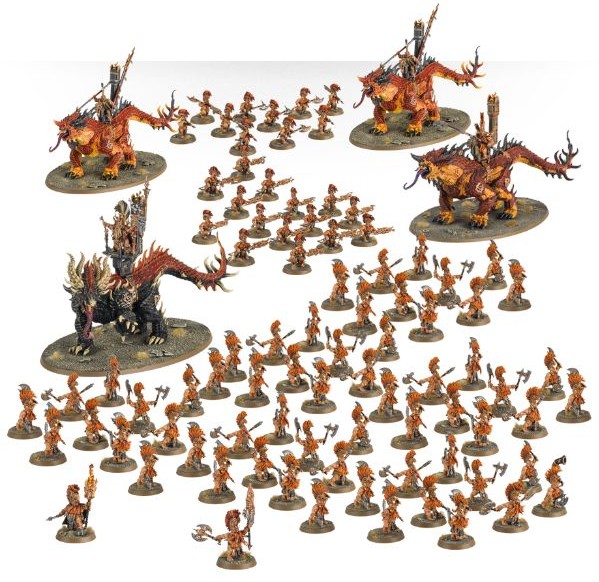 Lords of the Lodge $XXX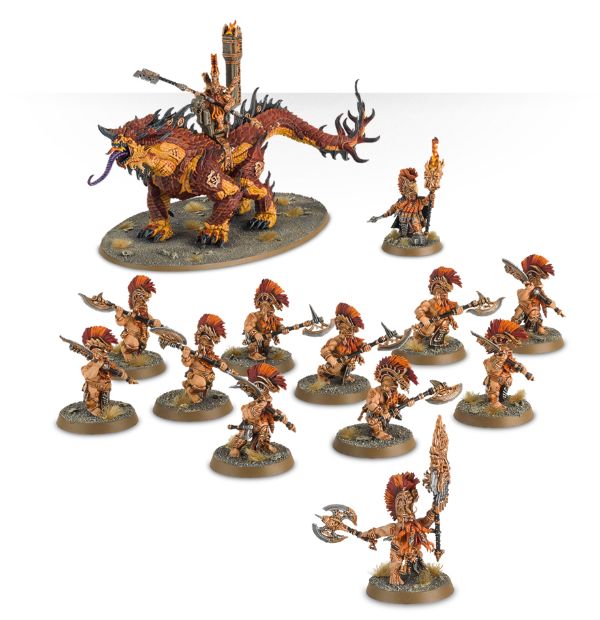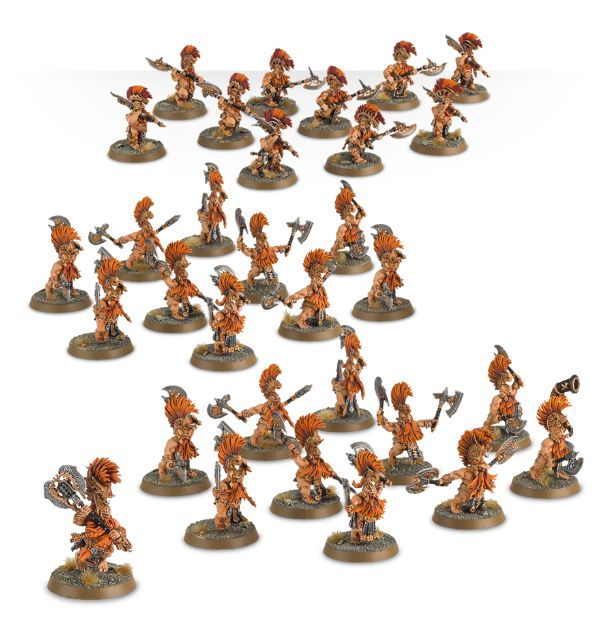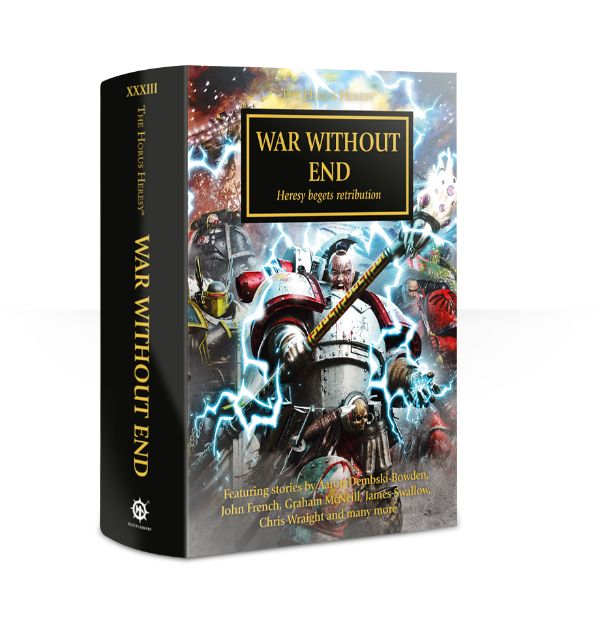 THE STORY
The Emperor's vision of mankind ascendant lies in tatters. The Great Crusade is naught but a fading memory. The dream of Unity is no more. But with Horus's rebellion spreading to every corner of the Imperium and war engulfing new worlds and systems almost daily, there are some who now ask: were the signs there to be seen all along? In these dark times, only one thing is certain – the galaxy will never know peace again, not in this lifetime or a thousand others…

READ IT BECAUSE
Been dying to read some of the stories from event-exclusive books? Now's your chance with this great collection of tales from the length and breadth of the Heresy.

This anthology contains twenty-one stories from the Horus Heresy:
Sermon of Exodus by David Annandale
Howl of the Hearthworld & Lord of the Red Sands by Aaron Dembski-Bowden
Black Oculus by John French
The Laurel of Defiance, A Safe and Shadowed Place & Twisted by Guy Haley
Artefacts, The Phoenician, Imperfect & Chirurgeon by Nick Kyme
The Devine Adoratrice & Wolf Mother by Graham McNeill
Hands of the Emperor & The Harrowing by Rob Sanders
Virtues of the Sons by Andy Smillie
All That Remains & Gunsight by James Swallow
By the Lion's Command by Gav Thorpe
Allegiance & Daemonology by Chris Wraight

These stories have been previously available in the anthologies The Imperial Truth, Sedition's Gate, Death and Defiance & Blades of the Traitor.
There you have it! Is this the final week of Fyreslayers? Signs point to yes. So get out there and get your Stunties. I'm also looking hard at that Grand Alliance: Chaos Book. For $33, is this the new format for the Age of Sigmar "Army Books" return? Let's hope so!
Two "Start Collecting" Daemons of Khorne Boxes is still a better deal than buying the same amount of Khorne stuff individually… $170 vs $248. You could almost buy the Bloodthirster with the difference. Just sayin.