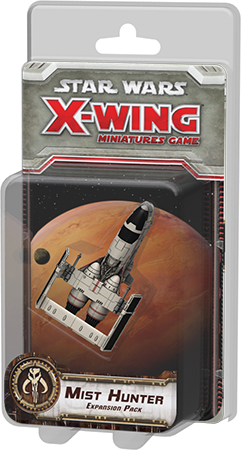 Rejoice Scum (and Villiains) – The Mist Hunter is packing a bunch of awesome pilots and tricks up her sleeves – come see!
The Mist Hunter is out for Scum & Villainy and with it they are bringing their Tractor Beams! I was pretty excited when I saw the initial preview but now we get to take a much closer look at the G-1A "Mist Hunter" Expansion: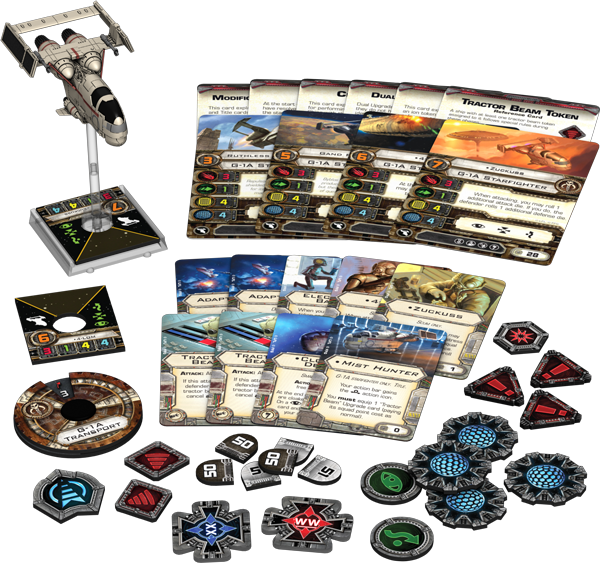 Today, we continue our Wave VIII previews with an examination of the first of these two Scum ships, the Mist Hunter, the heavily customized G-1A starfighter belonging to the bounty hunter Zuckuss.

Zuckuss specially commissioned the design of the Mist Hunter to suit his needs as a Gand findsman and bounty hunter, enhancing it with advanced repulsorlift technology, twin assault lasers, a tractor beam, and the ammonia atmosphere that he needed to breathe. As a result, the Mist Hunter is likely the most alien and remarkable of all G-1A starfighters in the Star Wars galaxy.

In X-Wing, the G-1A starfighter heads to battle as a small-base ship with a big primary weapon, solid shields, and somewhat limited maneuverability. It boasts a primary weapon with an attack value of three, four shields, and four hull. To these, despite its advanced repulsorlift technology, the G-1A starfighter adds only one agility and features a maneuver dial heavily skewed toward red maneuvers. Of the G-1A starfigher's sixteen available maneuvers, more than one-third of them are red.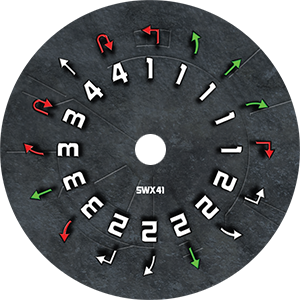 Red or not, however, the fact is that those maneuvers still exist, and because the G-1A starfighter boasts the system upgrade slot, choosing those maneuvers does not necessarily prevent you from taking actions. You could simply load your G-1A starfighter with Advanced Sensors to perform your action before revealing your maneuver, or you could equip the Electronic Baffle upgrade at two fewer squad points and translate the stress into damage on the rounds you decide you absolutely need your action. In the process, your Electronic Baffle would also allow you to deny your opponent the control afforded by Ion Cannons and the piles of stress tokens tossed out by BTL-A4 Y-wings loaded with the R3-A2 Astromech Droid and a Twin Laser Turret .

Certainly, that denial would come at a heavy cost—in the form of damage assigned to your ship—but if it means the difference between being slowly battered to pieces over the course of multiple rounds or turning the tables on your foe by lining up a deadly kill shot, your ability to keep taking actions and using your ship's full dial may be worth as much as the ship itself.

In addition to its considerable stats and system upgrade slot, the G-1A starfighter also boasts the crew and illicit upgrade slots, which permit another host of tricks and surprises, and the Mist Hunter Title upgrade adds the barrel roll action to an action bar that already includes the focus, target lock, and evade actions.

What do you get for pilots in the Mist Hunter Expansion Pack? For starters, you get not one, but two of the galaxy's most notorious bounty hunters. Both Zuckuss and his frequent companion 4-LOM appear as pilots within the expansion.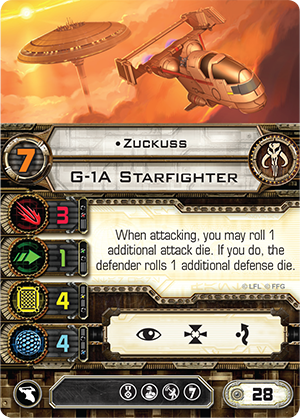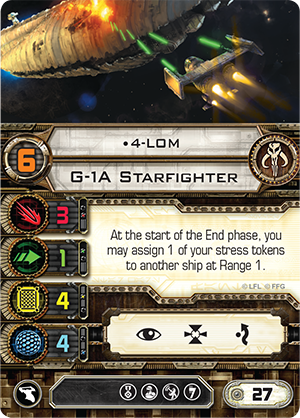 Notably, both Zuckuss and 4-LOM also appear as crew upgrades in the Mist Hunter Expansion Pack, meaning that you can partner the two together, with 4-LOM aboard a ship flown by Zuckuss, or visa versa. As you might expect, their crew talents complement the other's pilot talents nicely.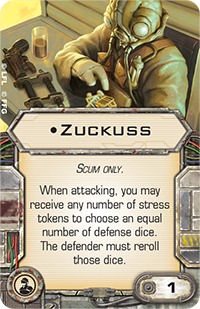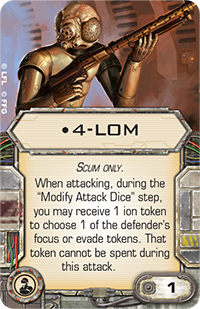 The partnership's Adaptability is further reflected by the introduction of a new Dual Card elite pilot talent. The first zero-cost elite pilot talent in X-Wing, Adaptability allows you to either add or subtract a point of pilot skill from any of your pilots with the elite pilot talent slot. The card's introduction as a zero-cost upgrade means that players everywhere will soon have an elite pilot talent upgrade that they can add to any squad for which they previously had no upgrade options in budget. Accordingly, it is bound to make appearances nearly everywhere, and you will find two copies of the upgrade in the expansion.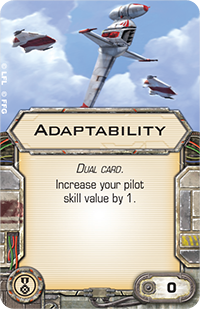 ~And it the new Dual Card category that has everyone guessing.  Supposedly these will be two-sided cards with different effects printed on both sides.  That's a new one!