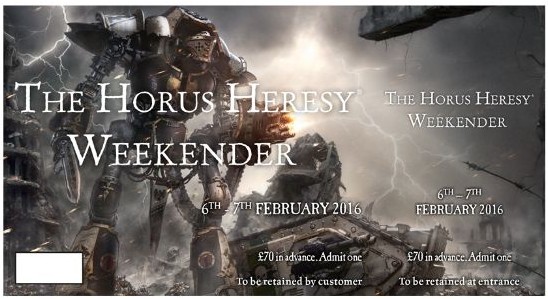 The Horus Heresy Weekender is fast approaching and Forge World is teasing some of the new releases – Check out the latest!
Forge World is revving up the Hype-train for the Horus Heresy Weekender with a new Mechanicum Robot and Legion Book which looks to be packed FULL of goodies…
via Forge World 01-3-2015
The Horus Heresy Weekender is almost here! The event kicks off at 10am on Saturday 6th February, and from then on the weekend will be absolutely jam packed with seminars and demonstrations, and you won't be able to turn a corner without bumping into a writer, artist or designer from Forge World and Black Library.

I hear there will be some fantastic new products available for the first time there, some of them weeks ahead of being available through the Forge World web store. I caught sight of a couple just arrived and being made ready for the event, I'm told they'll only be available in very limited quantities though, so make sure you get to the sales stand early!
This new Battle-automata stands even taller than the Castellax!
The upcoming Legiones Astartes: Age of Darkness Legions book will be there…
…take a look at all the Legions included.
That's a THIRTEEN of the Legions included in this book. If you look at that list TWO of those don't have a Primarch model. Will we see a new Primarch revealed this weekend? Guess we'll have to wait and see.
As far as those Ad Mech Rumors – I'm wondering if the rumor mill got the wires crossed. Maybe this new robot is part of that. Then again, I'm hoping for Ad Mech it's not – because who doesn't want to see MORE Robots?! I know I do!
Oh and one more thing – anyone know what that Big Beastie is behind the new Battle-automata? It's head looks slightly Kroot-ish. But it's a blurry background pic, maybe one of you eagle-eyed readers can help place that model!
Stay Tuned this weekend for all the new info and join the conversation here:
Horus Heresy Weekender Hype-train AWAY!