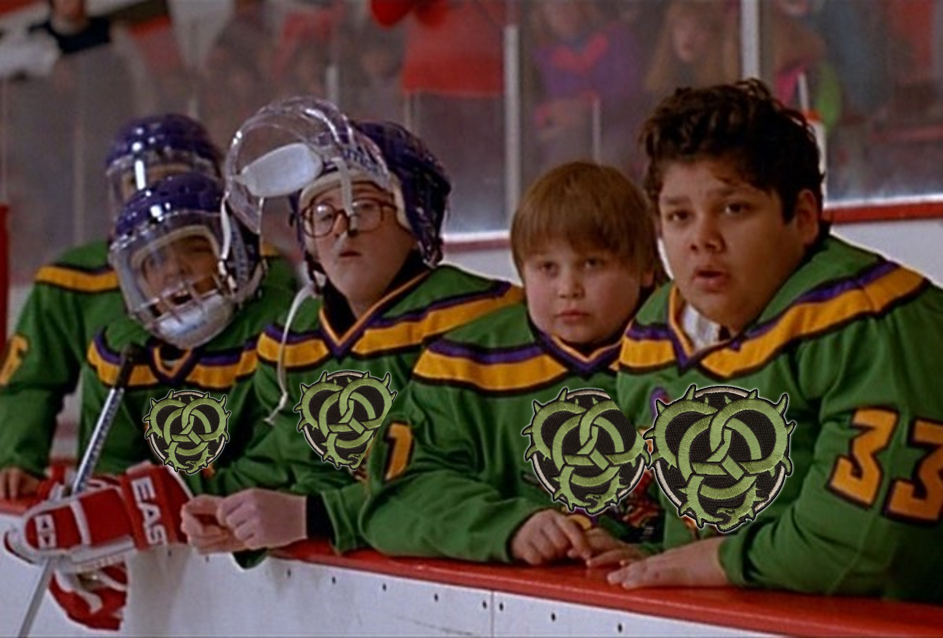 What's the least-used model/unit in Circle Orboros? Can a list highlight them?

Chalkboard here from Chalkboard War, with part two of this series. In Part One I talked about the appeal of the underdog. We love to cheer along with the lovable losers story in all of our media, and Warmachine and Hordes are no different. So I turned to the Warmachine and Hordes player community on the forums, and inquired about consensus about the least-used models for each faction. Least-used could be for a variety of reasons: underperforms, over-costed, other models do the task better, unclear role, bad sculpt or assembly, or simply has fallen out of favor.
Last week I covered the Cryx Corruptor Helljack, the first of the two clear "winners"–models that had near complete consensus in the thoroughly non-scientific polling process that is forum feedback. This week is the other strongly unanimous choice, which came from Circle Orboros. As before, I'll explain the logic used by Circle players on why this was their least-used choice, and then try to think through a list that would take the least-used model and make them the star of the show in their own underdog story. I'll end with a rating of how feasible that underdog story is in this case.

Least Used Circle
Winner: Reeves of Orboros Chieftan and Standard Bearer (UA)
Attitudes about the Reeves of Orboros are already split on how useful the basic unit is thanks to a middling RAT and hefty points cost for a full unit. Mercifully they have multiple options that buff them. Two solos, the Reeve Hunter and the War Wolf, add defensive advantage, flexibility, and killing power to the unit. The third option is the unit's own Unit Attachment, the Chieftain and Standard Bearer. This upgrade run the same cost as the Reeve Hunter or Two War Wolves, and grants the distinctly underwhelming Swift Hunter (while alive) and Ranked Attack benefits, plus command re-roll from the standard. Swift Hunter gives a 2″ advance after killing a model with a ranged attack. And Ranked Attack means that friendly models can draw LOS through them. The UA simply doesn't give the punch that many other options for those points could provide. Given the low RAT on the unit, any foes with Defense higher than 12, decent armor, or multiple wounds make Swift Hunter unreliable at best. And Ranked Attack is likely more useful on models that get up close to foes rather than are ranged specialists themselves. Ultimately, my sense is that newer players might add the unit and paint up the attachment, but that the more you play the more you find other uses of the two points–and leave this duo warming the bench.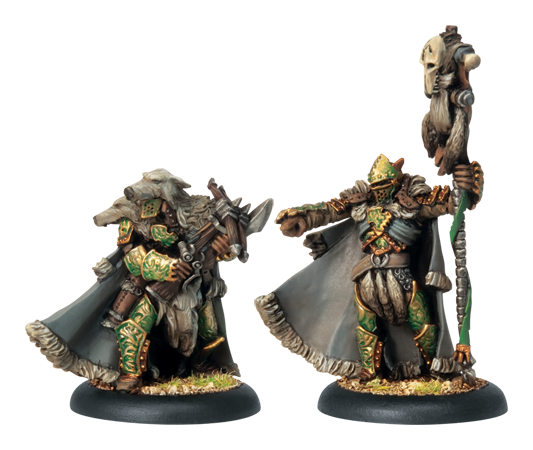 Runners Up: The Argus and Brennos the Elderhorn. At least the Argus gets play in Journeyman Leagues, and some people are trying to make Argus-spam with Kromac2 into a thing. Brennos is quite reviled by Circle players, but at least he has a claim for enhancing the Morvahnas, and at least a few Circle players are still trying to experiment with him and some tricky animus-fiddling projects–so he's hitting the table on occasion.
Building a Reeves UA List
My initial thought was to make this model shine with Grayle the Farstrider's Claw and Fang Tier List, as it changes the force allowance of the Reeve Chieftan and Standard Bearer to FA: U and could give Advance Deploy to one unit of Reeves. At a cost higher than Ghetorix for a full ten plus the Chieftan/Standard, spamming them seemed foolhardy at best (three units with UAs would certainly showcase them, but would be 65% of your points). Plus, investing in an extra two of these least models for a single tier list adventure seems to be a poor choice as well. Finally, I'm not sure that numbers are even the key to making the UA shine. The UA adds two things (beyond some command help from the Standard): Swift Hunter and Ranked Attack. Spamming the unit wouldn't show off those abilities at all, and likely success would be gained through the other stuff that buffs the Reeves (Reeve Hunter and War Wolves).
So what would make the UA actually shine? Ranked Attack lets any friendlies see through them for LOS purposes, so I hatched a (likely terrible) idea for banking on them as a mobile "shooting bunker". Lined up all in a row, they measure 360mm worth of line while touching. With careful placement, I realized that maybe mobile shooting threat could rest behind them and produce something cool. Is there a chance that a volley fire style tactics could function here, with multiple rows kneeling and "reloading" to allow others to shoot? My thought was that perhaps the Zephyr ability being used by two Druid Stonewards would fit the bill of that symbolic "first rank fire, second rank fire" feel–using the Reeves as a high-defense screen that can do some shooting defense in their own right. What would that look like? 
The List: "Volley Fire"
Kromac the Ravenous
Warpwolf Stalker
Ghetorix
Shifting Stones
Rotterhorn Griffon
10 Reeves of Orboros with Chieftan and Standard Bearer (UA)
Druid Stoneward and Woldstalkers
Druid Stoneward and Woldstalkers
Sentry Stone and Mannikins
Reeve Hunter
Reeves UA Tactics: Text in orange denotes the "Reeves package". And again, this list is to "highlight" the least-used models' abilities. This is my best attempt at making the Reeves UA's abilities the "star" of the show. So what does this package do? Well, it provides a mobile defensive line that allows the excellent shooting of the Woldstalkers to take place behind a straight wall of Camouflaged Reeves, all thanks to the Ranked Attack ability of the UA. The models end their first turn running in roughly the pattern below if possible. The first unit of Woldstalkers fires their shots through the Reeves, then the Stoneward uses Zephyr to leave space for the second to move up and take their shots. Finally the Reeves get their own shots, seal the corners with some Swift Hunter moves if needed, and generally form a defensive wall of models (hopefully in woods for the Camouflage bonus).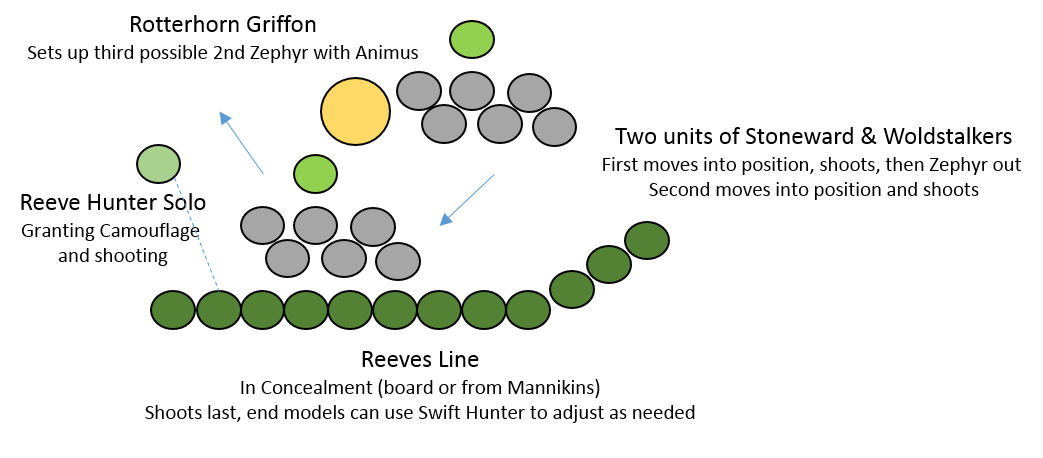 Underdog Grade: Cool Runnings. The threat of lots of cycled trick shots from behind the safety of a Reeves screen is interesting, but I think that the bobsled falls apart right before the finishing line… hence that ranking (spoiler alert, I suppose). So much relies upon some perfect combination of events. Really big forests or fueling the Mannikins' stone to keep producing them. Some OTHER bit of just-so terrain well-suited for Kromac and his beasts to hide behind while waiting for the right moment to strike. The right distance from the opponent to pull it off non-trivially. The right opponent who threatens less range than the Woldstalker's guns plus the width of Reeve bases. The right opponent list that has trouble dealing with Camoflage+Concealment and cannot just swamp Reeves screen with jamming melee attackers. The right scenario so that all this messing around doesn't leave you desperately behind in point. Honestly, even looking at it, it still doesn't actually highlight the Reeves UA. Zephyr works far better to move in then out of a forest/behind obstruction for complete blockage. This could only be good on a board with minimal terrain, and even then the Mannikin-produced woods are likely to be enough. So much time would be spent making the Reeve Captain's Ranked Fire ability work, that you'd be losing elsewhere.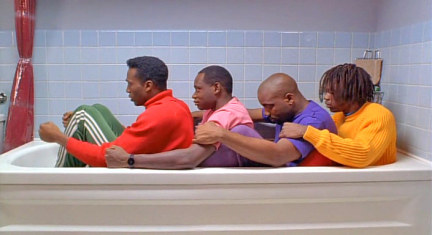 Sometimes an underdog story is a tight fit

More creative minds than me might find a use for the Reeves UA, but the above was the best attempt at actually highlighting their abilities that I could dream up. At least Reeves have two other units that aren't the UA but are still better than these guys.
That makes two low grades in a row. Will we find a diamond in the rough? Is there an underdog in Warmachine and Hordes that can be redeemed to glory? Can someone shine?
Thanks to the Circle folk who chimed in: xXJediNiteXx, Sletchman, ishmael, haze no ki, Cannotrope, talhe, bobliness, and Bradigus.
~ What would you pair with the Reeves UA to make it better? Is there any chance for an underdog story on this one? 
Interested in what underdogs the author is fielding? Check out Chalkboard's blog at www.chalkboardwar.com