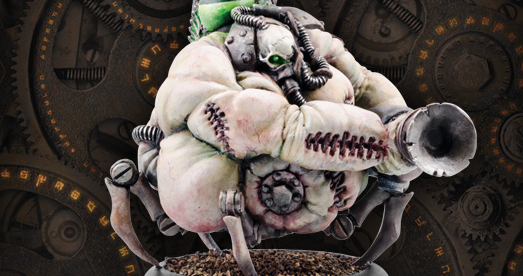 Let's take a look inside the new box for the Cryx Thrall Overseer Mobius – the Stay Puft Marshmallow Man of DOOM!
I think this is one of my favorite models from Cyrx. Ever. Why? For me, it's all nostalgia based. To me, this thing is a cross between the Doom II's Spider Demon, Mancubus, and the Stay Puft Marshmallow Man. Check it out:
Something about this model just calls to me and I don't even play Cryx – but this model might make me start. It fits with the Cryx aesthetic: Creepy, Undead and Creepier. A giant, quad-pod monstrosity walking at you spewing blight and bile…it's just a freaky image to behold. I go over the stats in the video, but honestly I'm not interested in this guy on the table as much as the theme it presents. That doesn't mean its ineffective on the table – it's got a decent RAT and can lob it's AoE a good distance. It's POW is high enough to threaten Heavy Warjacks with a couple points of damage, too – but really this model excels at dropping Infanty Blobs with it's attack.
Let's talk materials for a moment – this model is made of resin & white metal. So assembly wise, you're going to want to use regular super glue. Clean-up should be really quick as Privateer Press pre-cuts the resin. There may be the occasional bit or flash but cleaning that off is no problem. You may want to give the resin a quick scrub in warm, soapy water if you feel any mold release on the model. The metal parts could use a once over with an old toothbrush while you're at it. Oh and you'll have to clip & clean those up with some hobby tools. Assembly after that is a piece of cake – there are only a handful of bits to work on.
His little skeleton assistant on top is also a nice touch – reminded me of Hellboy – with the skeleton in the graveyard (for those of you who only watched the movie).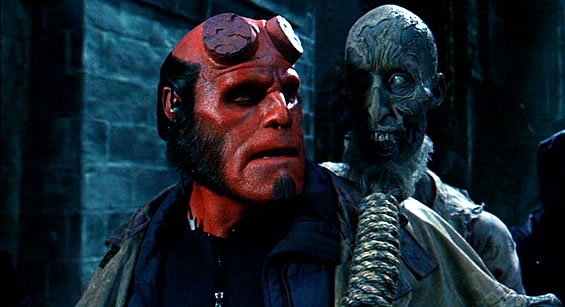 Overall, just based on pure nostalgia and general creepiness – I can't NOT like this model. I love all the details on it. I dig the creepy, fragile spider-like legs juxtaposed with the bloated mass on top. I appreciate the Doom reference (even if it was unintentional). And I can't believe it makes me want to play Cryx…I never thought I'd want to swing to the dark side but the temptation is strong with this one. But hey, that's just, like, my opinion, man.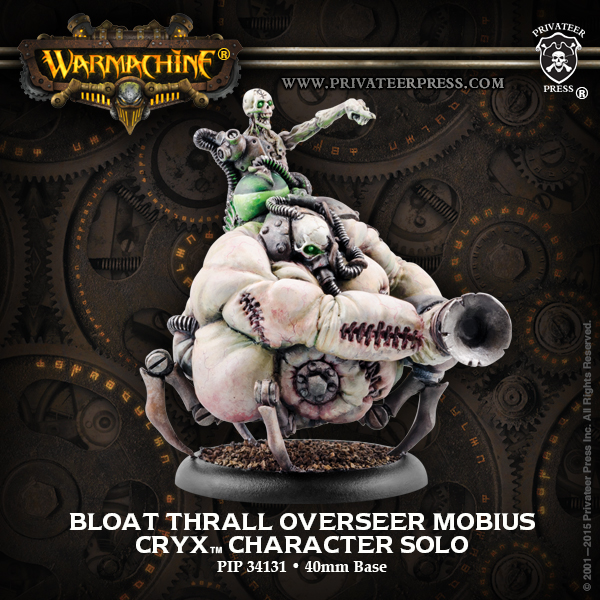 Overseer Mobius became greater than the sum of its dead parts when it was clear to its Cryxian masters that this undead oddity could successfully lead bloat thralls against the enemy without prematurely detonating the thralls or accidentally destroying itself in the process. Engineered in secret, Mobius wields its own gun from the back of one of the bloat thralls in its command, as its deformity prevents it from moving independently.
Who You Gonna Call? DOOM-BUSTERS!