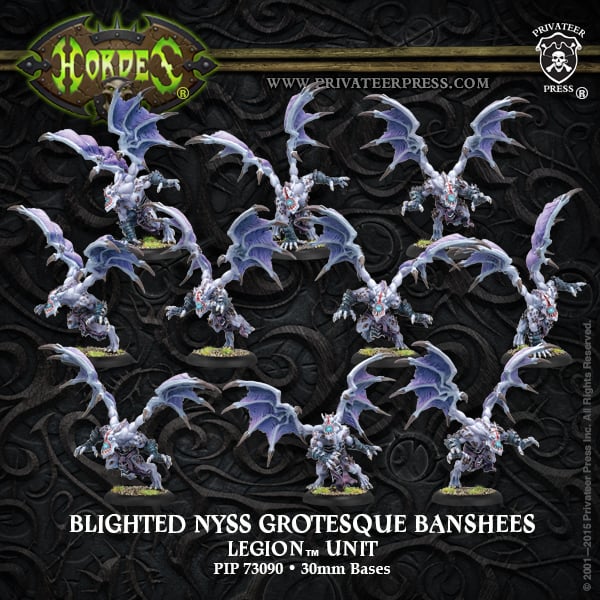 Come take a look inside the new Plastic Grotesque box from Privateer Press!
Hey BoLS Readers! AdamHarry here with some more Warmachine/Hordes goodies. Today I wanted to take a quick look into the new Blighted Nyss Grotesque box. This is a dual unit box – you can make one or the other, but not both – of Banshees or Raiders. Both have their merits, but I wanted to look at the model…So lets get to it:
These Grotesques are very well done. I liked all the different heads/wings/legs/arms that came inside this box. It allows you a little bit of customization (you pretty much have the same 3 poses but you an tweak them a touch). I also loved that these new models come in plastic which means it's a lot easier to assemble them and dropping them (on accident) won't lead to you shattering the model.
Detail wise these models are great. Privateer did a great job getting these casts right and it shows with all the "little things" on the model. While plastic may not hold the detail of resin the cost saving and malleability are a good trade off for large units like this one.
Gameplay wise I do go over the cards – but I haven't got to field this unit yet so I'm not 100% sure if they will work in our studio Everblight list…That said, with the announcement that Warmachine/Hordes is getting a refresh it might be a good idea to get these guys ready to hit the tabletop anyways. You can check out their stats and cards in the video here.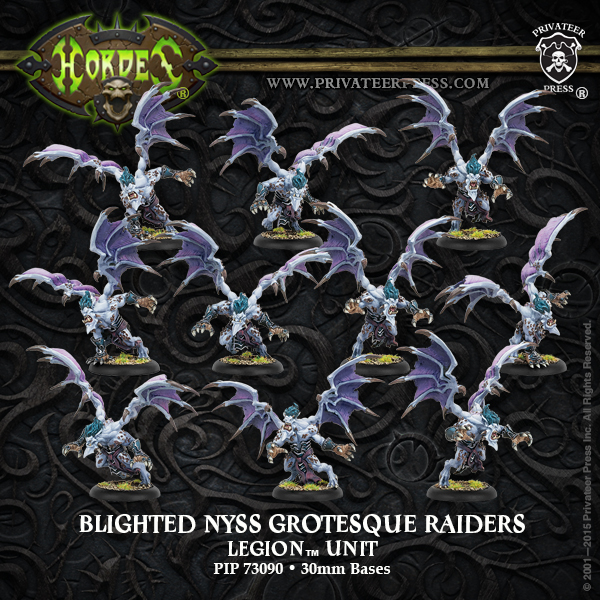 Swooping out of the darkness, the terrifying grotesques unleash misery on those who stand against Everblight. Grotesque raiders speed across the battlefield on powerful wings before descending en masse to tear apart their prey. Grotesque banshees let loose piercing cries that liquefy organs and drown out the thoughts of spellcasters, rendering their powers useless. Together these twisted creatures spread the horror of the dragon's blight across the land.
Again, this is a dual-box kick. If you'd like to see the Banshees they can be found here.
Do you hear that? It sounds like the leathery flap of wings…