Geekery: Harlem Knight Fight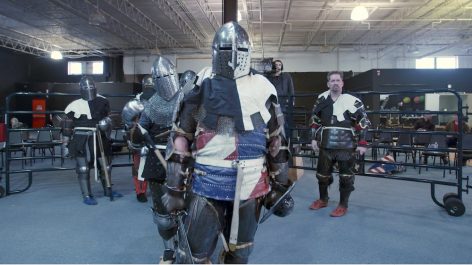 Tyler Durden has nothing on this armored fight club…
Russia's M-1 Global's Knight Fights aren't the only medieval fighting league out there. The Armored Combat League has chapters across the lower 48. This short film covers the New York Sentinels…
"For Damion DiGrazia, joining the Air Force, graduating from Harvard and Columbia and putting together a lucrative career as a management consultant at a top investment bank in Manhattan wasn't enough. He had one more, slightly less conventional item for the bucket list. When this Sunday school teacher isn't spreading the Good Word, he prefers a metal fist to the teeth. DiGrazia is the captain of the New York chapter of the Armored Combat League — a sort of medieval fight club whose members smash the hell out of each other while dressed like attendees of the Red Wedding in Game of Thrones. 'This is a sport that requires passion,' he explains. 'Because there's no responsible way to do it.' We met with Damion at his East Harlem training studio and followed his team to their regional matchup with New England."
The Armored Combat League is part of the IMCF, and it has local and regional teams. Those teams compete to be part of The USA Knights to participate in the IMCF World Championships.
Look like fun? You can register and find your nearest league here if you're in the states, and here for everywhere else.
Would you watch this if it was shown on TV like other big league sports?