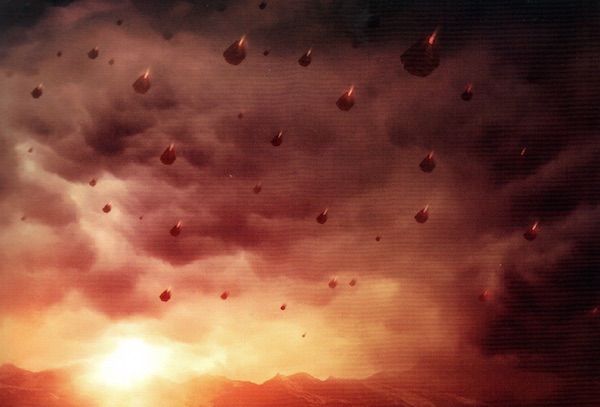 Welcome to another bit of chatter about 40k. This special bonus Goatboy is al about Drop Pods.
The biggest news so far isn't a brand new codex, Warzone book, or special digital only rules release.  Instead its about the updated FAQ for the tried and true leaders of the 40k Game – the Space Marines.  Now there was a lot of good coming from the FAQ – with some hope for answering the Death Star nonsense and some kinda duh arguments with the Apothecary debate as well as if you can update a Captain to a Chapter master – there was a bit of head scratching when it came to "rules" listed for the Drop Pod.
To give a bit of thought – the Drop Pods doors were initially not considered to be part of the model.  Events played with the idea that they cause no in game effect other then just being a pain to move around.  This meant you shot through them, ignored them when you moved around the model, and for the most part they were considered for show or just glued shut to make for easier game play.  This change in the rules that now say the doors are a significant part of the model means a whole slew of questions come from this.
A quick aside – I think in general the addition of making the doors an actual part of the vehicle a good thing.  Sure it gives some crazy advantages but it also gives a ton of disadvantages too.  Of course the biggest issue is how you deploy them – with their doors all open, one open, or all shut etc.  I will go over this and why I think there should just be two options – closed or open.

The Big Question – Why?
First of all – why is the doors being open an issue for game play?  First thing is that if the doors count – then you can deploy off of them.  This gives you a huge bit of deployment options as the door shoots a good deal out of the hull.  I am sure someone has the full math on it – but 6 inches off of the door laying on the ground can give you a ton of room.  This also means that you can't deploy on the door themselves so bigger units are going to have to be a good deal away from the center of the pod if you deploy the starfish.  That's another thing people aren't thinking of as you can't really string guys along within the door fans as you have to stay in coherency, and not have your base on top of the door.
This leads to another interesting interaction in that you can't place your own blasts if an opponent is around the door as you can't place templates on your own models.  There are going to have issues trying to get flamers out if you want to utilize a big foot print of the model.  Heck big blasts are going to have no fun if you have guys too close to a pod door or two.  Heck it also means you cannot really place the model nearly as neatly as you did before.  Sure it blocks more "board" space leaving your opponent less room to move but it sure as heck will make for large multiple assaults possible.
That's another big thing with the open door – your opponent is going to have an easy time assaulting that pod.  Heck the new rules that say that big bases that can base multiple things can now charge all of them.  If your event allows stomps out of combat too – they are going to easily get that starfish'd pod every time.  Plus you can easily mishap with a rogue door that plops down over the edge of the table.

Keeping it Closed?
So while the all open door issue seems pretty manageable the question comes in what about not opening your doors on the pod?  No matter what you think about the fluff and how the pod is supposed to interact you could always just not open the doors.  Lucky for you – the pod is listed as an open top vehicle so getting out of it doesn't need a "door" to occur.  Just like the Dark Eldar Raiders/Venoms or Ork Trukks – who don't really have any kind of door like a Rhino or Land Raider – any model can just hop out of the Drop Pod.  Sure the new rule of don't ignore the door means the pod will actually block LOS now instead of just giving you a 5+ Cover save.  This leads to the ability to create walls to actually hide behind.
I actually like this as it is another way to help mitigate some shooting and maybe help keep some armies alive from deadly Interceptor fire we see.  It also lets you block in some enemy units a bit which could be a big bonus for a lot of armies.  The rules let you deploy so not having the doors open isn't that much of an issue to all the competitive drop pod players out there.  Heck you can protect your alpha strike from another alpha strike list by having a way to actively hide your guys behind the big towering metal coffins from space.
The biggest issue with all of this is what kind of deployment is allowed with the pod?  Is it just all open/all shut or can it be staggered?  I think it should be all or nothing as the ability to control what door you use gives the unit way more power then it should.  Of course with the removal of Battle Brothers riding in them it does give you less ways to abuse it.  You won't see Ad Mech jerks popping wheelies 6 inches out of an extended door.

Events and Formations
I suspect a lot of events will find a way to either make it like it used to be where doors don't count or at least force you to have to choose open or closed for our pod.  It just makes things easier and while it isn't nearly as abusive it still gives you a ton of power when using the pods.  I wonder if there will be a list that can easily create the ultimate Marine fortress of doom with a blistering amount of pods on the table.  I would think the Ragnar Formation might be a good place to start and just build out from there with the Skyhammer formations and some other bits of random Space Marine goodness.
~Goatboy Out