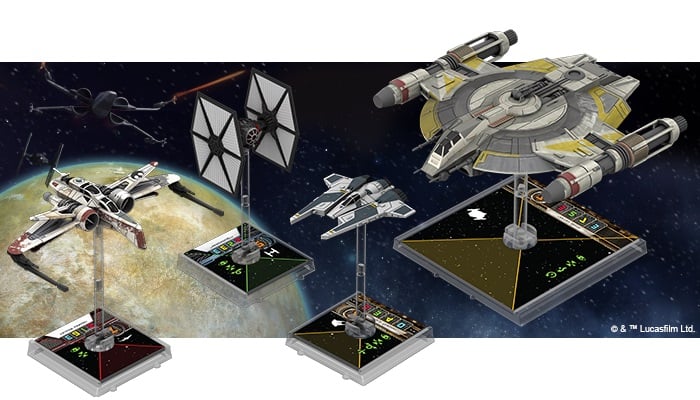 The Scum's new Starfighter won't be the last – but it packs one mean bite!
Hello again BoLS Readers and X-Wing Aces, it's AdamHarry back with some more crazy Star Wars ideas based off of the Wave 9 Preview we saw. This is the 3rd part in our little series. First we talked about the Imperial's New Ace "Quickdraw" and then we took a good look at the Rebel's new ARC-170. But today we're looking at the Scum & Villainy's new aggressive "jouster" – the Protectorate Starfighter!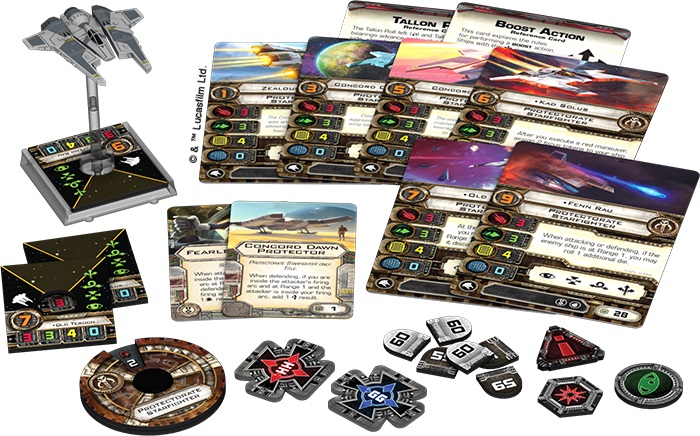 Let's start by just going over some basic stats so we can all be on the same page. It's got a very nice 3-dice primary and 3-dice for agility to match. I'm already liking how nimble this ship is and to back that up, it's also rocking 4 hull. It may not have any shields but look at that action bar! Focus, Target Lock, Barrel Roll AND a Boost? This this screams "Arc Dodger" like no body's business.
Unfortunately we don't know just how squirrely this ship will be with out see it's full dial, but it's coming with at least 1 Tallon roll option and maybe a few more tricks on the old dial as well. I'm liking this ships odds already. The top Ace (well, only Ace we've seen) is Fenn Rau: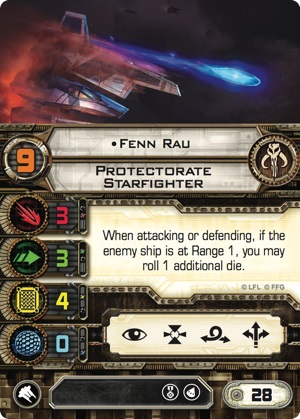 Because don't have a ton else to go on lets talk shop about what Fenn Rau can do. At 28 points Fenn reminds me a lot of Talonbane Cobra in the Kihraxz Fighter: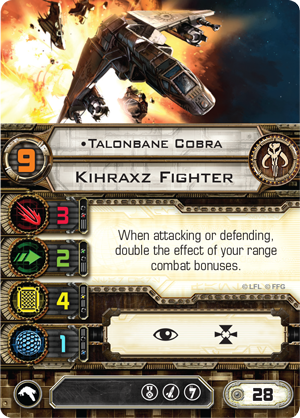 These two are very close – so close they could almost be twins! Their abilities are very similar when you break it down and they have similar options when it comes to load-out as well. Swap a missile for a torpedo and drop an agility for a shield and boom. Now, Fenn does have twice as many actions on his bar, but Talonbane gets that Scum exclusive Illicit slot… But still, these ships are both cut from the same cloth.
Now, I bring that up because these ships maybe so similar that folks will just treat Fenn the same and call it a day. Or if you're like me you saw no shields and 3 agility – Slap Autothrusters on it and lets get to playing, right?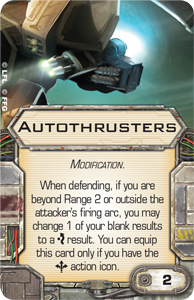 That was my first thought – but let's take a step back and see what we can do to make this unique ship actually unique! Let's start with focusing on what makes Fenn Rau different: Fenn's ability.
"When attacking or defending, if the enemy ship is at Range 1, you may roll 1 additional die."
Did you notice that it's a bonus die when defending also? I thought that was interesting because it helps to combat that urge to take Autothrusters. It also combats that urge to stay to the outside and just take pop-shots at range 2-3 where your 3 dice primary might whittle down the target a bit before you go in for the kill.
Now, lets take a look at the title as well. It's in the picture towards the top "Concord Dawn Protector" – I know the text is hard to read but here's what it says:
"When defending, if you ware inside the attacker's firing arc and at Range 1 and the attacker is inside your firing arc, add 1 evade result."
Okay – now we're getting somewhere! The Starfighter is not only mean at range 1 but it's going to be really hard to hit – That sounds like a jouster to me! This ship might be able to arc dodge however it's specialty is to be pointed at it's target and go right for the throat!
When the right conditions are met this ship will have 4 dice to evade with an additional evade result on top of it. I like those odds. But that's just one side of this ships aggressive nature. Lets talk about damage potential! When those same conditions are set, Fenn Rau will unload 5 dice with it's primary attack! That's pretty scary no matter how you slice it!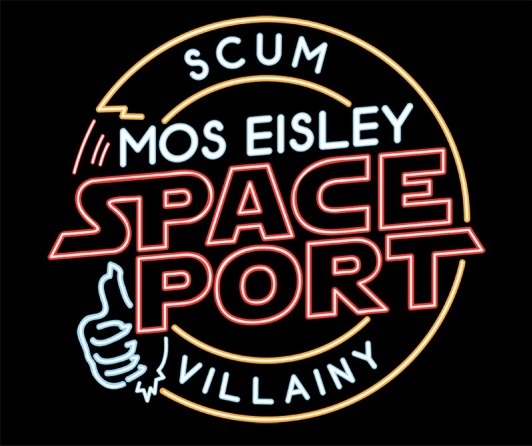 Now – we still have a few other mod slots to play with. But keeping with that theme of getting in close and rolling a ton of dice, I think there are a three ways you can play with that torpedo slot.
1) Super Close Combat – Load Fenn up with Guidance Chips and Advanced Proton Torpedoes. It will become a 6 dice attack with an auto-crit and 3 focus. You have to be point blank at range 1 but that's where you want to be. You did save your focus for this round, right?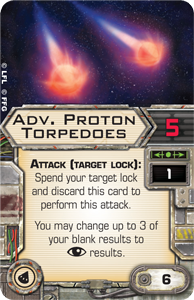 2) Long-game Load-out – Plasma Torpedoes and Guidance Chips. I like this option because it allows you to try and get that torpedo shot off at range 2-3 and then pounce in for the kill with a 5 dice primary shot at range 1. The Plasma Torpedoes will do a number on shield heavy craft. This takes a bit more planning because you don't want to overshoot and you have to time your TL/Focus/Ranges correctly.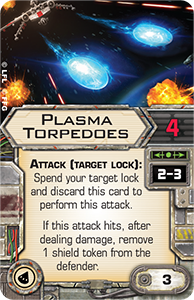 3) Ignore it – This ship only has 4 hull. You'll be luck to survive to get in close where it counts.
Ouch; That last option stings a little just to write. But it's true… While this ship has a healthy 3 agility we have all rolled blanks and gotten toasted in 1 shot before. I know a lot of folks out there really don't like torpedoes or missiles – I'm not one of those players, but let's be real: It's a lot of points and it may not pay off. Maybe those would be best spent else where…Then again, it would be pretty darn cool to pull off that Advanced Proton Torpedo shot…
As far as Elite Pilot Talents go the doors are wide open with this one. The usual suspects are still solid (Push the Limit, Predator, Rage, Crackshot). I like Crackshot on that list because you WILL get your hit in. Then this ship will have either killed its target or gotten hit/crippled/destroyed back…. Unless you're really lucky and your dice come through.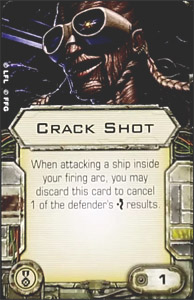 Now, if you wanted to go off the rails with Fenn Rau in particular I think there are some interesting other options. I don't recommend these for everyone, however, if you want to challenge yourself and experiment then try out the following EPTs: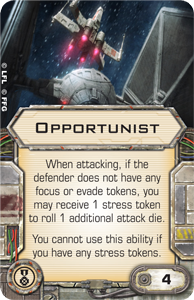 Opportunist – With the right circumstances you could actually end up rolling 6 dice with your primary. (Range 1 and they can't have focus or evade and you can't have any stress…) It could be devastating but I wouldn't build an entire list around trying to pull that off.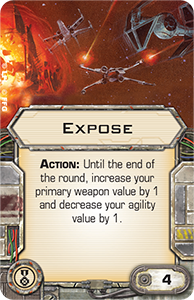 Ah yes, Expose. I had to mention it – but it's not that bad for Fenn because at range one you do get to add a dice back AND with the title you're getting a free evade result, too. And you're getting that 6-die primary as well. Just be sure you have a way to get some re-rolls (ie, have a Target Lock ready before you Expose…)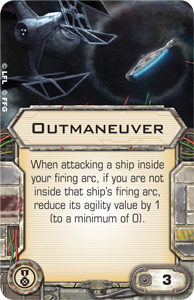 Outmaneuver seems like a strong fit. The Starfighter is agile enough to get those counter-shots outside of their arc. It takes some smart positioning but making the target lose an agility can increase your damage.
Marksmanship would be a nice touch. It uses that Action slot however – but if you plan it right, it could be pretty deadly.
Veteran Instincts – I know what you're thinking, "That would take Fenn Rau to 11 – why would you need to do that?" Well for me and my meta, I've been seeing more players take the upper PS. If your locals like to do that, then having a really high pilot (especially one that is built like this ship) go first makes a lot more sense.
For the Modification card I would check the build you want to go for before making that final call. I really think it comes down to Guidance Chips, Autothrusters or Stealth Device – all based on your particular play style and which build you're going for. I know I may have talked you out of going for Autothrusters above…It's still a good card! It may not synergize with all the abilities but it will help you get your ship in that sweet range 1 by sparing you another hull point or two on the way in.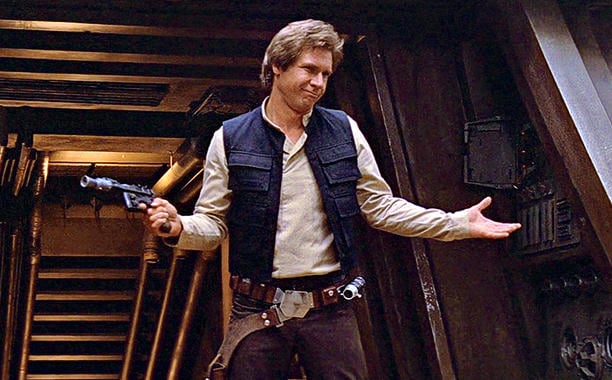 And speaking of builds, how about some obligatory load-outs!
Fenn Rau – The 1-Hit Wonder – 38 points
Marksmanship
Advanced Proton Torpedoes
Concord Dawn Protector
Guidance Chips
As I mentioned above this build puts it all together. You're going to Target Lock on the way in and take some pop-shots. Then when you get into range 1 your action is to use Marksmanship. When you unleash those Advanced Proton Torpedoes it's going to sting. You'll get 6 dice with a MINIMUM of 2 crits and 2 hits. How? Even if you roll 6 blanks, you'll get to flip 1 die to a crit thanks to guidance chips, and 3 more to Focus just because they are Advanced Proton Torpedoes. Marksmanship then changes your Focus/Foci/Focuseseses(?) into 1 crit and 2 hits. Dodge THAT.
Fenn Rau – The Iceman – 35 points
Concord Dawn Protector
Stealth Device
Push the Limit
This one is your typical "lets dodge, take shots and pounce when ready" ship. It's not flashy but it will be a PAIN to pin down before it flies in close for the kill. On the flip side, this ships is also EXTREMELY difficult to get off of your tail. Most ships are moving before Fenn and with a Boost and Barrel Roll – good luck getting this "Fang Fighter" outta your hide.
Fenn Rau – Safe Bet – 35 point
Concord Dawn Protector
Plasma Torpedoes
Guidance Chips
Predator
I call this one Safe Bet because you can't really go wrong here. Predator is netting you the re-roll you need and Plasma Torpedoes & Guidance Chips does some softening up before you close for that Range 1 blast. It's simple in theory, but the timing could get you bit if you do it wrong.
Well X-Wing Aces, I've rambled on long enough. I hope this has been some good food for thought for the new Protectorate Starfighter. Fenn Rau is in a solid ship with a great ability I hope you'll be able to make the most of it on your tabletop! I really can't wait to see the other pilots for this ship because if they are even remotely interesting I'm sure they will become a go-to wingman option. Until then, go practice some new maneuvers!
What do you think? Is Fenn Rau going to be a pilot you want to fly? How about the Protectorate Starfight on the whole? How do you think it fits in with the Scum & Villainy faction?