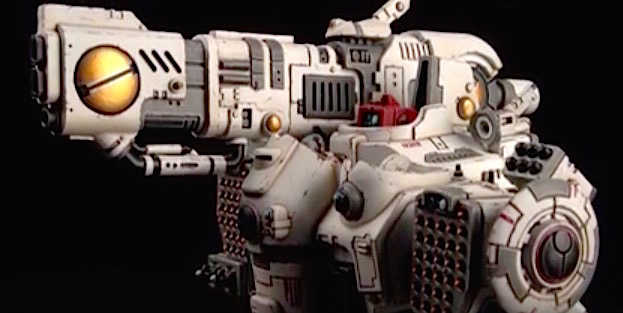 Every non Tau player hates facing Stormsurges. Thanks to GW we have 5 hilarious new ways to take em down!
First of all, GW gave us this HILARIOUSLY AMAZING way to take down the big guys with the brand new beta FAQ.

There you go folks – in black and white.  Don't bother trying to get into a gunfight with the biggest walking gun around.  The real way to take down a Stormsurge is to let them press the suicide anchor button, then break cover with whatever you've got and ram em! It's one of the few "auto-deaths" in the game.  No rolling to hit, no trying  to penetrate, no special rules. It's super simple.
 If a Stormsurge is anchored and you reach it with a tankshocking model – just pull the big guy off the table – FATALITY!
So with that kind of 100% reliability, it's worth the risk to try to get to the pricy big guy with whatever you can.  Here's our list of the best ways to show the Tau Empire who's boss!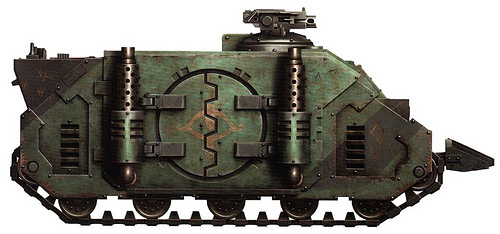 #5 Rhino – HUMILIATION FATALITY
It's probably got the least chance of making it to an anchored Stormsurge of any tank out there. But Rhino's are dirt cheap and it's worth risking a few of them for the sheer high-fiving and tall tales value of knocking the big guy off the table with the humble marine box.  If you're running a Gladius you should have a bucket-full of free ones driving around – so give it a shot!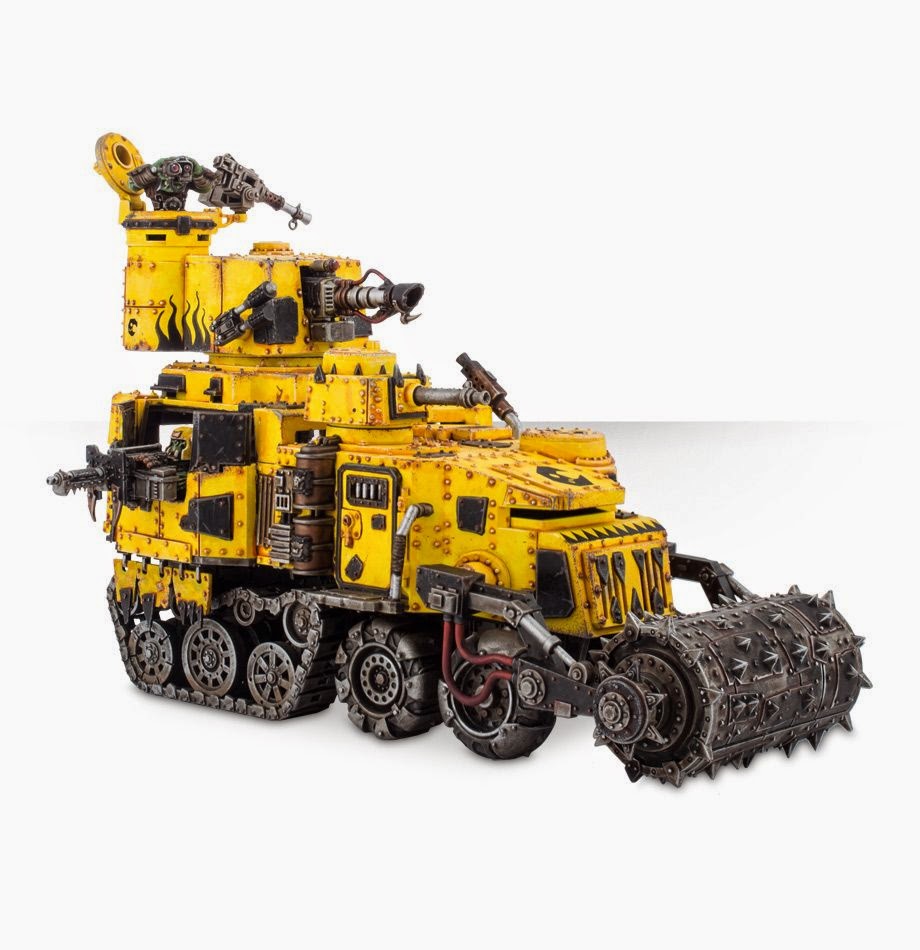 #4 Battlewagon – MAD MAX FATALITY
You may get blown to scrap but if you make it you will be reborn in Valhalla shiny and chrome. So strap on a deff-rolla to make your model as long as possible and WITNESS ME!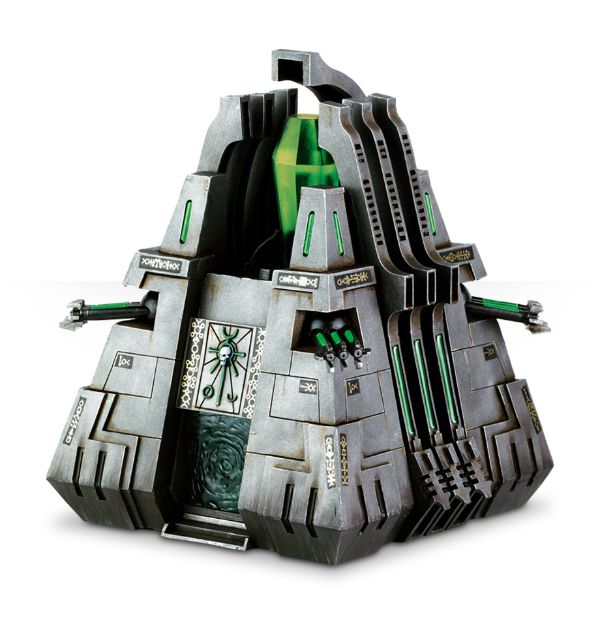 #3 Monolith – WTF Fatality?!  
Yup, most folks forget it's a tank.  Deep Strike in next to the Stormsurge, put your trust in the living metal to keep you alive for a turn and go for it. If you don't make it, you can still dump out Necrons from the Gate to mess with the blueskins – they hate that.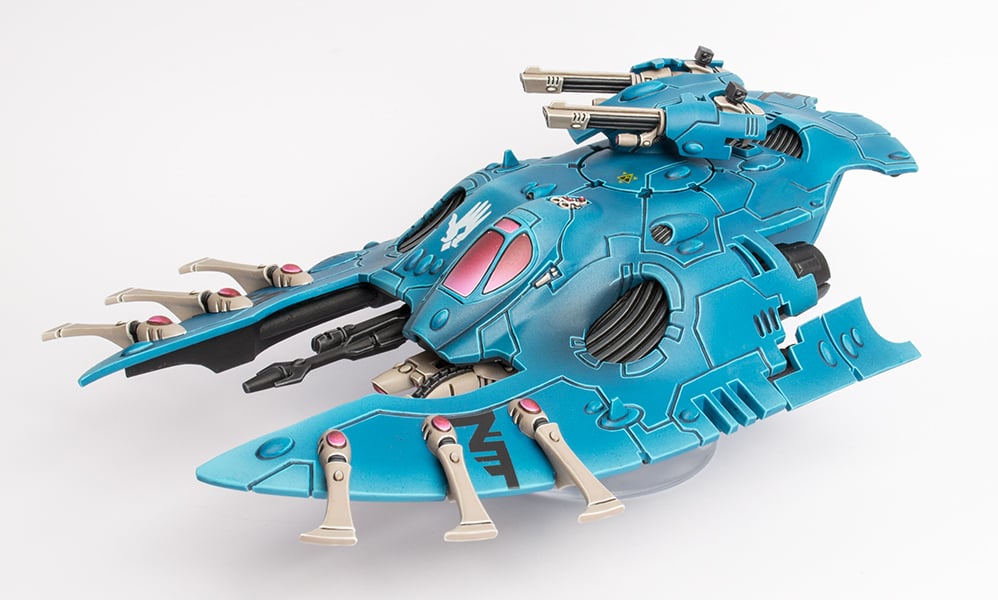 #2 Wave Serpent – RAMMING SPEED FATALITY
Yup, probably the easiest and most expected way to go for it.  You've got a fast skimmer to get you into a decent position to make your run.  One more reason to hate the Eldar. I'm sure it will have all kinds of psychic buffs on it to help it out.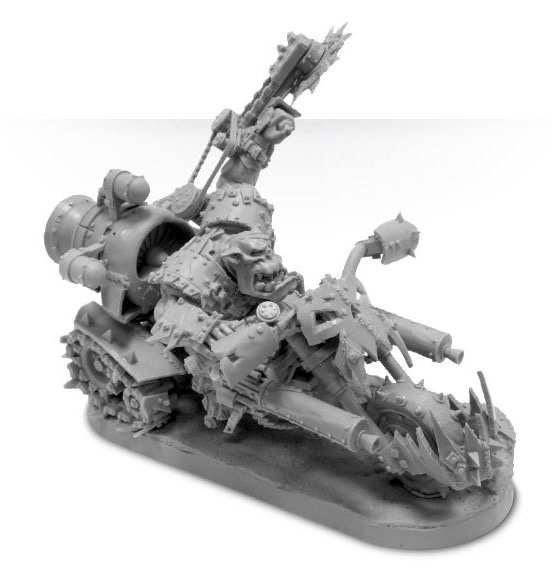 #1 Zhadsnark "Da Rippa" – EVEL KNIEVEL FATALITY
This is where the glory is my friends.  Zhadsnark is an Ork Biker Boss on a ROCKET BIKE from Forgeworld's Raid on Kastorel-Novem. He rides "Da Beast" with this AWESOME special rule: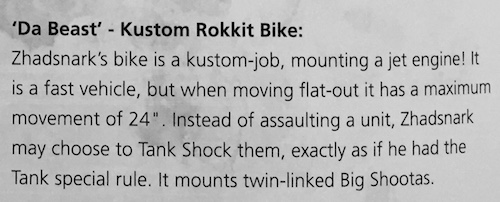 If you pull off the Stormsurge fatality with this guy it's free drinks all night from your buddies because you sir (or lady) have ALL THE STYLE POINTS in 40K!
~Now get out there and bag some Stormsurges – hunting season is open!