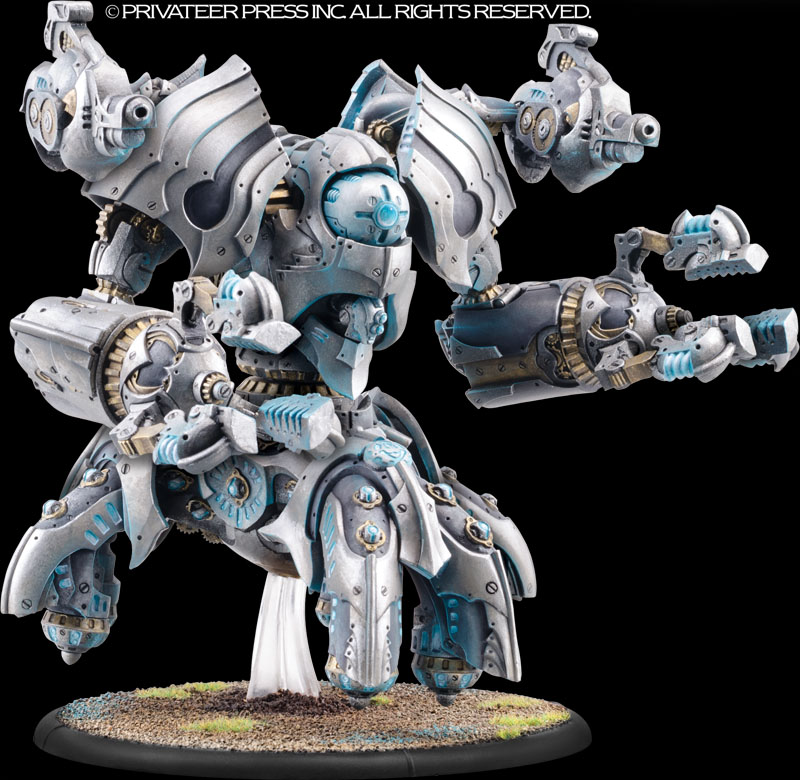 The Convergence of Cyriss has a new Colossal kit – come see exactly what you're getting inside the box!
The Colossals in Warmachine are some of the largest kits made for Tabletop Wargaming and the Convergence of Cyriss Colossal is no exception. This massive kit resides on a 120mm round base and it packs a punch to match:
This plastic kit is a double kit – you can create either the Prime Axiom or Prime Conflux. Privateer Press has really stepped up it's game when it comes to their plastic injection kits. The material is hard plastic and it holds the detail very well. I saw very little (if any) warping from shipping on the pieces. I also didn't notice any major mould lines or casting errors – from a technical standpoint this kit was pretty much perfect!
I'm not going to get into the nitty-gritty of gameplay with this model. There are other writers that do a much better job of talking gameplay – that and it's not Khadorian. I only know how to break these things, not use them in battle (#ButcherFTW). But I will say that as center piece for an army, it looks amazing! The curved lines and flat, smooth surfaces remind me of Art Deco style buildings. It's look envokes that same "Metropolis" robot look that the rest of the army has and I'm total fine with that!
Overall, production and hobby wise it's a great kit! I also hear that it can really mess with people on the battlefield, too. I know that If I was looking for a new hobby project that was going to turn some heads then this kit would be high on my lists. Just imagine what it could look like with some LED lights inside…Did I mention it's mostly hollow because it's plastic? Yeah…That would be awesome.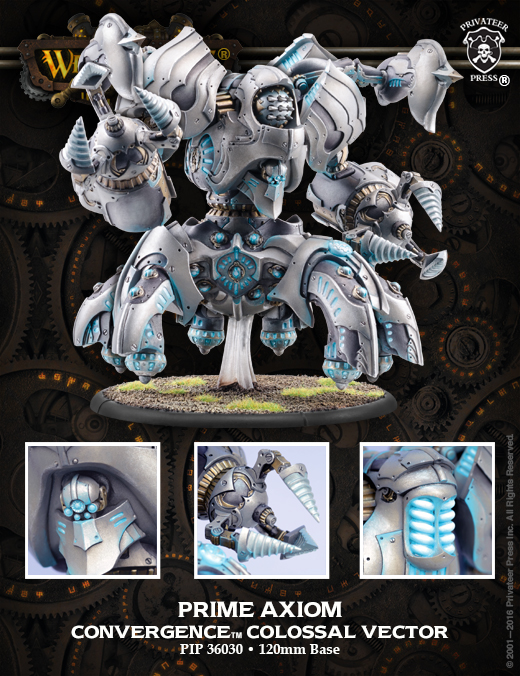 The colossals of the Convergence of Cyriss inspire awe and fear among the armies of the Iron Kingdoms. To confront these machines is to behold the inevitability of the Great Work and the terrifying power made possible by the guiding hand of Cyriss. The weapons of the Prime Axiom are designed to rip through screening troops, dismantle warjacks, and send servitors deep into the heart of battle. The Prime Conflux is a true wonder of design, able to convert latent atmospheric energies into electricity before unleashing them in a torrent of destruction.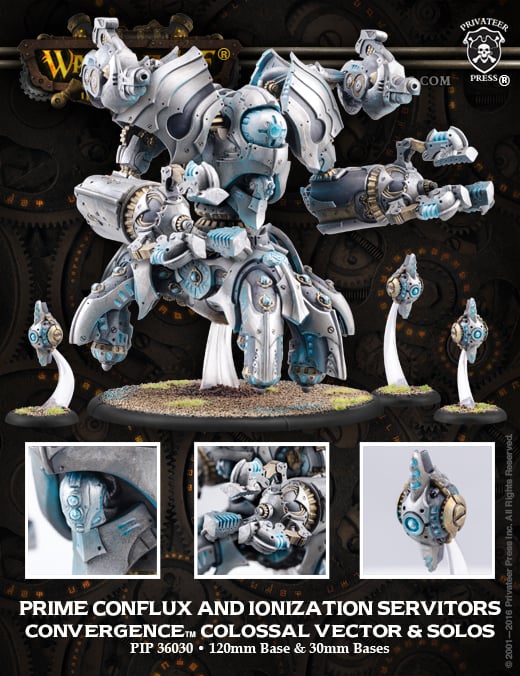 Anyone speak Binary? We're gonna need a translator over here…