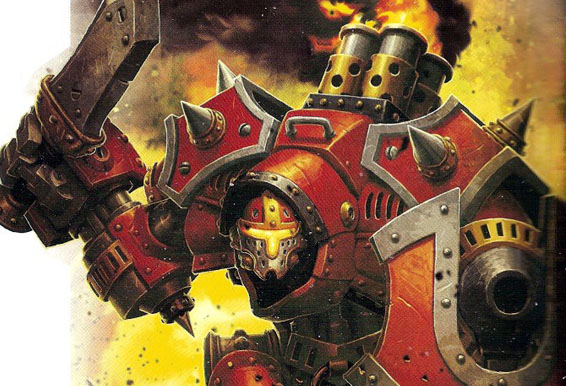 The new Berserker combo-kit is out and the Rager is one of the jacks in it. This brand new jack for khador is out-rage-oes!
The Rager is a new jack Khador can take and is part of the brand new sweet Berserker chassis kit just released. The Rager is at a medium cost of 11 points with a field allowance of unlimited. I am not a fan of unlimited field allowance in general but this jack isn't a "kill your caster on bottom of 1" with its output so I feel ok with it.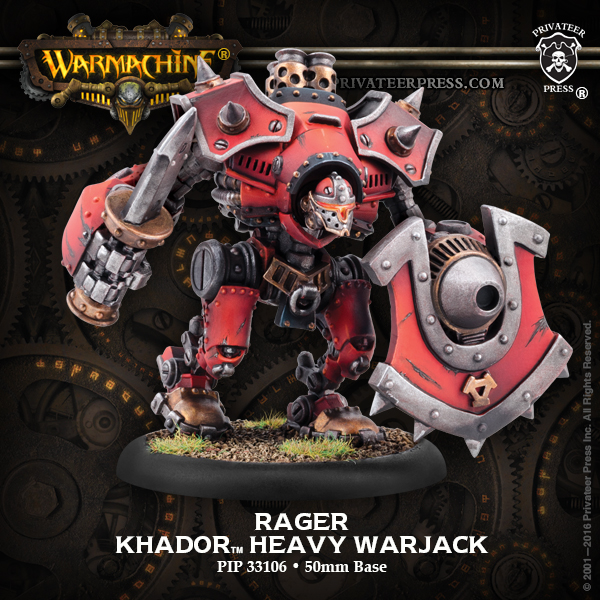 What's It Do?
The Rager is on the Berserker chassis so it sports the DEF11. However since it is equipped with a shield it has the Khadoresque pseudo ARM20. It utilizes a RNG8 POW15 shield cannon, a POW13 shield attack, and a POW15 Gladius attack both with 1″ melee RNG. The Rager gets to output a 3rd attack in melee because fo the Point-Blank rule allowing it to shoot it's gun in melee but it is only RAT3.
This jack has shield guard and that is a nice addition for khador. While the mercenary Ogrun Bokur is still a deal at 5 points this jack gives you a little more option in your shield guard flavor choices. Finally just like the other beserker chassis the Rager is an unstable jack and can risk explosion if you using multiple focus in a turn.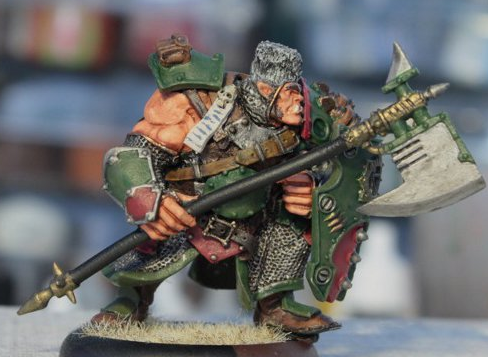 You're FIRED!
Example Rager List:
As stated earlier the Rager is really a 2nd option and shield guard over the Ogrun Bokur. Combined with a much higher ability to survive and a decent gun it gives you some more options that the Bokur might not provide. Being able to run up and be relatively safe from PoW12 ranged/magic attacks is one thing the Bokur cannot really claim. The Rager has a nice amount of boxes and is much harder to remove than the Bokur.
My Vladimir1 list is usually having Vlad sit on little to no focus as he casts signs and portents and hands out focus to Behemoth. The Rager really gives me a little bit more peace of mind and another big gun to walk up the field and shoot with. Combined with vlad1's feat the Rager can advance 8″ and shoot 8″ giving him a 16″ threat with a POW15 gun. Signs and Portents will help him hit his target more reliably.
75 point Khador List
Vlad1 +28
-Reinholdt 4
-Behemoth 24
-Juggernaut 12
-Rager 11
Kovnik Joe 4
10 Winterguard Rifle 13
– 3 Rocketeer 6
Orin Midwinter 5
4 Mechanicks 3
10 Black Dragon +UA 21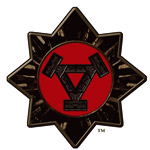 Revenant's Final Thought:
Just like Guts the mad dog is not an obvious threat. Mad dog is a light jack in all regards but sports some unique abilities that will definitely make it worthy of seeing the front lines. It brings a harder to remove shieldguard then the Bokur and a decent ranged gun which makes it field-able in my opinion.
~What do you think of the new Rager for Khador BoLS? Will you be fielding one? Please share in the comments below.